Date: 14 Nov 2005
From: Delia Youngs <dabhb2001@.yahoo.com>
I am looking for any information on Cullen, Elden, and Ethel Harlan, children of John A. Harlan and Maria Louisa Simpson.
John A. Harlan was born in Hardeman County, Tenn. On January 1, 1851, and is a son of David and Sarah (McMullen) Harlan, of North Carolina, and they were the parents of five children; Cullen M., Idotha ( wife of Gny Smith), Bettie (wife of Dr. J. M. Higlin) and John A.
John A. Harlan and Maria Louisa Simpson were married January 05, 1881 in Jackson Co., Ar. She died between 1884 – 1900 in Newport, Jackson Co., Ar.
Delia Youngs dabhb2001@.yahoo.com
---
Date: 13 Nov 2005
From: Dennis L. Clay <dclay@atnet.net>
For Cheryl Lynn Stambaugh Embry and any other relation:

Hi Cheryl,

Say your message while trying to find anything on Claude Earl Stambaugh, who was your grandfather, I believe. His wife, your grandmother, Mary Johnson, was the daughter of Lewis Gilleon Johnson. His parents were Samuel and Judah Johnson. One of Lewis' sisters was Minnie Jane Bledsoe, who was my great grandmother. To see a photo of Lewis go to www.capitalpress.com/outdoors and scroll down to the story titled "The Thrill of the Hunt keeps folks digging into the past. I wrote the story and the rest of the stories on that page.
If I'm correct about the connection, would enjoy a telephone visit to compare notes. Have many more photos also. E-mail address is: dclay@atnet.net.

Best,
Dennis L. Clay
---
Date: 8 Nov 2005
From: David Scott Harlan <dshnow@yahoo.com>
I am looking for a lost Uncle, Richard(Dick)Harlan. Brothers Randall (Randy), Russell(Rus)deceased, and sister Penny. Penny has passed away and we cannot find you. Father Lloyd and Mother Dorothy McKendrick. Please call SOMEONE or email me.
dshnow@yahoo.com
David Scott Harlan
Dad (Randy) is in poor health as well. PLEASE contact ASAP :)
Thank you :)
---
Date: 4 Nov 2005
From: Carol Stewart <carol@casis.net>
I was checking for new information and updates to the Harlan Family, when I saw the name Peter Weisner spouse Mary Polly Harlan #856. On Ancestery.com I check for him, and found that whoever submitted the information had the name wrong.

Mary Polly Harlan was married to Peter Laboyteau Wimmer. He was born 5 April 1810, Hamilton Co., Ohio. They were married 28 January 1828 Henry Co., Indiana. Mary Polly died in 1843 Van Buren Co., Missouri. Burial place is unknown, probably on the Wimmer farm at that time.

Peter L. Wimmer married Elizabeth Jane Cloud Baize a year later, 20 June 1844 Van Buren Co., Missouri. A year later brother-in- law George#852 stopped by the Wimmer Farm in Missouri on his way to California and asked Peter if he would like to join the train. Peter and Elizabeth and 7 children joined the Harlan Young Wagon Train.

After they reach California, George and the rest of the Harlan's left Peter to go on down to other parts of California. Peter later went to work for Sutter and was with James Marshall to work at Sutter's Mill. It was one of the Wimmer children that found the first gold nugget.

All of this was told to me by my great grandmother, Pollytene Wimmer Brandt.

Mary Polly Harlan Wimmer is my great great great grandmother.
Her son. William Riley Wimmer is my great, great grandfather.

Please make the correction on your family site. If you wish to put this information
on the Family Site, please do so.

Thank and Sincerely,
Carol Stewart
---
Date: 25 Oct 2005
From: Nancy McMurray <mishkid@earthlink.net>
Subject: George #45's Farm
Here is a draft of a news release about the sale of George #45's farm in Martinsburg, WV. It has left the Harlan heirs after 8 generations. Contact me for information.
To Save a Farm
Community means a shared sense of benefit and, therefore, a wish to preserve what is held in common. As open land is rapidly replaced by housing, some of us resist a loss of the farm treasury. We who feel that way know the difference preservation makes. New York City has Central Park, Washington, DC has Rock Creek Park. And Berkeley County will now have Harlan Spring Farm, though privately owned.

My ancestor, George Harlan, came with his father James Harlan and their family to settle here after traveling in The Great Migration in the 1730s and 1740s. From Pennsylvania came Germans, Quakers, and Scotch Irish following the new frontier of the Shenandoah Valley. The Harlans claimed Harlan Spring, which, by being close to the Potomac River, suggests they were among the earliest to arrive. We have no date. However, George and James were in the register of the Providence Quaker Meeting in 1744. They are buried in unmarked graves in that old cemetery on Tuscarora Pike.

The name Harlan means "harrowed land," and, indeed our family has farmed this same ground through eight generations. Thomas Lord Fairfax granted a deed to George Harlan in 1760, and, though boundaries have changed, the heart of the grant remains.

All of the significance of this has weighed heavily on me personally as I have lived here for twenty years, the single-without-children descendant trying to keep it going. As those two decades went along it became clear neither my two brothers (co-owners) nor their children, the younger relatives, living far flung and in careers, were ready to come replace me.

Would George Harlan's farm leave the family on my watch—a custody of deep passion and reverence for history? And would I be strong enough to resist the enormous pressures to sell to the wrong person? For, all around are the creeping developments of building over old farms. The historic Porterfield farm has already become "Spring Mills." And our name has attached to an old farm never in our family, now known as "Harlan Run."

Very fortunately, we had arranged in 1997 to put over 70 acres in conservancy under the care of The Land Trust of the Eastern Panhandle. That parcel, including Harlan Spring and most of the old Harlan homes, is now restricted to farming alone.

Since my siblings had other priorities than saving the farm, we agreed to split the land between us, letting me have sole custody of the conservancy and some other acreage. I now could make my own decision about the historic property.
Having met a few years ago a West Virginia woman who was looking to move her farm and B&B to the Panhandle, I kept in touch. She has my values of preservation, restoration, a sense of history in addition to having a very high standard for responsible farming. On September 6, 2005, I sold the reduced but oldest part of the Harlan farm to Diana Gooding. She has renamed it Harlan Spring Farm, and expects to run an equine operation.

It might have been possible to find someone who was a good farmer, or was a preservationist, or was a knowledgeable conservationist. However, I regard it as a near miracle to have found all of that and more in the stewardship of Ms. Gooding.

I have now a deep sense my family would be pleased, and, really, that it is a blessing for the whole Panhandle to know there might always be a 125-acre preserve of history and farming in the midst of the unbridled growth. It will last as long as enough of us care, not only about this example, but about all other such exceptions as other families are able to make. For we are community.
—Nancy McMurray
17 October 2005
Nancy McMurray
Yowa wa Lumu Luabo
PO Box 2447
Martinsburg, WV 25402
304/754-3434
---
Date: 18 Sep 2005
From: Joe Bassler <jbcamry@aol.com>
How can I contact Arlene Best of @Bestclan.net? The address doesn't take my mail.She said she had three books on Harlan, esp Mary Ann Harlan, who was married three times. Am interested in William Green Maxey marriage to her.

Joe Bassler --jbcamry@aol.com
---
Date: 5 Sep 2005
From: Mickey Theade <mt@paradiseusa.org>
Subject: Nancy Harlan, blonde with Texas accent

Aloha,

I have been searching for a friend of mine, Nancy Harlan. I met Nancy on Kauai when she was in the helicopter industry. My phone number in San Francisco is 650-343-1112 cell is 415-420-6353. mick@kayakers.com or mt@paradiseusa.org. will get an email answer. Thank you very much.

A hui hou malama pono,
Mickey Theade
---
Date: 5 Aug 2005
From: Beverly Harlan Hamilton <BevC21Ca@aol.com>
My parents were divorced and I am needing information on my Grandfather Thomas (Tom) Harlan who moved either from Alabama or Georgia to Knox County Texas. He was married to my grandmother whose first name I do not know but she was a Claiborn (last name) My parents and grandparents are now deceased and I just would like to have a burning question where and who did I come from in the past.

Beverly Harlan Hamilton
Huntington Beach CA
---
Date: 28 Jul 2005
From: Kathleen Jardine <jcamdesign@earthlink.net>

My grandfather, Ervin Edward Harlan grew up in Dustin, Oklahoma, and married Delia Ring, daughter of John and Alice Ring. He was born in Arkansas in about 1907; his father was a preacher and I think that his mother's name was Lura. He told me a lot about himself and his family but I was young and didn't write down the crucial information.

My mother, Betty Louise Harlan, told me before her death that she had traced our family back to Springfield, MO, but we were unable to find any of her records.

It would mean a lot to me to find any of my Harlan relations because my grandfather was so wonderful.

Thanks so much for any help.
Kathleen Jardine
---
Date: 21 Jul 2005
From: Martin Devine <martindevine@sbcglobal.net>

I am searching for my GGGGrandmother Lou Harlan born about 1820 in Georgia of Cherokee lineage. She is listed in the Indian Pioneer Papers in an interview with my GGGrandfather, Tom Devine and on Tom Devine's Dawes Rolls application as his mother. Lou Harlan was married to James Devine also born in Georgia about 1820. James Devine married Sarah Catherine Ray in 1866 and died in 1867. I am assuming that Lou died prior to 1866, possibly in Goingsnake Dist. Indian Territory.
---
Date: 4 Jul 2005
From: Linda Cole <sc2s@cox.net>
I am looking for information on my Harlan ancestors. My ggfather was George Harlan; married to Florence Waugerman. George's father was George W. Harlan; married to Louisa Wilson. This George served in the Civil War with Knap's Independent Battery from PA. He was born in Elizabeth Twp, Allegheny Co, PA, to Michael Harlan/Harland/Harlin.

Any information would be greatly appreciated.
---
Date: 4 Jul 2005
Check out the sale on Harlan family clothing.
---
Date: 23 Jun 2005
From: Harlan Updegraff III <HarlanUU@SbcGlobal.net>
I have done everyone from Hannah Harlan #4712 and Ambrose Updegraff down to the present grand dids and all of the cousans etc. I have family tree maker, so if anyone wants to complete this branch, come and get it.
Harlan Updegraff III
HarlanUU@SbcGlobal.net
---
Date: 23 Jun 2005
Subject: Harlan-Allen Reunion
The 78th annual Harlan-Allen Reunion will be held July 24, 2005 at the American Legion Post in Dumont, Iowa. Everyone is welcome. We start arriving Sunday morning, have a pot-luck lunch and business meeting along with lots of visiting, picture sharing and genealogy updating.
This reunion was started in 1927 with 120 persons present. They were descendants of Jehu Harlan (#2865 in A.H. Harlan's book). Jehu and his wife Susannah emigrated to Iowa in 1855. The nearest neighbors were the family of David and Nancy Allen. Four marriages occurred between these two families, and the reunion was started by the resulting "double cousins". It has expanded to include members of the complete Harlan and Allen families. For more information contact reunion secretary Neilla Harlan Banse at gnbanse@midlands.net.
---
Date: 30 May 2005
Subject: Harlan I.D. Tag Marshall Illinois
Hello,

I have a small, metal (probably brass or bronze) I.D. tag with the name H Harlan on it and the date 1873. It also has Marshall ILL on it. The tag is an oval shape, similar to an elongated penny (but it isn't made with a penny) and has a hole to indicate it was likely used as some kind of I.D. tag. Does anyone know of an H Harlan from Marshall Illinois or possibly what the tag would have been used for? I can send a scan of the tag if anyone would like to see it.
My name is Ken and my e-mail address is <Drsaxkp@aol.com>. Thanks.
---
Date: 26 May 2005
From: Oliver Burns <oliver@freecrow.freeserve.co.uk>
Re: Lurgan Co Armagh

Sir, While reading your interesting article on the Harlan family you refer to the townland of Ballyblagh, [the place of the flowers] being now part of the Town,, this is true, but Lisacorran is still arable land close to Lough Neagh.
Good Luck. Oliver Burns Lurgan.

---
Date: 11 May 2005
From: Cynthia Rhoades <cr.rhoades@comcast.net>
Re: George Harlan & Governorship of the Delaware Colony (message posted 15 Apr 2005)
I researched this issue when I was working on ancestral papers to become a member of a lineage organization with George Harlan as my ancestor for membership. It is stated in Alpheus Harlan's History and Genealogy of the Harlan Family that George was a governor of Delaware. But as many others have found there is no documentation to that affect that I have ever been able to find.

I do want to quote two resources that list offices that George did hold. The first is Immigration of the Irish Quakers into PA 1682-1750 by Albert Cook Myers. On page 129 the book says, "George Harlan was elected to the Provincial Assembly from New Castle County in 1695 and from Chester County in 1712." Another book entitled Lawmaking and Legislators in PA A Biographical Dictionary Vol. One 1682-1709 by C. Horle, J. Scheib, D. Haugaard, J. Wiltenburg, M. Wokeck, J. Foster & R. Beiler states on pages 407 & 408, "Because Harlan had no previous government experience, his election to the 1695 Assembly is somewhat surprising and is probably explained by his prominence among the Quakers of New Castle County. The extent of his participation in the Assembly's proceedings in not known, however, and Governor William Markham dissolved the House when members refused to pass a supply bill unless he agreed to constitutional revision. A year later Harlan was appointed to his first known local office, collector of the 1696 provincial tax in New Castle County. Although he would not serve in the Assembly again for 17 years, Harlan evidently remained concerned about provincial politics, as he signed the January 1700 petition from inhabitants along the Brandywine complaining that they had not been notified of the election for the Assembly that met that month."

Although this does not resolve the issue of George being a governor of "the three lower counties" it does maybe help clarify Alpheus' statement. Another book Pennsylvania Archives Second Series by Chas. W. Stone lists the provincial officers from 1686 forward with George listed in 1695 and again in 1712.

Cynthia Rhoades
Director of Genealogy
---
Date: 11 May 2005
Subject: Technical Problems

The Aeneas company which hosts the Harlan Family Web Site recently had some equipment problems. For the past week there have been back up files on the web site. Current files should be restored in the next few hours.
---
Date: 23 Apr 2005
From: Donna Carter mrseddiec@yahoo.com

To your knowledge, were any of the Harlan's married to Indians?
---
Date: 15 Apr 2005
From: John Harland, Kelowna B C, Canada
Subject: George Harlan and Governorship of the Delaware Colony

"Harlan, John Marshall '20 (1899-1971).....Justice of the United States Supreme Court. ..... His Quaker forebear, George Harlan, came to America from Durham in 1687 and eight years later became governor of Delaware."
<http://etc.princeton.edu/CampusWWW/Companion/harlan_john.html >
John D. Harlan of Des Moines, Iowa, drew this bit of family lore to my attention. Since Delaware did not become a State until 1776, it is clear that George Harlan was not a 'Governor' in the modern sense, but it is certainly possible he held political office of some kind in the territory. What might that have been? I am sure that among the subscribers to this list, we number both experts on the early history of the Harlans and others knowledgeable about the history of Delaware, who can sort this out. Anyway, as a starting point, here are some preliminary thoughts:
The citation above is very specific about the timing. George Harlan became governor eight years after his arrival from Ireland, that is to say sometime around 1695. The Quaker settlement to which the Harlan Brothers came lay more or less where Wilmington, Del., now stands—an area with a turbulent political history. It had been settled by Swedes and Finns in the mid-17th Century and was in possession of the Dutch until 1674, when following the Treaty of Westminster, it passed to the English. William Penn persuaded King James II to make him 'Proprietor' of Pennsylvania in 1682 and shortly afterwards, the Duke of York ceded to him the Delaware colony, referred to as the "Three lower counties". The whole thing was consolidated along with what is now Pennsylvania into one territory under Penn's aegis. However, Lord Baltimore, the Proprietor of Maryland, felt that it should have become part of his holdings, a dispute which was to drag on for many years.
The early years of the Delaware colony were disturbed by vigorous disagreements between Quaker and non-Quaker elements, and also between the folk in the "lower counties" and the Provincial Council at Philadelphia. At one juncture the councilors from the Delaware colony threatened to boycott the Assembly unless they could approve those government appointments which immediately affected them. Resentment simmered and in 1691, Penn named Thomas Lloyd and William Markham deputy governors, respectively, of the Province and the Lower Counties, with separate powers of appointment but joint powers of promulgating legislation.
In effect the Delaware colony enjoyed much more autonomy than before. In 1692 Benjamin Fletcher was appointed by King William and Queen Mary, Governor General at New York, Captain General and Governor in Chief over Pennsylvania and Three Lower Counties (squeezing Penn out), and the next year he named William Markham Lieut. Governor. In 1694 William and Mary restored Penn's colonies to him, and he confirmed William Markham as his Lieut. Governor. In 1702 (or by some accounts 1705), further steps were taken to separate the affairs of the colony from Pennsylvania, but as stated in the beginning, Delaware did not become a State until seventy years later. In none of the sources found on the Internet was there mention of George Harlan, but by their very nature, electronic searches tend to be rather superficial. I think he may well have been an elected representative of his area but am not sure just what his title would have been.
---
Date: 15 Apr 2005
From: D100harlan@cs.com
American Memory provides free and open access through the Internet to written and spoken words, sound recordings, still and moving images, prints, maps, and sheet music that document the American experience. It grew out of a project to digitize some of the Library of Congress's historical collections to include materials, from the collections of the Library of Congress and other institutions.
Searching "harlan" got me 3532 results, including the full text of the book _California '46 to '88_ and letters from James Harlan to Abraham Lincoln in the 1860s. One can also browse collections by topic.
David Harlan * New Orleans, LA (formerly of St Louis, MO; born and raised in Fayetteville, AR)
---
Date: 13 Apr 2005
From: JDHarlan@aol.com
Subject: Family Tree DNA

Hello everybody,

I am having my DNA tested through www.familytreedna.com. They are partnering with National Geographic to trace ancestry back 10,000 years. Family tree has established a Harlan group and takes into consideration different spellings. So for $99 plus postage we can really find out how we are all related.

John Harlan
Des Moines
---
Date: 25 Mar 2005
From: Cheryl Embry <cembry57@comcast.net>

I just found your website and must say I am impressed! I began tracing my linage just a couple of months ago and found out I am related to the James Harland through George Harlan b.1648> Aaron b.1685> Aaron Jr. b.1724> James b.1765> Valentine b.1787> Aaron b.1813> James Ruben b.20 Aug 1833> Anna Jemima Harlan b.17 Mar 1860 m.David Sheline> Lilly Dell Sheline b.Apr 1888 in Iowa m.Pearl Leroy Stambaugh b.23 Dec 1881 in Missouri> Claude Earl Stambaugh (my father's father)b.29 Jul 1911 in Wray Colorado while his parents were Homesteading. Pretty awesome! Although I must say I am having a VERY hard time tracing my gggrandfather Pearl Leroy's lineage. You would think a man with an unusual name as PEARL LEROY would be easy to find.

Anyway, I just want to say Hello,
A Distant Relative,
Cheryl Lynn (Stambaugh) Embry
Grain Valley, Missouri

---
Date: 25 Mar 2004
From: lisabural@yahoo.com
Hi, I am related toGeorge and Elizabeth (Duck) Harlan, AAron, AAron, AAron, Samuel, Stephan, Mary ann Harlan Veach. Can anyone tell me anything about them? Who did Aaron Harlon b. abt 1752 have his children with? Sarah Hollingsworth or Galbraith or alittle with both? Please contact me at lisabural@yahoo.com
Thanks a million!!! Lisa
---
Date: 14 Mar 2005
From: <grammern@itlnet.net>
Subject: Harlan/Rice connection
My father was a Rice by adoption, a Harlan by birth. Claude Cornelius Harlan
and Edith Hannin Harlin were his biological parents. They both died around
1919 during an influenza pandemic in Perry Okla. If anyone knows who they
were decended from I would appreciate the information. Particularly I am
trying to make a Harlan, Rice, Stanton family connection. My father was born
Richard Roy Harlan, ( to Claude and Edith) at adoption he was renamed Roy
Harlan Rice. The couple adopting my father were Elbert Harlan Rice and Lula
Belle Rice.
---
Date: 7 Mar 2005
From: Lori Schultz <laschultz3163@yahoo.com>
Subject: Harlin
I was wondering if the Harlin name is related to the Harlans? I have names and dates of my gra dmothers brothers and sisters. They are the children of Isaac Harlin. From the Misouri area.I keep running into a dead end with Harlin. I'm just starting to search my family tree.
Thank you, Lori Schultz
---
Date: 22 Feb 2005
From: Ruth Harlan Lamb
Subject: 99 Iowa Counties
Under "Messages" of February 5, 2005, Donna Robson asked if anyone had the words to "The Ninety-Nine Counties of Iowa."
I have a copy, sent to me by Julia Harlan of Newton, IA, whose husband, Ellis, recited them at the 1997 national Harlan Reunion in Mt. Pleasant, IA.
Anyone wishing a copy can e-mail me their postal address and I'll mail a copy.
Ruth Harlan Lamb
harlamb@aol.com
---

Date: 10 Feb 2005
From: William McGuirk <billnanny@earthlink.net>
I am Stella Harlan McGuirk and am the daughter of William Grant Harlan Jr, and niece of Lola Harlan and am looking for other decendants. William Grant Harlan Sr died in 1924, and his son William Grant Harlan Jr passed in 1980.

Especially interested in finding the children of Lola and Audrey. Any still living in California?

William McGuirk
billnanny@earthlink.net
---
Date: 10 Feb 2005
From: <Sbckcam@aol.com>
I have recently purchased a painting that is "signed" by J.HARLAN and found it in the South Bend, IN area. I am not quite sure how to describe it. It is framed in a gold frame and is a portrait of a man. The framing was done by Carlson in Wheaton, IL. Not sure if this was done by one of your family members or not. Please let me know if you have any interest.
---
Date: 9 Feb 2005
From: Diane <Dj039johnson@aol.com>
Subject: Raymond Harlan
I am looking for information on Raymond Harlan of Kentucky. His father was also Raymond Harlan. I am a Harlan and I am involved with a Harlan. I need to find out how closely we are connected. Can anybody help? I am from Michael.
Thank you everybody,
Diane
---
Date: 6 Feb 2005
From: Junior Harlan
A new area has been added to the website. It is called "Names Upon the Land", which carries the Harlan name. It consists of place names (mainly geographic and political, but also buildings) in the 50 United States. Steve Harrison is maintaining a data base with the data and we would like to invite all to submit additions, corrections, or additional information to the sites. You may provide data to Steve by e-mail raleighwood@juno.com or by regular mail to Steve Harrison P. O. Box 1218 Manteo, NC 27954.

We want to include history that links a place name to an individual.

Please visit the site and if you can add further documentation to any of the listed sites or add new sites, please contact Steve.
---
Date: 5 Feb 2005
From: Donna Robson <dmrobson@webtv.net>
Subject: 99 Counties of Iowa
I have been searching the internet for 6 years, trying to find the words to the poem of 99 Iowa Counties. My mother also learned that poem and remembered it into her 90's. Is there any way for me to get the words? I would be so thrilled to have them.
Thanking you, Donna Robson
---
Date: 24 Jan 2005
From: Carolyn Distin

I am seeking information on the family of #7310, Albert Edward Irwin who was married to Albertina "Allie" Sinniger in Sangamon, Illinois, a direct descendent of my mother, who is also a Sinniger. I have one name of a child for Albert Irwin and Albertina Sinniger and suspect there were more children. Albert Edward Irwin is a child of #2913 Rachel Ann Cassandria Harlan and James Irwin. I had an e-mail address for a David Harlan Irwin, but it is not valid. Any information on this family would be greatly appreciated.

Carolyn Distin
momiecat@earthlink.net
---
Date: 23 Jan 2005
From: Jane C. Grezlik <jcgrezlik@bright.net>

Hello, I am researching my Boyd family line from Cecil Co. MD. I understand that Lewis Harlan, son of Solomon Harlan and Mary Marshall married Esther Boyd, b. 1788 - d 1867. This is noted in the Harlan History on pps 59 and 161. Does anyone have any additional information on this line?
According to a letter dated 1853 and written by Esther's brother Hugh S. Boyd to another brother, James, in Ohio, Esther had a daughter Rebecca Harlan that married an Abraham Whitaker.
I found them on the 1880 census, I think. If I have the right ones they had a daughter Laura b. abt 1854. Would like any information on her and if there are any other children. This family may have moved west, then returned. I have had trouble following them on the earlier census.

Thank you very much for your help.
Jane jcgrezlik@bright.net
---
Date: 22 Jan 2005
From: Patrick Chrisman

my husbands great grandmother was RUTH ANN HARLAN HANNIGRIFF who was from Houma, louisana. we need to know of what decendent of georges children she is. This way we can complete his family tree. please any information you or anyone can provide will be greatly apprecatied.

please contact us at patrick_jamie_chrisman@hotmail.com
---
Date: 18 Jan 2005
From: Marvin Gregory
I took this photo while visiting the Old Mulkey Meeting House in Thompkinsville Ky last summer. I thought I would share it here for those who have Mary in their direct line but who live to far away to make the trip.

Marvin Gregory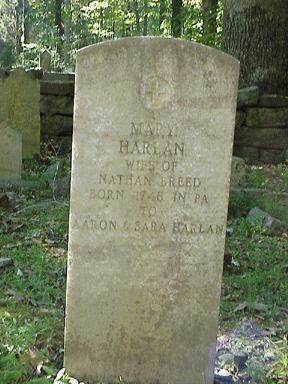 ---
Date: 17 Jan 2005
From: Neilla Harlan Banse <gnbanse@midlands.net>

Hi Beth,
Jake Harlan was my great-great uncle. I don't have a lot of information on him, but I do have some. He and his wife Minnie are buried in the cemetery at Geneva, Iowa. He is in the Harlan genealogy book on page 951 listed under his father's entry. His father was Nathaniel Harlan #7225. Actually, Jake's relatives did not live in Harlan, Iowa (no Harlan's live there, ha) but the Franklin and Butler County areas, mostly Aredale, Dumont, and Hampton. I'd love to hear more from you! My information on that line stops with Harold Eldon.
Neilla Harlan Banse
---
Date: 10 Jan 2005
From: Beth B <ebode@charter.net>

I am looking for information on my great grandfather Jacob Harlan his wife Minnie their son my grandfather Harold who married Mary Ellen Cotter around 1925-26 To this union was born H.Nathan Harlan and Shirley M Harlan. Harold Harlan was married at least one other time and as far as we know lived in
California at the time of his death in the 1970's. Jacob and Minnie lived in Austin MN and had relatives in Harlan IA. Thank you for any information you may have on this. My mother is 78 and would like to know more about her family and if she has any half brothers and sisters.
Beth Bodensteiner
---
Date: 8 Jan 2005
From: Linda Harlan White <Lhwhite999@aol.com>

I have been interested in my family history since I was little, now I'm 47 and this is what has been left to me:

Me: Linda Harlan White, Santa Ana, Ca.
My father: Gale Harlan San Diego, Ca.
My Mom: Paula Dunsmore Harlan San Diego, Ca.
Grandfather: Dale Harlan (Pappy), Douglas, Neb., b Oct. 4,1897, d Nov. 9 1983, pd. San Diego
Grandmother: Nona Louella Wanner, Osgood, Ind.
Great Grandfather: James Allison Harlan,pb. Red Oak, Montgomery, b.Dec. 18 1861, d.Dec.4, 1948, pd.Garden Grove, Ca., g Compton, Ca. Mausaleum

Great Grandmother: Elisabeth McPherson, Otoe, Nebraska, b Dec. 24, 1871, d July 16,1966, g Long Beach, Ca.
Great Great Grandfather: John Millton Harlan,pd Indianapolis, Ind.,b Dec1834,d Nov 1906, pd.council Buffs, Iowa
Great Great Grandmother: Elizabeth Agnes Stennett, ILL., b 1836, d Feb.1921, pd Salina, Kansas
Great Great Grandfather: David McPherson, Grennock, Scotland, b Nov. 1835, d Oct. 1917, pd @ g Douglas, Neb
Great Great Grandmother: Margaret Robertson, Wisha, Scotland, b June19, 1847, d July 12, 1926
Great Great Great Grandfather: Gilbert Douglas Robertson, ?
Great Great Great Grandmother: Elizabeth Davison, Wisha, Scotland, b 1816, d 1893
Great Great Great Grandfather: John McPherson, Scotland, b 1800, d 1887
Great Great Great Grandmother: Katherine (Kitty) Boyne, Scotland, b 1806, d Mar.28, 1886

I have lots more info dates, marriages and children written in the margins let me know what you need?

As for me, my husband and I have six kids Alison is our oldest she named after my Great Great Grandfather James Allison Harlan and our last child Nathaniel Harlan White will carry our last name forward.

Sincerely Linda Harlan White
---
Date: 4 Jan 2005
From: Junior Harlan

I looked in Alpheus Harlan's book of the History and Genealogy of the Harlan Family and this the line:
George #3, who marrried Elizabeth Duck; Arron #8; George #37; George #180; Silas #677; James #2297 who Ann Eliza Peck. James Harlan lived in the Harlan House in Mt. Pleasant, IA. They had three children; Mary Eunice, who married Robert Todd Lincoln; Wiliam Aaron, unmarried; and Julia Josephine, unmarried.

Junior F. Harlan
Site Coordinator/Vice President
---
Date: 1 Jan 2005
From: Charlotte Weaver <webich@netins.net>

Please tell me how my 7th great grandfather George Harlan who married Elizabeth Duck is related to the Harlan who had the Harlan House in Mt. Pleasant, Iowa.
I live about 30 miles from it.

Charlotte Weaver
21071 110th St.
Birmingham, Iowa 52535
email webich@netins.net
phone 319-498-4253