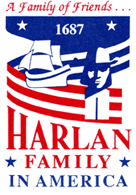 Home
Association
Cousins
Genealogy
Genealogy Data
Great Trek
Historical Sites
History
Messages
Name Origins
Names Upon the Land
Newsletter
Ninety-Plus Club
Reunions
Store
Stories
Tours
Who's Who
Site hosted by

Comments or suggestions?
Fred Harlan
Harlan Family Ninety-Plus Club
CONGRATULATIONS TO OUR HONORED
NINETY PLUS CLUB MEMBERS !!!!
The Officers and Board of Directors of The Harlan Family in America established a "NINETY-PLUS CLUB" which includes living members of the Harlan/Harland/Harlin family who are 90 years of age or older. Let us know if you or a relative qualifies. Send your message to Ruth Harlan Lamb.
JOHN WILLARD ASH was born August 26, 1916, in Jourdanton, Texas, son of John A. Ash and Rachel Harlan Ash. At age four, he left Texas and went to California where he has lived for 90 years. Willard met his late wife, Anna M. Ash, at Camp McCoy, Wisconsin, while serving in W.W.II. They were married for 60 years. Willard has two brothers, James Ash, who was a pilot in W.W.II and the Korean War where he was killed, and Warren Ash, a veteran pilot of W.W.II and the Korean War, living in California. He also has one sister, Rae Ash Thompson, a skilled horsewoman living in Washington. He has two sons: Gregory and Kevin, and two daughters: Jane and Corinne, six grandchildren and four great-grandchildren. Willard has always been a big University of Southern California sports fan and sent all four of his children to USC for their education.
ANNA MAE HARWOOD CRANE was born on December 12, 1919, in Hartley, Iowa. She married Jackson Blair Crane in June of 1943 while he was stationed at the Sana Ana Army Air Base in Orange Co., Calif. Anna Mae was a housewife and mother to six children. She served as homeroom mother to all the children and enjoyed decorating their home for holidays. Anna Mae and her husband enjoyed traveling. she now resided in Whittier, Calif.
LEONARD HARLAN lives in Ft. Wayne, IN. He was born August 31, 1927. No biography was submitted.
LOIS DRAKE HARLAN was born March 27, 1927, in Cleveland, OH. She was married to Earl C. Harlan from 1947 until his death in 2007. A homemaker who became blind at 32 years of age, Lois raised four sons (David, Richard, Steven, and Gregory) and today has nine grandchildren and eight great-grandchildren. In earlier times she enjoyed travel and gardening, church work and piano and organ playing. She and Earl also attended several Harlan reunions, most recently in 2002. Lois currently resides in an Ohio assisted-living facility, minutes from two sons and their families.
MARGARET B. HARLAN was born January 28, 1920. She lives in a retirement community in Bethany, OK. She is the widow of Ross Harlan, who retired as Senior Vice President of Oklahoma Gas & Electric Co. She went to school at Fair Park High School in Shreveport, LA, and Rose State College in Oklahoma City. She has four children, 14 grandchildren, seven great-grandchildren and one great-great
TOM JONATHAN HARLAN celebrated his 91st birthday at home with his wife, Mary L. Mainwaring Harlan, 90. The celebration included their four sons; Tom Jr., Jim, Jan and Rob. Tom (not Thomas) was born in Lorain on September 29, 1921. He's the son of #4968(i.); Walter Roderick Harlan and Thelma Bullard Harlan. Tom owns one of the original Alpheus Harlan books. After serving in Austria in World War II, Tom was a chemical engineer and worked at just one company his entire career. He and Mary met at Fenn College in Cleveland, Ohio. They married in Biloxi, Mississippi on April 2, 1945 (67 years) and continue to live in the same house they have shared since 1948 in Parma Heights. Tom and Mary enjoy nature and are proficient birders.
BARBARA GLEW HAYTHORN was born March 30, 1918, in Creston, IA, during the peak of the pneumonia epidemic, and her mother spent 13 weeks in the hospital after contracting pneumonia. Her mother, Mary Harlan (Mamie), is #10037 in Alpheus Harlan's book. Barbara married J. Willis Haythorn, and they lived 32 years in the Chicago area before retiring to Tryon, NC, in 1978. She has two sons and four grandchildren.
CLIFFORD HARLAN HULLINGER was born on July 3, 1920. His 90th birthday was celebrated by a large family reunion of all the descendants of his parents, John and Pearl Harlan Hullinger. Clifford was the Director of Research of American Maize Corporation. He served in the 109th Engineers of the 34th Infantry Division in World War II, serving in Africa and Italy, and receiving a battlefield Commission at Anzio. He was a founder and former President of the Beacon School.Clifford married Louis Liffengren. They have four children: Craig, Neil, Anne, and Scott Hullinger; and six grandchildren.
DOLORES (DOLLY) FURLER McCORMACK lives in Waterloo, Ontario, Canada. She was born May 18, 1927. No biography was submitted.
MARVIN MCDOW was born in Portland, Oregon, October 20, 1918. He had a twin sister, Ezane, who is now deceased. Marvin came to California when he was about 4 years old from Spokane, Washington. He served 5 1/2 years in W.W.II and graduated form the University of the Pacific. Marvin worked as a school teacher and administrator in Stockton, California, schools. He and his wife, Roberta, have two sons, Mikkel and Stephen, and one grandson, Elijah Stephen Mavin is a world traveler, enjoys his retirement and is active in civic organizations.
MARGARET HARLAN OLSON was born January 17, 1928, in Ohio. She met her husband, Richard, while both were attending George Washington University. Richard worked for the U.S. Department of State and was assigned to embassies abroad for over a decade. After Richard's untimely death, Margaret became a member of the City Council, served on a YWCA Board, joined a book club, and became an active member of the Alumni Association of one of the colleges she attended. She also was an avid bridge player. She continues to be active. Margaret has three children and three grandchildren who live nearby. She lives in Bristol, TN.
VIRGINIA RITTER was born September 11, 1921, in Chicago, IL, and now resides in Sun City, AZ Virginia loves Scrabble and has mastered the list of Qs
GENE HARLAN SESSAMEN, SR., was born in Mantua, Glocester County, NJ, on September 22, 1927. He descends from Henry Oscar Harlan (#4079), determined to be the eighth generation from Michael Harlan. Gene married Virginia Sargent in Vermont on June 25, 1950. He worked 30 years for the New Jersey Department of Labor and after retirement in 1991, he and Ginny traveled the United States extensively in their RV. They have two children, Gene, Jr., and Linda, plus three grandchildren and five great-grandchildren. Gene loves to play cribbage and often plays at the Westminster Village in Bloomington, IL, where they live. He collects cribbage boards and is looking forward to the next Harlan Reunion.
AMELIA CATHERINE HARLAN VEGA (Kate) was born December 6, 1926, in Canton, OH. Her parents were George Erven Harlan and Emma Marie Kelley. She married Rufino Vega, Jr., the son of Spanish immigrants in 1940, and together they raised seven children. She lives in Canton, OH.