Anniversary of Lewis & Clark Expedition Has Harlan Link

| | |
| --- | --- |
| | We're just beginning to celebrate the 200th anniversary of one of our nation's most important events--the Lewis and Clark Expedition. In 1803, President Thomas Jefferson got Congress's approval for financing an exploration of uncharted Western lands. From 2003-2006, the discoveries of these venturesome men will be celebrated at various junctures of their route. The journey was 8,000 miles and lasted 28 months. The cost was estimated at $2,500. |
Geographer James D. Harlan of Missouri has an important connection to this historic observance. He has recreated maps of the Lewis and Clark journey across Missouri territory by combining information from their journals and early U.S. General Land Office surveyor field notes, and adding land-cover information obtained from satellite imagery and aerial photography. Jim put all the findings into a geographic information system database, and what emerged is the most accurate record to date of Lewis and Clark's trek.
Jim is assistant program director at the University of Missouri's Geographic Resources Center in Columbia. He has spent over six years developing his data- collection and mapmaking methods. Jim has been a teacher and researcher at the University since 1996. Previously, he worked for telephone companies and as a soldier in the U.S. Army and the Missouri National Guard.
Born in Moberly and raised in Cairo, Mo., by James Walter and Betty Harlan, Jim has loved maps, geography and history all his life.
The accompanying photograph shows Jim sitting on Wolf's Point near Lupus, Mo., and was taken by Ira Block from National Geographic. An article, "Lewis and Clark's Lost Missouri," appeared in the April 2002 issue and featured Jim Harlan, the mapmaker.
According to Jim, his project "stirred up a hornet's nest across the country," since his updated, accurate maps have challenged some towns' claims to fame. The supposed route followed has now been redrawn to show that some stops made by Lewis and Clark were actually in other locations. Jim's ancestral line includes: George #3, James #11, John #44, Isaac #207, Isaac #797, Washington #2717, Isaac Newton #6803, James Virgil, and Jim's father, James Walter (J.W.) Visit Jim's Web site of Lewis and Clark information: http://lewisclark.geog.missouri.edu
---
HARLAN FAMILY IN AMERICA OFFICERS
OFFICERS

President: Robert R. Harlan
1716 Clark Ave, Yuba City, CA 95991
Vice-President: Junior F. Harlan
6218 E. Betty Elyse Ln, Scottsdale AZ 85254
Secretary: Ruth Harlan Lamb
4305 S. Bryant Ct., Independence, MO 64055
harlamb@aol.com
Treasurer: John R. Harlan
422 Aumond Rd, Augusta GA 30909

BOARD OF DIRECTORS

Robert A.Harlan (PA)
Connie J. King (VT)
Gerry Harlan Lundgren (IA)
Mary Harlan Murphy (PA)
Liz Harlan Sly (NJ)

BOARD MEMBERS EMERITI

Dan Harlan (VA)
Ridge Harlan (AZ/CA)

---
This newsletter is published semi-annually by The Harlan Family in America, a permanent organization established to document the historical contributions made by Harlans in America. Stories, photos, and other information submitted for publication should be sent to:

The Harlan Family in America
P.O. Box 1654
Independence, MO 64055

Editor - C. J. King joking@sover.net

Editorial Board -
John L. Harlan, Diana Harlan Wells, Ed Wynn

---

CASH IN SAVINGS ACCOUNT 9/1/02

$22,410.66

INCOME
Contributions
505.00
Harlan Genealogy Book Sales
1,260.00
Interest Earned (Savings Account)
77.10
Harlan Store Percentage

101.15

Harlan Cookbook Sales
1,558.00
Misc. Sales

104.00

-- TOTAL INCOME

$3,605.25

DISBURSEMENTS:
Book Storage, Insurance, Shipping
460.25
Newsletter Printing/ Mailing

1,644.14

Cook Book Shipping
145.95
--TOTAL DISBURSEMENTS
$2,250.34
CASH IN SAVINGS & CHECKING ACCOUNTS 3/1/2003

$23,765.57
---
In Memory of. . .
Mozelle Harlan Thomas, 97, passed away September 19, 2002, in Bridge City, Tex. She was the oldest of six children of Minnie and Ruma Lee Harlan #6099(i). She is survived by two sons, Brian K.Thomas and wife, Dorothy; and Robert S. Thomas, and wife Jettie; five grandchildren and eight great-grandchildren.
Alma L. Harlan Christy, 100, Huntington, W. Va., passed away September 30, 2002.
Fannie Agnes Billig Harlan, 91, died November 25, 2002, in New Castle, Pa. She was buried in Harlansburg, Pa. Fannie was the mother of Jim Harlan, who with wife Sue, were owners of The Harlan Store.
Jewel Vivian Harland Westerman, 92, passed away January 24, 2003, and was buried in Redwater, Tex. She is survived by sons, Richard C. Westerman and Newton K. Westerman; daughters Vivian Westerman Kackley and Margaret Westerman Snook; grandchildren and great-grandchildren.
Elizabeth "Betty"Drury French, 92, died December 10, 2002, in Walnut Creek, Calif. She was a direct descendant of the Fowler, Hargrave, Harlan and Smith pioneer families who immigrated to California in 1843-46. Her survivors include twin daughters, Janet Ward and Julia Maxwell, two grandsons, four granddaughters and two great-grandchildren.


---
Harlan Web Site Leads to Reconnection with Alpheus H. Harlan

Alpheus Harlan devoted over 30 years of his life to collecting and compiling History and Genealogy of the Harlan Family, the genealogy of George and Michael Harlan, who came to America in 1687. The great-granddaughter of Alpheus discovered the current Harlan Family organization by accessing the Harlan Web site.

Frances Pickin Florio and her father, John Harlan Pickin, both live in New Jersey, not far from the location of the 2002 national reunion of Harlans, but they discovered it too late to attend.

Recently John wrote a letter to The Harlan Family which gave some interesting and unknown insights into Alpheus's later life:

"In 1918, Grandfather Alpheus was nearly helpless with progressive paralysis and spent days in an invalid's chair with broad arms and a footrest. One day Mother lifted me onto the arms of the chair so that the two of us could have a good look at each other. No words were spoken. To tell the truth, I do not remember the incident but was reminded of it many times.
"Several years earlier, Alpheus had lost the use of his right hand, the fingers knotted with what was then known as writer's cramp, better known today as carpal tunnel syndrome. The BOOK was then at a critical final stage. Son William (#9716) dropped out of college to spend the next three years compiling the index, a massive job, plus proofreading, working on additions and corrections, and making contacts with the Lord Baltimore Press. William also took on a local teaching job to supply seriously lacking income.
"The BOOK finally went to press at Lord Baltimore with a run of 800 copies. Four hundred were immediately bound in dark brown board with a leather facing along the back edge. These went immediately to those who had pledged $10 each. The remaining 400 copies, unbound, were bundled in twenties and shipped to the home in New Burlington, Ohio. In the next 70 years they would be bound in lots of six to meet yearly sales that averaged five. The BOOK was never a best seller.
"It all started in a visit by Alpheus in 1881 to an old cousin down in the country who presented him with a treasure trove of old letters, some going back into the 1700s. From these letters he learned of his great-grandfather Enoch (#117), who died in North Carolina but had been born in Chester County, Pa. It then came out that there were still Harlans in the Brandywine settlement and also valuable records kept in the Quaker meeting house at Chester. Meeting house records provided the links back to Ireland and ultimately to England.
"Correspondence became enormous, and Alpheus's life was 'pen in hand'. He did acquire an 1890 typewriter and taught himself to type. Of course, he had to make a living, and his occupations ranged from bookkeeper at a small coal mining operation in southern Ohio; postmaster in the village of New Burlington; Justice of the Peace; agent for fire insurance; agent for a number of magazines; agent for the ONT Thread Co.; secretary for the Claysville and Hocking Valley Spur line with 20 miles of track, one locomotive and 10 years in operation; secretary of the Miami Cemetery Association; and secretary of the Masonic Lodge. His handwriting was the sort called Spencerian.
"When the family got together, the talk was often of Harlans, past and present. Connections were also important. I remember my mother saying, 'If you ever meet someone named Hollingsworth, shake hands because they are connected.' Thirty years ago, on Amtrak and passing through Wilmington, Del., there was this roadside sign, 'Harlan & Hollingsworth Ship Repair,' Also in the ship business were 'Harland & Wolff' of Belfast, the company that built the Titanic. Then there were the Boones. Somehow, the Harlans got tied in with Daniel and followed him into Kentucky and helped out at the battle of Blue Lick.
"Mother firmly believed that since Harlans were firstcomers in Ohio, it was her duty to welcome newcomers, whoever and from wherever.
Your cousin in some degree, John Harlan Pickin "

---
Sites in TX & NE Connected by a Harlan
Dear Harlan Friends,
I was born and raised on the south side of San Antonio, Texas, and attended schools in the Harlandale Independent School District. For many years untold numbers have attempted to find the origin of the name Harlandale.
Now that I am retired I have joined the untold numbers in attempting to solve this elusive mystery. I have a secret source --my mother, who is 90 years old. She said she worked for an architect and his wife, Carleton and Marcia Adams, in the early 1950s. Carleton Adams, one of Texas's most renowned architects, was born in Alma (Harlan Co.), Neb., and brought to Texas by his father, Jay E. Adams, in 1890.
Jay Adams was a real estate developer, and it is believed that he was the developer of the proposed town of Harlandale, which was never incorporated and was eventually absorbed by the city of San Antonio. I have since learned that the namesake of Harlan County, Neb., was one Thomas Harlan, an early member of the first Nebraska Territorial Legislature (originally from Wyoming, I believe), and an associate to Jay Adams.
The ironic twist to all of this is that my brother, after leaving Harlandale High School, joined the Marine Corp. After a tour of duty in Korea he was assigned to a naval ammunition depot at Hastings, Neb. He met and married a local girl and settled in the area. During several summers I would visit him, and we would go fishing at his favorite spot, nearby Harlan County Reservoir.
Little did these two graduates of Harlandale High School in San Antonio realize, but they were fishing in the middle of a Nebraska lake with the same namesake as their high school.
--Charles M. Neal, Jr.
---
Expert on World's Oldest Tree Is a Harlan
Thomas P. Harlan IV, a descendant of Michael Harlan (#4) and a Texan by birth, is a dendrochronologist and has spent years researching the bristlecone pine tree. Most of these trees are in high altitude deserts of the Great Basin of western North America, where there is very low rainfall and sparse vegetation. They have been misshaped by winds, deprived of moisture, starved of nutrients, yet they sometimes live for 5,000 years.
Harlan, a retired University of Arizona tree-ring scientist, is still searching for a missing link to fill a gap in a 12,000-year chronology of North America's climate. Tom and his wife, Annita, a botanist and science fiction writer, recently hiked and searched for bristlecone samples in the White Mountains of California. They are looking for samples of both living and dead trees that will furnish answers to questions about ancient climatic changes, volcanic eruptions and droughts. The work is precise and complex, and Tom is an expert in finding and interpreting clues. Scientists respect his ability to assign highly accurate dates to tree rings.
Tom IV's line is: Michael #4, George #14, John #68, Thomas #290, John #1108, and Thomas P. #3498, the last in the line to be listed in Alpheus Harlan's book. Thomas P. was in the Texas Hill country in the 1850s, buying and selling horses. He married Mary Dallas Williams in March 1869, but died five months later. A son, Thomas P. II, was born after his death, allowing the continuation of this line of the family.
Tom IV and Annita have a son, Thomas P. Harlan V, who is also a science fiction writer with four novels published and another due out in April.
---
Finnish Harlin Finds Family Via Internet
Below are excerpts from some e-mails received from Yrjö (translated "George") Harlin, who lives in Tammiosaari, located on the south coast of Finland.
"I was very surprised to find so much information about Harlan/ Harlin. We are also some here in Finland, and the first name in our family tree is HENRIK GEORG HARLIN, soldier (ensign) in the army of King Carl XII. Date of birth: 1692 Place of birth: ?
Do you have any information about him?
P.S. According to tradition, the family is originally coming from Scotland.
Yours sincerely, Yrjö Anton Rafael Harlin"
Yrjö also stated that besides Scotland, his ancestors could have come from England or Ireland. His theory is that something may have happened in the mid-1600s in England causing citizens to move to other countries. Yrjö says tradition has it that the early Harlins in his country were Protestants (Huguenots in an earlier time).
Yrjö is a product manager (engineer) and his family includes son Erik (12), daughter Emilia (15), and wife Elisabet, a kindergarten teacher. He reports there are about 150 Harlins in Finland, but no Harlans or Harlands.
Yrjö would like to hear from anyone with additional information.
Contact The Harlan Family in America (address on page 2 of newsletter) or e-mail: harlamb@aol.com and your communication will be forwarded.


---

The Illinois Harlans and Mr. A. Lincoln
by Jane A. Harlan, Somerset, KY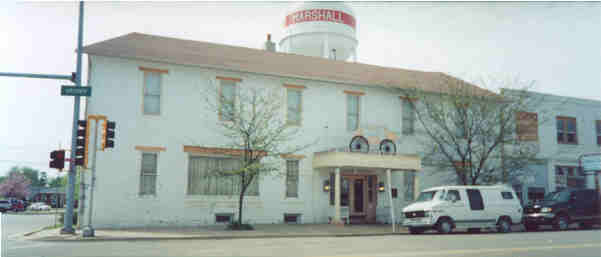 Archer House, Marshall, Ill.
When we think of the Harlan connection with Abraham Lincoln we usually think of the Iowa Harlans, primarily Senator James Harlan (#2297) and his daughter Mary (#5864). According to biographer Johnson Brigham, Senator James Harlan met with Abraham Lincoln first in 1861, shortly after Lincoln was elected President. But Mr. Lincoln knew the Harlans from Illinois long before he met the senator.
Senator James Harlan was born in Clark County, Ill., and a number of Harlan relatives still lived there in 1861. Some of them, Mr. Lincoln had known for many years, dating back even before 1830, when the Lincoln family moved to Illinois.
The Harlans of Warren County, Ohio, were discussed in the October 2001 edition of The Harlan Record. The Zachariah Archer family also lived in Warren County, Ohio, until around 1817, when they migrated to Clark County, Ill. The Archers had a son named William, who later came back to Ohio and married the oldest daughter of George Harlan (#672), Elizabeth (#2253). He also persuaded Jacob Harlan (#2254), the oldest son, to move to Illinois with them.
Harlan brothers Justin (#2255), Newton (#2261) and Howard (#2262) eventually moved to Clark County too, as did Uncle Silas Harlan (#677), the future father of Senator James Harlan.
William Archer became a leader in Illinois politics and was already serving in the Illinois Assembly when the Lincolns moved to Illinois in 1830. Archer is recognized as the founder of Marshall, Ill., and Archer Avenue in Chicago is named after him.
When William Archer nominated Abraham Lincoln for Vice-President at the Republican National Convention in Philadelphia in 1856, he said he'd known Lincoln for 30 years. This was possible. At 17, in 1826, Abraham Lincoln made a flatboat trip down the Ohio River. There are no written records of what took place on that trip, but it certainly placed him in a situation to meet new people. William Archer also had a history of traveling on the river.
William Archer, Justin Harlan, and Abraham Lincoln later served together as officers in the Illinois militia during the Black Hawk War. William Archer and Justin Harlan were both officers from Clark County. Lincoln was an officer from Sangamon County. William Archer and Abraham Lincoln also served together in the Illinois legislature and were political allies supporting many of the same causes.
After 1836, when Abraham Lincoln became a licensed attorney, legal documents started to show his connections to Harlans. His travels included Clark County, Ill. The Archer House in Marshall, Ill, has a sign stating that Abraham Lincoln was a former guest. One record from 1842 shows that William Archer was sued, and that Abraham Lincoln guaranteed payment from his own personal funds. No lawyer would do that except for a personal friend. The History of Crawford and Clark Counties, Illinois, describes William Archer as a devoted "friend" of Lincoln's.
Abraham Lincoln frequently had local attorneys as co-counsel on cases, and records from Clark County show Justin Harlan handling cases with Lincoln. Justin Harlan was actually a judge throughout most of Lincoln's legal career in Illinois. Illinois Supreme Court records include several appeals where Abraham Lincoln was an attorney on the case, and Justin Harlan was the judge.
On May 3, 1849, while Abraham Lincoln was in Congress, Justin Harlan sent a letter seeking a patronage job for a "crony"of theirs, implying that indeed they were cronies. A news article from 1841, about Whig party events in Sangamon County, Ill., showed Justin Harlan and Abraham Lincoln attending the same event as allies. At that time Lincoln was supporting Harlan for a nomination for Lieutenant Governor.
Both Newton Harlan and Howard Harlan served as Clerk of Court in Clark County before becoming lawyers and moving to Washington, D.C. Existing court documents from some Lincoln cases in Clark County were received by and signed by Newton Harlan as the Clerk of Court.
Unfortunately, Jacob Harlan died in 1836, the same year Lincoln got his license to practice, so he is not included in any of these records, even though he served as Clark County Clerk of Court several years before his death. The Clerk of Court positions included many responsibilities that would be considered judicial functions today. For example, there are records of Jacob Harlan probating estates.
Lincoln's continued relationship with Jacob Harlan's widow and the inclusion of her home in the Lincoln Log Cabin State Historic Site, Charleston, Ill., tend to confirm that Lincoln was as close to Jacob as the other Harlan relatives. Visitors to the park are told that Lincoln was a frequent visitor at the home of Nancy Chenoweth Harlan Sargent. He knew her first husband, Jacob Harlan, as well as her second husband, Stephen Sargent, who was a progressive farmer in the 1840s.
The children of Jacob and Nancy Harlan who lived in the Sargent home are: Burns (#5732), Mary Louisa (#5733), George (#5735), and Martin (#5736). Another daughter, Amanda (#5734), is buried with her father at the Darwin Cemetery in Clark County. Son George later died of pneumonia while attempting to enlist in the army in 1865.
When Abraham Lincoln became President he passed out patronage positions to his friends and supporters, as was and is the custom. Justin Harlan became the Indian Agent for the Cherokee Indians. This was a very responsible position because the Indians had been supporting the Confederacy, and the Union didn't want a Western front too. Justin's son, Howard, became Postmaster of Marshall, Ill. Later, he built Harlan Hall. (See Historic Site section, Harlan Web site.) Senator James Harlan, from Iowa, eventually became a member of Lincoln's Cabinet as the Secretary of the Interior.
Johnson Brigham's biography of Senator James Harlan, published in 1913, refers to James Harlan's relationship to President Lincoln as follows: "During the years of the war the friendship between Lincoln and Harlan apparently deepened, in spite of the fact that the senator was often a severe critic of the President's actions, for on public occasions Harlan was nearly always to be found in the presidential party. At the second inaugural on March 4, 1865, Senator Harlan was chosen as Mrs. Lincoln's escort, and Miss Mary Harlan was among the distinguished group surrounding President and Mrs. Lincoln at the inaugural ball." (Brigham. 196)

After Lincoln's death, Mary Harlan married Robert Todd Lincoln and became the mother of the Lincoln grandchildren. Could the foundation of this future relationship between the Harlans and the Lincolns have been laid by the Harlan cousins in Illinois?

Home of Nancy Chenoweth Harlan Sargent
at Lincoln Log Cabin Site near Charleston
Sources: (1) Brigham, Johnson. James Harlan. State Historical Society of Iowa, 1913. (2) Donald, David, Lincoln. Anstey, Leicestershire, England: Thorpe, 1995. (3) Harlan, Alpheus, History and Genealogy of the Harlan Family. Baltimore: Gateway Press, 1987. (4) Perrin, William. History of Crawford and Clark Counties, Illinois. O.L. Baskin & Company, Historical Publishing, 1883; Clark County Genealogical Society, P.O. Box 153, Marshall, Illinois, Telephone (217) 826-2864.


---
Harlans Photographed with Justice Ginsburg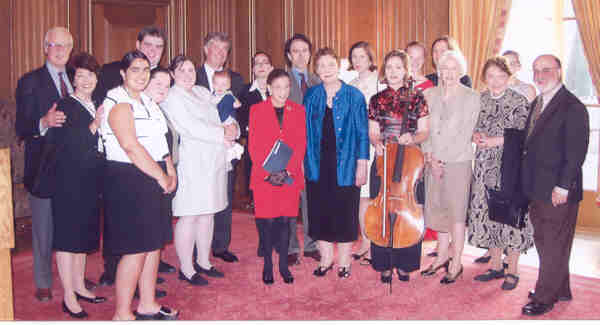 Justice Ginsburg was photographed with members of the Harlan Family.
Photo Courtesy of Supreme Court Historical Society.
At a May 30th reception in the Supreme Court Building, the publication of Malvina Shanklin Harlan's book, Some Memories of a Long Life, 1854-1911, was celebrated. Justice Ruth Bader Ginsburg, who was responsible for publishing the book, was present as well as members of the family of Malvina and John Marshall Harlan II.
A granddaughter, Amelia Newcomb, introduced her mother, Eve Dillingham, daughter of John and Malvina, and an accomplished pianist. Then Amelia introduced her sister, Kate Dillingham, a classic cellist, and the mother and daughter played selections favored by the very musically talented Malvina.
Malvina's book is available online through the Supreme Court Historical Society bookstore, http://www.supremecourthistory.org, or by calling (202) 543-0400.
---
It debuted at the 2002 Harlan Reunion! This wonderful collection of over 500 family recipes also contains the history of The Harlan Family in America, by Louis R. Harlan. Books may be ordered from the chairman of the project: Dorothy Harlan Sperry 3230 Kingman Rd. Ames, IA 50014-3941, for $10, plus $2.50 for postage and shipping. Make your check payable to The Harlan Family in America. (Only 39 left!)
---
A Visit to Harlan, Oregon
Submitted by Elizabeth Crow, Portland, Ore

From Oregon Geographic Names by Lewis A. McArthur, 1982:

"Harlan, Lincoln County-- James R. Harlan was one of the originators of the plan to secure a post office. The office, when established about 1890, was named for him. He was the first postmaster according to information by the postmaster in 1926."

Kurt and Susie Harlan (who you may know from last summer's reunion) visited Harlan, Ore., and reported, "There was not much to see." Of course I had to see it for myself. I found "Harlan" on my Oregon map and in August, 2002, I drove from King City on Highway 18 to Lincoln City, then on US 101 to Newport, then on US 20 (the road to Corvallis).
I passed by Burnt Woods, a little town nearby whose name was suggested by G. Downing "because of previous havoc wrought by forest fires," according to author McArthur. I stopped and asked at a coffee shop, "Where is Harlan?"
The waitress replied, "You just passed it." She instructed me to take the road back to Burnt Woods and drive south to Harlan. I drove several miles and passed a tree farm sign which read: "Fir Harvest 1943; Hardwood Harvest in 1991; Fir Harvest 2050." Planning ahead.
Where are all the 35 persons listed in the atlas as residents of Harlan? At the road junction where Harlan should be, there was an older home and gas pumps with a sign, which read "Closed." No one was at home, only dogs barking. I drove on, past a lovely meadow where cattle were feeding.
The Newport News Times, November 12, 1997, described Harlan as a place where "there were junked cars and torn apart mobile homes on the site of a former Harlan sawmill." I concurred.
Further, the report stated that Lincoln County has acquired 45 acres of industrial property on the aforementioned Burnt Woods'Harlan Road that year. There are still problems with the property, as taxes are owed to both the IRS and Oregon.
Another article from The Oregonian, published Nov. 26, 2002, reported that the Lincoln County voters ousted all of the Lincoln County School Board, except for one member. The newspaper stated that voters objected to closing an auto shop class at Newport High School, canceling sports at the middle school, and talk of privatizing busing and food service. The main objection was to closing Eddyville School, where Harlan children were attending, and busing the children to Toledo, a long bus ride.
Incidentally, Frank Lloyd Wright designed several Lincoln County schools in the 1920s: Taft Middle School, Naterlin (formerly Central School) in Newport, and the Toledo Junior High School. All but the Naterlin are gone.
In "100 Years in Lincoln County, Oregon, from 1893 to 1993," Joe Wilson wrote: "On March 2, 1889, a post office named Harlan was established, named after "an early resident named James R. Harlan. It was established way up on the Big Elk River not too far from Mary's Peak. A good deal of fresh water in the Yaquina River comes down the Big Elk off of Mary's Peak."
The post office of Burnt Woods was started June 21, 1919, on the waters of the Willamette, via Shotpouch, TumTum, and Mary's Rivers. For many years there was a busy rock quarry at Pioneer nearby.
If you want to write a letter today, send it to the post office at Burnt Woods; there is no longer a ZIP code for Harlan, or for many other small post offices. Apparently the post offices served the needs of the loggers and families; later these small post offices were consolidated.
Travel notes for visitors: If you come to Oregon for the Lewis and Clark Bicentennial 2003-2006, drive south on US 101 from Astoria to Newport; you will pass the Yaquina Light House. Follow the Yaquina River east to Elk City. Or from Newport, go east on US 20 to Burnt Woods, then turn right on the road to Harlan. You are now in the Siuslaw National Forest. You can picnic at the H. D. Ellmaker State Park back on US 20. You may drive from Waldport (south of Newport) on US 101, and then turn up US 34, look to the north at Mary's Peak. You may see Mary's Peak looking southeast from Harlan. Safe journey.

---
Contributions to the
Remembrance Fund


In Memory of ....

Harold E. Gaskill d. April 10, 2002
by daughter, Kathryn G. Mereness (FL)

Frank Harlan Markle (1895-1959);
Mary E. Harlan Markle (1868-1943);
Annie L. Harlan (1871-1950)
by Virginia Markle Chittenden (VA)
remembering her father (last direct descendant to own Stargazer House in Embreeville, Pa); her grandmother, and her great-aunt who was the last Harlan to live in the house

Marion Harlan Pollmann by Lillian and Neil Noble (MT)

Contributions to the
Harlan Family in America Fund
Sept. 1, 2002 to March 1, 2003

CA - Dave & Rhonda Harlan
FL - Dorothy H. Frye
IL - Ellen L. Davis
MO - Sharon Wilkey
NC - Katherine L. Baumann NJ - John Harlan Pickin
NY - Joseph B. Smith
OH - Dorothy G. Goodnough Marjorie A. Ritchey
OR - E. M. Crow Dean Harlan
SC - Norma D. Ballard
TX - Mrs. George C. Alexander
Tom & Irene Harlan
VA - Virginia Markle Chittenden
WA - Nina Harlan Kohl
Lorene Walker
Old Records Tell Most Unusual Story of Sallie Harlan
Courtesy of Evelyn Akin, Henrietta, Texas
Old Land Office records of Clay County, Texas, and old newspaper files at the University of Texas reveal a wild story of a Harlan ancestor. The Clay County Leader of March 28, 2002, had this to say: "Back in 1899, when Sallie Harlan was 100, she predicted she would die. She did. Her lone cabin was located in a mountainous region of Texas. She lived one of the strangest lives in early Texas. She was the widow of two Indians.
Sallie's family came to the frontier country of Texas. The Indians discovered the cabin, and they pretended for some time to be on friendly terms with Sallie's family. That was in 1818, when Sallie was in her late teens.
Then old Iron Eyes and his roving band of redskins murdered the whole family but spared the life of lovely Sallie. She was then advised she would be burned at the stake or would she choose an Indian for a husband? She reluctantly chose the latter.
A few months after her wedding, however, another tribe appeared on the scene. Gambling being one of their favorite pastimes, Sallie discovered to her horror that she had been won by the Comanche brave named Red Deer.
She obediently went to live with him, but she also decided to be the boss in the wigwam. She succeeded so well that the other red skins derisively referred to him as a squaw man.
One day Red Deer asked her to do a certain chore, they quarreled, and Sallie picked up a tomahawk and brained Red Deer on the spot.
Sallie knew she was doomed. Jumping astride a fleet-footed mustang, she raced in the direction of an American settlement. She suddenly realized she had left behind her three-year-old son. She brooded about this constantly, and she was determined to save him from the savages.
Years later, they captured Sallie's brother-in-law, who told them that Sallie's son was still alive. Sallie disguised herself as a Comanche warrior and boldly rode to the village where her son lived. The son was now ten years old; he had been named White Eagle.
Sallie took White Eagle out into the forest and told him who she was, but he didn't believe her. Then the little scamp raced back to camp and aroused the warriors.
The enraged Indians captured Sallie. The squaws took off her clothes and whipped her until the blood flowed.
The old Indian chief suggested that her son pass judgment on her life. Little White Eagle and his mischievous playmates jabbed Sallie's body with arrows and spears. Then Sallie was tied on the back of a snorting mustang, which was then turned loose.
Sallie was able to free her hand. She finally met a party of Americans. She neither ate food nor drank water until she had sworn vengeance against all Indians.
From then on, Sallie joined any frontier company or posse in search of Indians. She never spared the life of an Indian; over time, she acquired 99 Indian scalps. The Comanches finally referred to her as the White Devil."
Sallie lived a strange life. She became one of Texas' least-known frontier characters. Can anyone connect Sallie with the BOOK?

---

Thanks from Kennett Monthly Meeting
"The gift of $750 is most graciously received by our Old Kennett Committee... Your contribution will be added to our Old Kennett endowment to provide for continued maintenance of this revered property." Gift was made to Old Kennett Meeting and Cemetery following the 2002 Reunion of The Harlan Family.
---
Genetic genealogy using DNA testing is the latest trend in family research. Some family historians are willing to pay large sums of money to discover ancestral information that only their genes can reveal.
From Family Tree Magazine: http://www.familytreemagazine.com: "If you've been tested, you might be wondering if others who share your surname have been tested. And you're probably curious about how many long-lost relatives you have, just waiting to be found. DNA Heritage's Ybase provides free search and submission capabilities anyone can use."
The Harlan Family of America recently received an e-mail from Lawrence M. Packer of Sorenson Molecular Genealogy Foundation, a not-for-profit foundation that creates data bases of genealogies and genetic information. He would like to make others aware of its worldwide project and invites interested people to check the Web site for more information: http://www.smgf.org
---
The Harlan Family Board met in Independence, Mo., March 29, 2003. They discussed several issues, concentrating mostly on a review of the 2002 reunion and plans for the next one in 2007.
The next reunion is tentatively being planned in the Reno, Nevada, area for late June or early July 2007. In addition to affordable hotels and airfare, it is reportedly a very clean city with a number of family-oriented attractions (Lake Tahoe, Virginia City, the Bonanza Ranch, an antique automobile museum, and a ghost town, among others).
The Reno area is significant to Harlans because it is close to the Donner Pass. The Harlans and Donners traveled together for part of their journey west, but the Harlans traveled on ahead through the pass, escaping the Donners' unfortunate fate.
A site committee will visit Reno this fall to explore the possible accommodations and attractions. We're looking for local volunteers to help plan the reunion. To volunteer or offer suggestions, please e-mail Harlan Family President Bob Harlan at rharlan@succeed.net.
Items remaining from the Harlan Store are still available. (See Web site for pictures.) To order, contact Ruth Harlan Lamb at harlamb@aol.com.
---
# 662, p. 89 JOHN HACKNEY, Spouse: JANE ROGERS - Contributed by Carroll Cate
# 870, p.281 GEORGE POPE HARLAN, Spouse: JOANNA HELM - Contr. by Janice Cierley White --Additional Information
#2299, p.518 JANE HARLAN, Spouse: JOHN WASHINGTON WHITFORD - Contr. by Lynn & Helen Menefree and their son
#2299-4, p.518 GREELEY WEBSTER WHITFORD
#4510, p.818 WILLIAM HARLAN, Spouse: ELIZABETH POUNDS - Contributed by Darlene Cobb
#5974, p.528 MARTHA FRANCES HONEYWELL, Spouse: CHARLES BULLARD Contributed by Diane Stephens
#7222, p.949 JEHU HARLAN, Spouse: ISABELLA J. HARTGRAVE - Contributed by Larry Allen
Not Connected To The Book
# None JOHN HARLAN, Spouse: (1) AMELIA THOMPSON (2) MARGARET TARPY - Additional Information & new generations - Contributed by Ann Harlan Nibbe - Formerly contributed by Greg & Nancy Columbo
# None JOHN HARLAND b. 1744, Spouse: DOROTHY - Contributed by Dick Scott
Data collected by Esther Harlan Wells bewell123@att.net
Director of Genealogy: Cynthia Rhoades cr.rhoades@comcast.net

---
The Proverbial Brick Wall
by Cynthia Rhoades, Director of Genealogy
Although many people have run up against obstacles in their research, this was my first in a long time. I was researching the marriage date for a relative who was supposed to have been married in 1930.
The year was late enough that good records existed by then, but I could not find any mention of it at the county seat records office. None of the other family members knew when the couple was married or even where the wedding took place. I even tracked down a long lost cousin hoping she might have some old family records, but she wasn't any help either.

I finally resorted to going through the little weekly hometown newspaper that told things like who was visiting Aunt Millie for dinner on Sunday and who was down in bed with a bug. I even read that my mother had a slumber party to celebrate her 13th birthday. And after going through week after week, I finally found a mention that the couple had been married at the courthouse of the county seat.

So back to the courthouse I went. It still was not listed in the index, but I started through the book of marriage records for 1930, page by page, and was finally rewarded with the marriage application. Not only did I find the application but also learned some new information about each set of parents that I hadn't known previously.

Even though you think you've tried every avenue to find information, don't give up. More than likely it's just waiting to be found. It pays to be resourceful and diligent, so keep looking!

---
A quote from the first edition of The Harlan Record, December 1901, page 18:

"Turn which ever way you may, to pulpit, bench, to science and art, and the name of Harlan meets the eye, in position creditably filled. A Harlan always tries to be at the top of his chosen profession."
Publisher: James M. Harlan, St. Louis, Mo.
Over 10,000 Harlans are listed on over 1,000 pages in this valuable family reference book.

The History and Genealogy of The Harlan Family

compiled by Alpheus Harlan, 1914.

Copies are available for $60 from:

Peggy Harlan Talley
104 Fern
Poteau, OK 74953

Make check payable to The Harlan Family in America

---

Do you want an electronic Harlan Record ?
If so, e-mail your request to:
Ruth Harlan Lamb at
harlamb@aol.com

The Harlan Family in America Web Site

Check out the Harlan Family Web page!
http://www.harlanfamily.org

Founder and Sponsor of the Site Jonathan V. Harlan (TN)

Web Master, Pam Ellingson (WI)

Web Site Coordinator, Junior Harlan (AZ)

Technical Advisor, Kurt Harlan (OR)

Directors, Tom & Marylee Harlan (WA)
THE HARLAN FAMILY IN AMERICA
Mailing List
[_] ADDRESS CHANGE [_] ADDRESS CORRECTION [_] RECEIVING DUPLICATES
[_] PLEASE SEND NEWSLETTER BY E-MAIL (instead of snail mail) [_] PLEASE ADD MY NAME
e-mail address:________________________________
Contributions

Please accept my donation of $ _____________ to help defray
[_] newsletter expense and Association expenses.

I wish to contribute $________ to the Remembrance Fund
[_] in memory of
[_] in honor of ________________________________________________

Make check payable to: The Harlan Family in America
Mail to: The Harlan Family in America - P.O. Box 1654 - Independence, MO 64055
Name_____________________________________
Address___________________________________
City_______________________ State______________ Zip___________
A Membership & Contribution Form that can be printed

---

The Harlan Family in America is sending its newsletter, The Harlan Record, and other Harlan-related material to those interested in the organization and its mission.
If you do not wish to receive mailings of The Harlan Record and future reunion notices, kindly return this form to The Harlan Family in America P. O. Box 1654 - Independence, MO 64055
or e-mail your request for discontinuation to Ruth Harlan Lamb at harlamb@aol.com
Thank you.
I wish to be removed from the Harlan Family mailing list.
Name _____________________________________________________________
Address _____________________________________________________________________
City, State, Zip_________________________________________________________________


---
---
comments or suggestions to Ruth Harlan Lamb harlamb@aol.com
P.O. Box 1654, Independence, MO 64055