ELIZA HARLAN-CROSS-TANNEHILL-DUNLAP SIMS: A TRIBUTE TO MOTHERHOOD
By Clinton Cross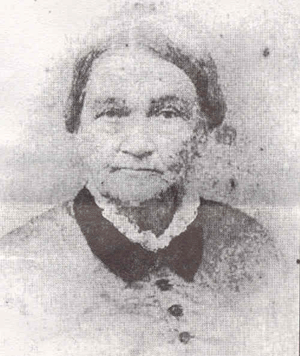 Our history tends to focus on the deeds of our Anglo male ancestors, perhaps because we Anglo males pretty much ran the show for so many decades. Perhaps from time to time we should also take a moment to examine the struggles and contributions of our female ancestors.
In this short article, I would like to note the contribution of my great-great grandmother, Eliza Harlan (#2871). Eliza (1814-1897) overcame many serious life crises with remarkable courage and success. She was also the mother, grandmother, great-grandmother, and great-great grandmother to many remarkable Harlans.
For purpose of orientation, let me first provide you with Eliza's background. Eliza was descended from the following members of the Harlan family: our original immigrant, George (#3), who was a Quaker and came to America in 1687; James (#11), who moved his family from Pennsylvania to Virginia, probably around 1735; George (#45), who established his family at the Spring Hill Farm in West Virginia, still occupied by George's descendants; George's oldest son, Jehu (#212), who probably became a Presbyterian and certainly by his will helped establish the Falling Waters Presbyterian church in Spring Mills, W.Va.; and Elijah (#824). (Incidentally, Elijah's brother was Justice John Marshall Harlan's grandfather.)
Elijah moved to Tennessee shortly after his father's death in 1806. About the same time, a William Sims moved from Hanover County, Virginia, to Tennessee. William was married to Judy Cross. They had a number of children, including a daughter named Elizabeth. In 1811, Elijah Harlan met and married Elizabeth Sims. Eliza, the subject of this story, was one of their children.
Four years before this marriage, in 1807, Judy Cross Sims' brother, Oliver Cross, left his wife in Virginia and moved to Tennessee. His son, Joseph Oliver Cross, went to Tennessee with him.
In 1827 Eliza Harlan married Joseph Oliver Cross. She was only thirteen years old at the time of her marriage. She bore him five children, the first one, Sarah Anne, being born in 1828.
At that time Tennessee seemed to be the right place to live. It was at the heart of the nation's economic development and political power. Tennessee's Andrew Jackson had recently served two terms as President of the United States; James K. Polk had just been elected Governor of Tennessee.
By 1836 Eliza's grandfather, William Sims, was a successful planter and businessman. Eliza's husband Joseph Oliver Cross owned over 25 slaves and was a successful farmer.
There were, however, potential problems. With no "vaccination" against disease, the threat of epidemic was omnipresent. Also, there were no governmental "safety nets" to assist those without financial resources.
In 1839 a small pox epidemic hit Maury County, Tennessee. At the time, Joseph and Eliza and their children were living in Mt. Pleasant, Tenn. The epidemic quickly killed Joseph. Eliza's mother and Eliza's children also became ill. On August 21, 1839, Elizabeth Sims Harlan wrote her will; four days later she died. Four of Eliza's children, Sarah Anne, James Fleming, Jehu and Isabela survived, but one daughter, Elizabeth, also died.
Eliza was left with four children. She boarded her children with William Tannehill. The relationship appeared to be an "arms length" one. William came from a prominent Southern family. His brother, Ninnian, owned an iron works facility that ultimately produced much of the iron for the Confederacy. William's sister was married to a Calhoun, related to John C. Calhoun, the former Vice President of the United States.
In time—I don't know exactly when—William and Eliza's relationship evolved from "arm's length" to "hands on." On February 5, 1841, they were married.
As a result, Sarah Anne Cross met Eliza's nephew-in-law, Joseph Calhoun. They married in 1842.
Eliza Harlan Cross Tannehill's children sometimes tested her resolve. For instance, in 1846 her son James Fleming Cross ran away from home and joined the Eutaw Rangers to fight in the Mexican War. Eliza could not stop him. James' independent spirit, however, was but a minor hiccup in her life's story.
On January 29, 1847, William Tannehill loaded all the produce from his plantation on a steamboat, the "Tuscaloosa." It left the wharf at Mobile, Ala., about 8:00 in the evening on its way to Tuscaloosa. As the ship proceeded up the river, two of her boilers exploded, and William was killed.
Soon thereafter Eliza moved with her two brothers, Jehu Harlan and William Sims Harlan, to Knoxubee County, Mississippi. She remained responsible for the care of three children, James, Jehu, and Isabela, but she was without a husband or a job (there were few good jobs for women outside the home in those days).
But never fear. In 1848, our heroine married again, this time to a very prosperous merchant by the name of Sam Dunlap.
As previously mentioned, the threat of disease was omnipresent. In 1850 Eliza's daughter Isabela died from "consumption."
Her son James returned from the Mexican War, and in 1852 he married Margaret Rose Dunlap, Sam's daughter by a prior marriage. Sam owned a home in Eutah, Ala., and property near Clinton. James and his new wife Margaret took up residence on the property in Clinton and began to raise a family. Eliza Harlan Cross Tannehill Dunlap always married well. Apparently, with her help, so did her children.
Eliza's sons, James and Jehu, both fought for the Confederacy, and both survived. But the Civil War changed the entire deck of cards for almost everyone. James and Jehu lost their slaves. Sam Dunlap lost his business.
In 1833 one of Eliza's relatives, first cousin Nicholas P. Sims, had moved from Tennessee to Waxahachie, Texas, where he constructed a log cabin, began to farm, and prospered. He may have encouraged Sam and Eliza to move to Texas, where there seemed to be a good future.
In 1867 Sam and Eliza moved with their four children, and perhaps with a grandchild, to Dallas County, Texas; in 1868, they moved to Waxahachie, Ellis County, Texas.
Sam began to rebuild his business, but he did not live long. He died in 1872.
On December 12, 1877, Eliza married her first cousin Nicholas P. Sims. Nicholas was by that time one of the richest men in Ellis County.
Eliza died 20 years later, on June 15, 1897. One of her obituaries (full of errors) stated she and Nicholas had been lovers when they were young, in Tennessee! Perhaps, if true, it was just a Platonic love.
Before his death, Nicholas P. and Eliza Sims's son, Judge Oscar Dunlap, provided for the creation of a library in Waxahachie, Texas. On April 24, 2005, the Nicholas P. Sims Library celebrated its 100th anniversary.
During her lifetime, Eliza gave birth to nine children. She was 14 when she had her first child. At age 46, when she gave birth to her youngest child, she already had 16 grandchildren. She was 83 when she died.
Like many women, she encountered plenty of hardships and survived. While her struggles are not recorded in traditional history books, her legacy includes a number of distinguished descendants whose accomplishments are recorded.
For instance, her son Oscar Dunlap became a prominent banker, judge, and powerful political figure in Texas after World War I. Ely Green, a mulatto who was Oscar's chauffeur, wrote an autobiography, Too Black, Too White (available on < amazon.com >), which he dedicated to Judge Dunlap, hero of the book. It provides an excellent portrait of the judge and of race relations in Texas during the 1920s.
Eliza's grandson, Oliver Harlan Cross, led opposition to the Ku Klux Klan in Central Texas in the 1920s and served as U.S. Congressman from 1928-1936.
---
OFFICERS

President: Robert R. Harlan
1716 Clark Ave, Yuba City, CA 95991
Vice-President: Junior F. Harlan
6218 E. Betty Elyse Ln, Scottsdale AZ 85254
Secretary: Ruth Harlan Lamb
4305 S. Bryant Ct., Independence, MO 64055
harlamb@aol.com
Treasurer: John R. Harlan
422 Aumond Rd, Augusta GA 30909

BOARD OF DIRECTORS

Katherine M. Harlan (PA)
Robert A.Harlan (PA)
William K. Harlan (CA)
Connie J. King (VT)
Gerry Harlan Lundgren (IA)
Mary Harlan Murphy (PA)
Liz Harlan Sly (NJ)

BOARD MEMBERS EMERITI

Dan Harlan (VA)
Ridge Harlan (AZ/CA)

---
The Harlan Record
is published semi-annually by

The Harlan Family in America
P. O. Box 1654
Independence, MO 64055
a permanent organization established to document the historical contributions made by Harlans in America. Submissions of articles are welcome. They are subject to editing and may be held until a future issue if space is limited.

E-mail to: C. J. King, Editor
joking@sover.net

or mail to the organization's address shown above.

Editorial Board: John L. Harlan, Diana Harlan Wells, Ed Wynn

---

If you want an electronic version of

The Harlan Record

, e-mail your request to:

harlamb@aol.com

The e-mail newsletter will be sent close to the time that printed newsletters are mailed. The Harlan Record is also available on the Harlan Web site:

www.harlanfamily.org under the link "

Newsletter

"

CASH IN SAVINGS ACCOUNT 3/1/05

$22,266.34

INCOME
Contributions
1,180.00
Harlan Genealogy Book Sales
1,020.00
Interest Earned (Savings Account)
43.72
-- TOTAL INCOME

$2,243.72

DISBURSEMENTS:
Book Storage, Insurance, Shipping
179.24
Newsletter Printing/ Mailing

1,100.00

Planning meeting expense
984.20
Contributions: Harlan-Lincoln House
500.00
Contributions: Chester Co. Historical Society
100.00
Reunion letter to Western Harlans
729.22
--TOTAL DISBURSEMENTS
$3,617.66
CASH IN SAVINGS & CHECKING ACCOUNTS 9/1/2005

$20,892.40




Genealogy Book Still Available

The book, The History and Genealogy of the Harlan Family and Particularly of the Descendants of George and Michael Harlan, compiled by Alpheus Harlan and published in 1914, may be ordered from:

Peggy Harlan Talley
104 Fern
Poteau, OK 74953

The cost of the book is $60, postpaid. Make check payable to The Harlan Family in America.

---
In Memory of ....

in memory of
Charles Edgar & Barbara Jean Harlan
by Rachel Ann Harlan - TX

in memory and in honor of
Gerald E. (Gene) Harlan
by his widow, Virginia W. Harlan - IN




Remember.....

Send address changes to The Harlan Family in America, P. O. Box 1654, Independence, MO 64055
or e-mail to: Ruth Harlan Lamb < harlamb@aol.com >
Notify Juniour Harlan of any e-mail addresschanges: < harlanjay@cox.net >

Confidential information is not given to others without the owner's permission.
Deadline for next newsletter is February 15, 2006.

---

Harlan Genealogy Book

The History and Genealogy of the Harlan Family, compiled by Alpheus Harlan and printed in 1914, can be ordered from:

Peggy Harlan Talley
104 Fern
Poteau, OK 74953

$60, postpaid
Make check payable to The Harlan Family in America.

Contributions to the
Harlan Family in America Fund


from March 1, 2005 - September 1, 2005

AR- Virginia P. Harlan
AR- Ruth Harlan Thornton
CA- Robert D. Mustain
FL- Dean & Susan Harlan
FL- Jeanette Harlan Trudell
IA- Gerry Harlan Lundgren
IL- Ellen L. Davis
KY- Marcella Harlan Melton
LA- John P. Harlan
MD- A.Diana Ehrhart
MO- James & Dorothy Harlan
MO- Timothy C. Harlan
NJ- Rose-Ellen Evans
NJ- John H. Pickin
OH- Paul E. Kraemer
OH- Marjorie A. Ritchey
OK- Patricia McCurdy
OR- Kurt S. Harlan
OR- William H. Harland
OR- Tommmie C. Walker
PA- Edward S. Johnson
TX- Marc B. Smith, Jr.
VA- Katherine B. Harlan
VA- Max B. Harlan

Thank you!
Your generosity is appreciated.
Update on Annual Harlan Family Board Meeting
The annual board meeting of The Harlan Family in America was held April 23 at the Clarion Hotel Mansion Inn in Sacramento, Calif. Twenty-eight board members and visitors were present. Many thanks go to Joe and LaRena Hannon for making all the arrangements.
Among items discussed was the announcement of a new link on the Harlan Web site, maintained by Steve Harrison and entitled "Names Upon the Land." It contains places across the United States with the name of "Harlan." We would like for people to take pictures of Harlan sites and send to board member William K. Harlan (address on page 5, center column).
The association discussed and approved making an annual donation of $500 to the "Friends of the Harlan-Lincoln House" project at Iowa Wesleyan College, Mount Pleasant, Iowa.
The Nugget Hotel Contract was reviewed for deadline dates and to begin planning for letters to be sent regarding the next National Harlan Reunion in Reno (Nev.) from July 11-15, 2007. Bob Harlan, president, reported that we could obtain about 1,208 Harlan names and addresses from 13 western states to be used to send letters to unknown Harlans in these states. The board approved the purchase of the list, and those addressees received a special mailing this summer.
Reunion committees were discussed, and many volunteered to work on the various committees. Pat Fluetsch (CA) and William K. Harlan (CA) volunteered to serve as Co-chairpersons.
Pat and William visited Reno July 5–6 to talk with Nugget representatives, the Convention and Visitors Bureau contact, and they visited several attractions in the area to consider for inclusion in the reunion plans.
The next board meeting was set for April 22, 2006, in Reno, Nev.
---
Joe Harlan named Coach of the Year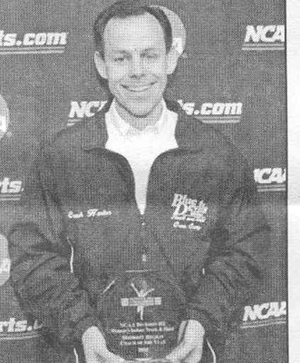 When he took over the women's track and field program at the University of Wisconsin – Stout Campus, Coach Joe Harlan had only 15 team members on the roster.
Now in his fifth year, he works with more than 64 athletes, including two national champions and four who have won a total of 18 All-American awards. Recently the United States Track Coaches Association named Joe the Midwest Region Coach of the Year. This is the sixth time he has been voted either Track or Cross Country Coach of the Year in his division since 1998.
Joe is also the women's cross country coach and is an instructor in the physical education department at Stout. He recived his B.S. degree from Central Missouri State University and his M.S. degree from the University of Montana. Before coming to UW, he was the track coach at Clark College in Vancouver, Wash. In 1992 he interned at the Olympic Training Center as an exercise physiologist and strength/conditioning coach.
Joe grew up in Phoenix, Ariz., and is the son of Bill and Mary Beth Harlan. He attended both the 1997 and 2002 national Harlan reunions, along with his parents and his sister, Jennifer.
---
Father & Son Share Love of Cooking
Brook Harlan's inspiration for cooking came from watching his father, Tim Harlan, excel.
Tim was raised by a mother who believed that boys should know how to cook, sew and clean. Tim worked so hard on the cooking that he missed the sewing and cleaning lessons. He is a three-time winner of the Soulard Cajun Creole Cook-off in St. Louis (see Harlan Record, Spring 1999) and has authored a 100-page cookbook that contains 400 family recipes. He and his wife, Linda, have traveled numerous times to New Orleans and the Bayou Country of Louisiana.
Fourteen years ago, at age ten, their son, Brook, began by preparing his own menu and then taking orders to cook Christmas breakfast. In high school, he worked in restaurants and took home-economics-type courses.
Now at age 24, he is a four-year graduate of the Culinary Institute of America in Hyde Park, N.Y. Recently he was selected as one of eight finalists from a field of 10,000 entries to participate in "The Next Food Network Star" which recently aired on the Food Network.
Brook completed his culinary internship at the popular restaurant, Commander's Palace, in the New Orleans Garden District. After graduation from CIA, he returned to his hometown of Columbia, Mo., to teach Culinary Arts at Rock Bridge High School. He is also assistant wrestling coach at the school. The father – son team often prepares dinners for auctions and other special events.
Tim has served in the Missouri House of Representatives and is an attorney in Columbia. He is the son of Dorothy Harlan and the late Lane Harlan who helped establish The Harlan Family in America. Lane's brother, Ridge, was coordinator of the 1997 national Harlan Reunion in Mt. Pleasant, Iowa.
---
Please put "Harlan" in the subject line when e-mailing Harlan information/inquiries.

---
(Editor's Note: The Spring 2005 issue of The Harlan Record featured an edited version of a long article on the years that George and Michael Harland spent in Ireland. Based on extensive research done by one of our cousins, John H. Harland, of Kelowna, British Columbia, this includes information about Quakerism and Irish history. We promised to print more of his findings, and here is part two. The remainder of John's interesting account can be accessed through the link, "Irish Interlude" on the Harlan Web site.)
Part One of the Irish Interlude recounted some early struggles to control the island of Ireland. To recap, after several powerful Irish earls and their supporters fled from Ireland in 1607, England's King James I attempted to further dissipate the Irish rebellion by confiscating land and granting it to those "undertakers" who promised to bring English settlers to Ireland. The Irish did not welcome these changes. Some Irish dissenters were sold off as slaves to the West Indies, some took to the hills and continued to foment rebellion, and others became laborers for the new masters. Records show that some Harlands settled in these confiscated lands, and if these Harlands were related to George and Michael, it would have given the two brothers a reason to settle in northern Ireland, near Lurgan, in the county of Armagh, in the province of Ulster.
During this time, King James lived in dread of further Catholic conspiracy, and there was widespread apprehension that at any moment the Earl of Tyrone would land back in Ireland with an invading Spanish army, and reclaim his hereditary lands. On the one hand, while this made the authorities keen to establish planters, worry about Tyrone discouraged settlers from coming.
In 1641, rebellion broke out again, but this occurred while the English were distracted by Civil War between Parliament and King Charles I, and consequently things went badly for the English. In the part of Ireland relevant to our story, Irish troops under Sir Phelim O'Neill and Sir Conn Magennis captured several towns, and by superior tactics defeated the Scottish general Robert Munro at the Battle of Benburb in 1642. Atrocities and counter-atrocities followed, with some settlers being killed, and others becoming discouraged and returning to England. The Plantation in Munster, initiated by Queen Elizabeth, never recovered from this setback, but in Ulster the number of planters was to rebound after the uprising had been quelled.
In 1649, having dealt with affairs in England and Scotland, Oliver Cromwell landed in Ireland determined to crush the rebels once and for all. This 'pacification' was executed with such signal brutality that Cromwell's name remains anathema in Ireland to this day. Following the defeat of the Irish at Limerick in 1650, the estates of the rebels were confiscated and used by Cromwell to pay off his army. As to the indigenous Irish, they were to be driven out … in Cromwell's phrase sent "to Hell or to Connacht." Of special relevance to us is the land he seized in the Barony of Lower Iveagh, and awarded to troops serving under Colonel John Barrett. This land included the Parish of Donaghcloney. ['Church of the Meadow'. Alpheus Harlan consistently misspelled the name as 'Donnalong']. The common soldiers sold their shares to Col. Barrett, who in turn transferred his interest to another Cromwellian officer, William Waring.
It was upon the Waring estate that the Harland brothers settled when they arrived from England, and although we cannot establish a specific date for this, given the occurrence of their names on Quaker records, we can say it preceded 1678. Although Alpheus Harlan does not specify an exact location, my guess is that they settled in the townland of Corcreeny, which lies almost due south of Lurgan and a bit west of Waringstown.
Net Population shift: There were ups and downs in the numbers of planters, but with a net gain over time. Fluctuations depended partly on the competence of the undertaker, his ability to attract settlers, and the fertility of the land; but also on those pressures existing where the settlers came from, tending to drive them out.
For instance the Brothers came to Ireland at a time when Quakers were being given a hard time in Durham.
Economic factors played a huge part, and the Brothers were pulled rather than pushed, leaving Lurgan when things were in fact going fairly well there. Indeed they left just prior to the rise in the general prosperity that followed the establishment of the linen industry in and around the town. Over the next two centuries the cultivation of flax and manufacture of linen were to exert a major effect on the economy of the area and the Province. This was a side effect of the Revocation of the Edict of Nantes in 1685, which resulted in wholesale emigration of the Huguenots, and the expulsion from France of an important class of entrepreneurs and skilled tradesmen. France's loss was Ireland's gain, and in a way, it was analogous to the expulsion of a talented segment of the population by the Third Reich.
Starting about 1717, a steady trickle of people left Ulster, and gradually this increased to a torrent, which was only interrupted by the War of Independence in 1776. With numbers peaking in the early 1770s, somewhere around 200,000 folk emigrated from Ulster to the American Colonies, and it is claimed that in 1790, of the nearly half million folk in America who were of Irish stock, two-thirds derived from Ulster.
The egress resulted from large families and rapid growth of population in Ulster, outflow increasing when there were poor harvests or a downturn in the linen industry, and decreasing when the local economy picked up.
The Scots-Irish, as American historians refer to this group, arrived in America with perhaps the perfect mind-set for an immigrant at that particular juncture in the history of a young nation. Frontiersmen were pushing their way westward from the early settlements, like that on the Delaware, which had attracted the Brothers; and the new arrivals, with their built-in "Settler Mentality," were perfectly suited to the task of opening up potentially hostile territory. In Ireland they had learnt how to farm their land, while keeping an eye on the surrounding hills, alert for the descent of marauders intent on burning the barns and driving off the cattle.
In addition, they brought with them a tradition of political radicalism and distrust, which influenced political affairs leading to the War of Independence. Eight out of 56 signers of the Declaration of Independence were Ulstermen by birth or one generation away.
Emigration recommenced after 1783, but after about 1830, the Ulster emigrants were outnum-bered by Irish from other parts of the Island. As a consequence of the Irish Famine at the middle of the 19th century, it is estimated that one million people died, and a further three million left Ireland for good, many of them coming to America. Ireland was changed utterly by this depopulation.
(Editor's Note: Part III of the Irish Interlude will begin with Thomas Harland's story.)
---
Harlan, Iowa—a Name Upon the Land
A new link on the Harlan Web site invites anyone to submit photos and information about Harlan place names. While traveling across the United States earlier this year, Bob and Liz (Harlan) Sly passed through Harlan, Iowa, and were welcomed by this sign.
The town was platted in 1958 by Dr. A. T. Ault and soon became the Shelby County seat. Dr. Ault lived not far from the home of Senator James Harlan (#2297), and it is assumed that the town was named for the senator.
Upon entering the town, the Slys first noticed the Harlan Hardware store, and on a corner stands the historic Harlan Theatre. The link on the Web site is "Names Upon the Land."
You are invited to take pictures of places listed on the Harlan geographical list and e-mail to William K. Harlan at <orsinox@comcast.net > or send to 21 Boulevard Ct., Walnut Creek, CA 94595.
---
Do you have a family pioneer story?
In view of the upcoming reunion in the West, we are seeking accounts of early Harlans who helped settle the area. Other pioneering stories may be submitted also. Send to William K. Harlan at address shown above.
---
Did U. S. Supreme Court Justice John Marshall Harlan (1833-1911) have a half-brother who was a black man raised as a slave? Through the years, rumors have persisted that there was a family connection between the two, though no family records support this view.
Robert James Harlan (1816-1897) lived in the Harlan household, was light-skinned and was treated differently than the family's other slaves. He received an education and was permitted to go to California to seek his fortune in the 1848 gold rush. After moving to Ohio, he worked in real estate, operated a photography studio and served in the Ohio legislature.

To settle the matter, attorney Robert Harlan, a descendant of Robert J. Harlan, and retired professor Louis Harlan, who descends from John Marshall Harlan, gave blood samples for DNA testing. Test results showed it was unlikely the men were related, but the question remains: who was the father of Robert J. Harlan?
---
Newspapers Seek Reunion Info from Junior Harlan
Two reporters from The Arizona Republic and the Washington Post recently contacted Junior Harlan, vice-president of The Harlan Family in America, for information about family reunions.
Reporter Maura Halpern from the Arizona newspaper wrote, "Harlan's family tree is more like a forest, with countless relatives able to stay in touch through reunions, the Internet and a nationwide family association."
The Harlan Family Web site is a source of interest for many, and this summer the subject was reunions!
---
Friends of the Harlan-Lincoln House Update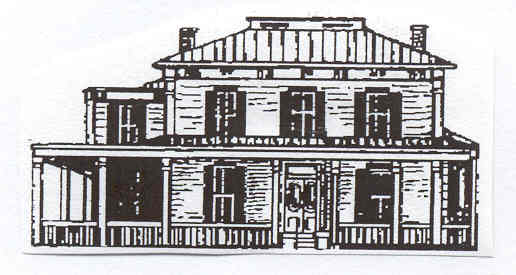 The Friends of the Harlan-Lincoln House, in Mount Pleasant, Iowa, is now in its second year as an organization. There are 32 charter members, including The Harlan Family in America. Charter members will be listed on a plaque to be installed inside the house this fall.
Most of the $72,000 cost has been raised to reconstruct the wraparound porch that Mary Harlan Lincoln added to the house in 1895. The porch "added grace to the otherwise austere" house and served as "an open invitation to the community to come sit a while," according to the reconstruction project architect.
The porch project will make the house handicap accessible. The house will receive new shingles at the same time. Donations for the new roof are still needed.
The Harlan-Lincoln House Renovation Committee will host Walt Whitman re-enactor William Koch for two programs on October 20. Koch is an adjunct professor of English at the University of Northern Iowa. For more information, call Johanna Chapman, 319-385-6220, or < jochapman@iwc.edu >.
In April 2007, the Association of Lincoln Presenters national conference will be held in Mount Pleasant.
---
Harlan-Lincoln Stories Published
by Ray King
One hundred years ago Robert Todd and Mary (Harlan) Lincoln moved into their new summer home "Hildene" at Manchester, Vermont. This July Hildene published the new book, Four Marys and a Jessie: The Story of the Lincoln Women, by C. J. King. The story of the Lincolns is also a Harlan Story.
Dr. Harold Holzer, the author or editor of 23 books about Abraham Lincoln, wrote the book's introduction. He observed, "[T]he Lincoln women have been woefully ignored by most historians, and deserve their day in the sun ... Now, at long last, C. J. King has filled in many blanks with a history of the Lincoln – and Todd [and Harlan] – women across two centuries." He concluded, "[T]hanks to this sympathetic but honest book, we can feel closer to the family than ever."
That, from a noted Lincoln authority and co-chairman of the nation's Abraham Lincoln Bicentennial Commission. How could I improve on that? After all, I'm only the author's father.
The five women? The President's wife is the first: Mary Todd Lincoln. Another is Mary Eunice Harlan who married Robert Todd Lincoln three years after the president's assassination and was caught up in conflicting relationships with the former First Lady, her mother-in-law. Robert and Mary had two daughters, Mary and Jessie. And Jessie had a daughter named Mary Lincoln Beckwith. This fourth Mary, her brother Robert Todd Lincoln Beckwith and their cousin, Lincoln Isham, son of Jessie's sister, were all childless and were the last Lincoln descendants.
Some readers will learn for the first time of the president's grandson, Abraham Lincoln II, whose personality and potential ended tragically at the age of sixteen and a half years.
The reader catches glimpses of James Harlan, a college president and U.S. Senator from Iowa. A fascinating story unfolds about his wife, Ann Eliza, who stood up to a general to rescue wounded Iowa soldiers after the battle of Shiloh. This and other examples of care-giving changed the lot of countless wounded Union soldiers from many states. In unprecedented ways she was charting a new course in wartime health care.
Speaking of glimpses, the book uses 35 photos to help tell the story.
What motivated these women to challenge society's definition of the "place" of women? How did these family members determine that the "role" people expected of the Lincoln family was not for them? As a history major and husband of a Harlan, I enjoyed it and found a lot of food for thought in C. J.'s book.
The book is published by the Friends of Hildene, the foundation that now operates Hildene as a museum and educational center. Its price is $19.95, plus tax and mailing. To order online, visit: < > or call 802-362-1788.www.hildene.org
(Note: C. J. King is the editor of The Harlan Record and a Harlan through her mother's line. The book review was requested by interested readers.)
---
Great Resources Available Through Internet Site
Some are gearing up for the 2007 Harlan Reunion in Reno by learning about Harlans who went West in the 1800s.
One desired book, California '46 –'88, by Jacob Wright Harlan (#2984), is out of print, but thanks to information from David Harlan, a librarian, there is an easy solution for reading Jacob's book. (Jacob was in the wagon party led by his uncle, George [#852], who traveled part of the way with the Donner party.)
David reports that the American Memory Web site: < http:// memory.loc.gov/ > "will take you to free and open access to written and spoken words, sound recordings, still and moving images, prints, maps and sheet music that document the American experience. It grew out of a project to digitize some of the Library of Congress's historical collections to include materials from the collections of the Library of Congress and other institutions."
Logging onto this Web site and searching for "Harlan" brings up 3,533 results. The first entry is the full text of Jacob Wright Harlan's book. Other entries include letters from James Harlan to Abraham Lincoln in the 1860s.
The American Memory Web site is a fascinating and valuable source of information, and our thanks go to David for making us aware of it. Put it in your "Favorite Places" for future reference.
Note: David Harlan, New Orleans, and his brother, from Jefferson Parish, were able to leave the area before Hurricane Katrina made landfall. They are staying with relatives in Mississippi. David's apartment is on the second floor, and he is hoping his copy of Alpheus Harlan's book and other records are safe. He sends his best to all who have been affected by Katrina.
David's line is: George #3, James #11, John #44, Isaac #207, Isaac #797, Washington #2717, William #6802, Alonzo #6802(vi), Alonzo Grady (1899-1980), and his father, Robert Lloyd Harlan.
---
World Families Network Supports Surname Testing
Terry Barton, of Marietta, Georgia, is a Harlan descendant through William-James-George-Aaron-Aaron-Aaron-Joseph-Alpheus-Mary Jane, who married Joseph James Barton. Mary Jane Harlan and Joseph Barton are Terry's great-grandparents.
Terry operates the World Families Network, a Web site dedicated to supporting Surname DNA testing.
Recently, after significant success with his Barton DNA Project, he started two more family surname projects, and he writes that he has "had such fun in working with cousins that I have decided to start a family project for many of my ancestral lines."
The Harlan Family Project is located at: http://www.world families.net/surnames/h/harlan.
He adds that it has been exciting to learn which researchers are working on the same family (or branches) and seeing the information they have to share. He cites his Weisinger and Hodges Web sites as good examples of this—links are listed below. "This may be the place where the Harlan Family Project can serve the Harlan Family in America. I hope that you will agree that this is a useful addition to your work," he writes.
http://www.worldfamilies.net/surnames/h/hodges/patriarchs.html http://www.worldfamilies.net/surnames/w/weisinger/patriarchs.html
The second aspect of his Harlan Family Project may or may not be of interest. For surname families with a well-defined paper trail, such as the Harlan family in America, there is usually not much interest in surname testing, as they "already know who they are." Some may secretly fear a past "non-paternity" event might be exposed. If there is any interest "in establishing the DNA profile of our earliest Harlan ancestors, we should keep the actual participants confidential until the results are known," he writes.
Probably, the ones interested in surname testing will be those that Alpheus Harlan didn't connect into the original family tree but who have long believed that they are part of our family, or those with other spellings trying to find more about their heritage. Terry is seeing that with other families.
In general, Family Surname DNA projects recognize that various spellings of a name may share a genetic heritage. Whether this will be the case with the Harlans or not, Terry has initially included other spellings in case there is interest.
"For surnames without a well-defined paper trail, there is often significant interest in DNA testing to determine how to genetically link families," Terry writes. "I can also offer another site to the Harlan family. The Joseph James Barton and Mary Jane Harlan home ("The Barton House") is the centerpiece of the National Ranching Heritage Center in Lubbock, Texas."
Web sites with this connection are: http://www.bartonsite.org/bartonsite.htm and http://www.depts.ttu.edu/ranchhc/home.htm.
For more information, Terry Barton can be reached by e-mail at: < terry@bartonsite.org >.

Gerald E. "Gene" Harlan — Gene Harlan, Brownsburg, Ind., passed away February 7, 2005. He worked 38 years in several capacities for Indiana Farm Bureau Cooperative, with expertise in industrial safety. Gene and wife, Virginia, attended the 1987 national Harlan reunion and helped plan the 1997 reunion in Mt. Pleasant, Iowa.
Charles Phillip Reynolds — Phillip, 52, of Plant City, Fla., died July 21, 2005. He was the husband of Sara Jo Reynolds, a Harlan descendant through her mother's family line. He enjoyed his wife's interest in genealogy and liked meeting the Harlan family. He attended the national Harlan reunion in Iowa. He was also a member of the Sons of the Confederate Veterans.
Elgene A. Smith — Gene Smith of Chadds Ford, Pa., died April 5, 2005, at age 95. He was a PhD chemical engineer for the DuPont Company. He and his wife, Martha, were experts in Harlan history in the Pennsylvania/Delaware area and conducted the tours for the 1987 national reunion. Through the years Gene's thorough and expert research and Martha's knowledge of the area answered many questions posed by Harlan kin and friends. The couple was honored at the 2002 national Reunion. Martha still lives at their Christmas Hill home in Chadds Ford.
Joydelle Garrett Wolfram — Joydelle Wolfram, Marlin, Texas, died March 20, 2005. She was a Harlan descendant and compiled the Texas Red Books which contain genealogy for over 10,000 descendants of Aaron (#194) and Elizabeth Stuart Harlan. While researching Harlans, she also compiled the Garrett family genealogy.
---
GENEALOGY CORNER
Sharing Stories
Having just returned from a Harlan family reunion of my mother's immediate family, the article entitled Exploring Your Family History, published in the August 2005 issue of Better Homes and Gardens caught my eye.
The article is about finding ways to "tap those family roots." The Harlan Family is further ahead of many families whose roots in America preceded the Harlans' arrival in 1687. We can certainly be proud of the fact that we are trying to keep that interest moving forward. With our national, regional and just plain old family reunions, we are preserving our ancestral heritage. Our newsletter, The Harlan Record, is a perfect example of recording Harlan history.
The article points out that "every family is a part of history, not only of the big events of their day but also those personal histories of triumphs and tragedies." My grandmother provided a wonderful record of her family's life by keeping copies of letters she wrote to her siblings in a letter that circulated among them several times a year. My sister was thoughtful enough to assemble the letters in a booklet format and gave one to each family unit at our recent reunion. It is a wonderful glimpse of not only family happenings but also local and national topics of importance.
Letter writing is almost a lost art today since many use the telephone and the computer to communicate. All of these thoughts have led me to see the importance of making sure someone records today's family history for future generations. It would be so easy to sit back and hope someone does just that. Are you the one to record your family stories?
Cynthia Rhoades
Director of Genealogy

---
THE HARLAN FAMILY IN AMERICA
Mailing List
[_] ADDRESS CHANGE [_] ADDRESS CORRECTION [_] RECEIVING DUPLICATES
[_] PLEASE SEND NEWSLETTER BY E-MAIL (instead of snail mail) [_] PLEASE ADD MY NAME
e-mail address:________________________________
Contributions

Please accept my donation of $ _____________ to help defray
[_] newsletter expense and Association expenses.

I wish to contribute $________ to the Remembrance Fund
[_] in memory of
[_] in honor of ________________________________________________

Make check payable to: The Harlan Family in America
Mail to: The Harlan Family in America - P.O. Box 1654 - Independence, MO 64055
Name_____________________________________
Address___________________________________
City_______________________ State______________ Zip___________
A Membership & Contribution Form that can be printed

---
---
comments or suggestions to Ruth Harlan Lamb harlamb@aol.com
P.O. Box 1654, Independence, MO 64055