Harlan Cousins Visit Ancestors' Homeland
Story and photos by Charles Hamilton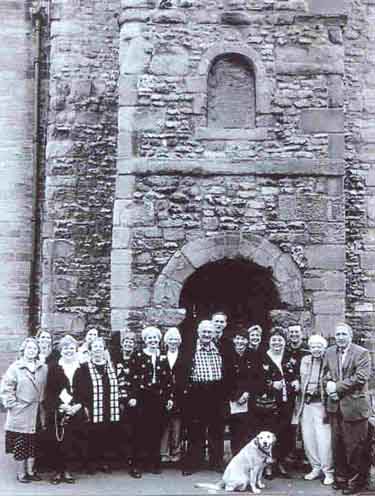 Sixteen hardy present-day Harlans have a story to tell fellow Harlans about their trip to Northeast England, a trip that took them back through 14 generations to their common roots.
The highlight of the 12-day journey was participating in Sunday Eucharist at the historic St. Peter's Church in Monkwearmouth. It was there in 1650 that George Harlan (#3) was baptized soon after he was born. Still standing at that time, along with the rebuilt sanctuary, was the west wall and its rock tower, built of local stone and still intact despite years of Viking plundering. It was the only part of the original church that had survived.
The Harlan cousins learned much of England's history between their arrival at Gatwick airport on May 5 and departure May 14 from Liverpool. A visit to the ancient Druid site at Stonehenge started the tour. Next, the group went to Bath.
Bath, with its 2,000-year-old Roman bath center and historic Bath Abbey, set the mood for historic search. Bath and its Roman Temple became an important seat of Roman culture soon after its legions swept over southwest England. The elaborate system of bath houses, all fed from a steady underground flow of warm water, and rooms heated by servants are vivid reminders of how the aristocrats lived then.
Burford, northward, was a nearby stop with its long main street lined with a wide variety of shops full of English wares. Blenheim Palace soon was upon us. There, Winston Churchill was born in a large room in the front part of the expansive building. The sandstone exterior had begun to show some signs of weathering as had buildings in many of the roadside stops.
Next we were visitors at Broughton House, where the original medieval manor house was built in 1300. Parts of the manor, surrounded by a moat, were familiar to movie fans who had seen "Shakespeare in Love."
The Cotswolds area was next. A short drive northward offered a visit to Chipping-Campden for two nights and a visit to one of England's oldest formal silversmith guild shops, the Guildhall of Handcraft, established in 1888. Owner David Hart and his staff demonstrated Middle Age skills needed for the work.
For those among us who are fans of English mystery writer Dick Francis, Chipping-Campden held a special interest, as the place is mentioned so often in his tales of steeple chasing intrigue. Tradition has it that steeple chasing became the main horsemanship sport as they raced between villages. Many villages were within running distance as competitors raced from church steeple to steeple.
We came upon Harlan family lore first in the York area where grave monuments to several Harlands were located at All Hallows Church in Sutton Park.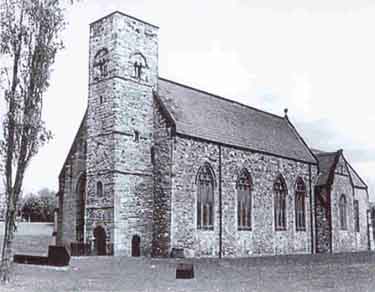 Oldest was Richard Harland (1592-1689). Richard, along with 10 other Harlands, was entombed within the church. Three others were in the graveyard. Nearby was Sutton manor house, a former home of some Harlands. Efforts to establish lineage between Richard's line and James Harlan were unsuccessful, according to John R. Harlan, treasurer of The Harlan Family in America association.
By Saturday, the Harlan adventurers were in Durham, site of the famed Durham Cathedral. Here again we were treated to a famous movie set, where "Elizabeth" was filmed. Durham is in northeast England, just south of Northumberland, where St. Peter's Church is located.




St. Peter's Church at Monkwearmouth
If there had been criminal elements among our clan alive before 1624, Durham Cathedral monastery would have been their haven. That's when King James I abolished the designation of monasteries as a protected sanctuary for criminals. The heavy round iron knocker still is attached to the main entrance door on the church. It was activated by criminals.
According to Venerable Bede, the era's foremost authority on Christianity in England, Durham offered safe haven for 37 days, during which criminals could organize their affairs and arrange for relatives to pay their fines. Anyone convicted of murder could confess and agree to make his way to a port to be banned for life.
We were told that Harlans had been members here. A present day Harland area resident, Erasmus Harland, reviewed various Harlan(d) connections when he spoke at an evening meal in Durham. He related several family stories, including the success of the Harland & Wolff shipbuilding firm in Belfast, Northern Ireland. The firm's facility was builder of the Titanic, he said.
We went to Grasmere on Sunday afternoon for two nights. The tiny resort village is located in the heart of the Lake District. Our hotel was located across the little road from the home of poet William Wordsworth. A cruise on Lake Windermere capped a day of
sightseeing. Liverpool and its extensive maritime museum helped tell the story of how Harlands and other families came to leave for Ireland and America. A farewell dinner and early flights out of nearby Manchester closed the journey.
The tour was arranged by Ashton-Drye Associates and headed by Marjorie Harlan Sgroi of Orchard Park, N.Y. Margie kept the schedule together and provided an outstanding driver, Brian Bundock, who had the skill to shrink our bus thin enough to pass trucks on England's narrow back roads.


Jane Beson, Becky Hines and Marge Sgroi at Stonehenge (photo by Pat McCurdy)
John Harlan and his wife, Annette, of Augusta, Ga., represented the Harlan Family association. Other travelers were Shirley May of Florissant, Mo., and her daughter Karen May of St. Louis; Dr. Katherine Harlan of Vienna, Va., and her son, Dr. Tim Harlan of Linden, Va.; Dr. Mary Harlan Murphy of Wayne, Pa.; Pat McCurdy of Tulsa, Okla.; Becky Hines of Hagerstown, Ind.; Nancy Gooding of Evans, Ga., and Jane Beson of Summerville, S.C., daughters of John and Annette Harlan; Robert and Peggy Hewitt of Miamisburg, Ohio; and Charlie and Mary Lea Hamilton of Greensboro, N.C.
This Harlan visit to St. Peter's occurred some 1300 years after it was established, in an agreement between a Northumbrian nobleman, Benedict Biscop, and King Egfrith of Northumbria, in whose court Biscop was serving.
Biscop had a great impact on this part of northeast England. At 25, he made a pilgrimage to Rome and renounced his privileged life for that of a monk. Several years later he returned to Northumbria to satisfy his yearning for a new monastic community. King Egfrith answered his request and agreed to offer support and protection and enough land to support 70 families.
The monastery construction was begun in 674 AD. The little church of St. Peter's was started a year later. The dual project brought many artisans and builders to the banks of the Wear River. For 200 years the monastery and its library became known as a center of Christian light and learning. Its contributions to Christendom brought more gifts and means for expansion.
The monastery's most famous product was Venerable Bede, who entered in 680 when he was seven years old.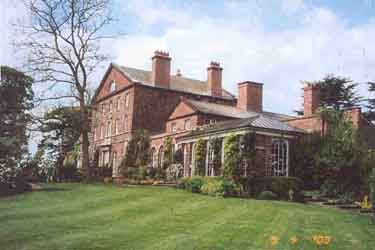 Literature students in both England and America still study his writings today. The Harlan sojourners learned that at the end of the 8th Century the monastery's influence was ended by frequent raids from fierce roving Vikings. Their plundering produced the old Anglo-Saxon litany: "From the Fury of the Norsemen, Good Lord Deliver Us."
But always the west wall and tower of St. Peter's was left standing. It was still there in 1650 for little George Harland's baptism, and it remains today as a spot in northeast England where Harlans still can glow in their heritage.
Backyard of Sutton Place (photo by Pat McCurdy)

---

54th Annual Harlans-of-Texas Family Reunion
October 4 and 5 are the dates of the Texas Reunion of Harlans at Blue Ridge Baptist Church. The location of the church is on FM-1771, 10 miles southeast of Marlin, Texas.
On Saturday afternoon of the 4th, there will be fun and fellowship at the church, featuring family stories. That evening, people will gather at Los Pepes Cafe in Marlin for a meal.
After dinner at noon on Sunday (reservations required), the Harlan Reunion business meeting will be held with Millard F. Turner presiding. The Cemetery Association will meet at 3:00.
For information about the Texas Harlan group, contact Robert Powers at 254-399-9564.
---
HARLAN FAMILY IN AMERICA OFFICERS
OFFICERS

President: Robert R. Harlan
1716 Clark Ave, Yuba City, CA 95991
Vice-President: Junior F. Harlan
6218 E. Betty Elyse Ln, Scottsdale AZ 85254
Secretary: Ruth Harlan Lamb
4305 S. Bryant Ct., Independence, MO 64055
harlamb@aol.com
Treasurer: John R. Harlan
422 Aumond Rd, Augusta GA 30909

BOARD OF DIRECTORS

Robert A.Harlan (PA)
Connie J. King (VT)
Gerry Harlan Lundgren (IA)
Mary Harlan Murphy (PA)
Liz Harlan Sly (NJ)

BOARD MEMBERS EMERITI

Dan Harlan (VA)
Ridge Harlan (AZ/CA)

---
This newsletter is published semi-annually by The Harlan Family in America, a permanent organization established to document the historical contributions made by Harlans in America. Stories, photos, and other information submitted for publication should be sent to:

The Harlan Family in America
P.O. Box 1654
Independence, MO 64055

Editor - C. J. King joking@sover.net

Editorial Board -
John L. Harlan, Diana Harlan Wells, Ed Wynn

---

Note: Deadline for next newsletter is
February 15, 2004.

Do you have a Story?

Many newsletter items are submitted from interested "cousins." Any and all ideas for articles are welcome, especially notices about regional reunions.

Stories and articles need to be submitted before the deadline and are subject to editing. They may possibly be delayed until the next issue of The Harlan Record if space isn't available.

CASH IN SAVINGS ACCOUNT 3/1/02

$23,765.57

INCOME
Contributions
550.00
Harlan Genealogy Book Sales
970.00
Interest Earned (Savings Account)
47.96
Harlan Store Percentage

22.59

Harlan Cookbook Sales
682.00
-- TOTAL INCOME

$2,272.55

DISBURSEMENTS:
Harlan Store Inventory
2,324.20
Book Storage, Insurance, Shipping
366.54
Newsletter Printing/ Mailing

1,013.01

Directors' Meeting
526.65
Contribution, Chester Co. Hisotrical Society
125.00
--TOTAL DISBURSEMENTS
$4,355.40
CASH IN SAVINGS & CHECKING ACCOUNTS 9/1/2003

$21,682.72



---
Ellis Harlan's Connection to the Cherokees
Submitted by Barbara Goss Dunlap, Tulsa, OK
Recently I began researching my Harlan ancestor, fifth great-grandfather Ellis (#121), son of Ezekiel (#23) and Hannah Oborn. I found that Ellis was born about 1731 in Chester County, Pa., and died in September, 1815.
About 1776 he married a full-blood Cherokee (name unknown), and it is believed that daughter Susannah (#497-g) was from this marriage. (This differs from Alpheus Harlan's book.)
Ellis married again about 1778, to Katie (Catherine in Alpheus Harlan's book—see page 75), another full-blood Cherokee, in Tennessee, Cherokee Nation East. He was Katie's third husband. Katie was the daughter of Kingfisher (Deer Clan) and Nancy Ward (Wolf Clan), who was called Beloved Woman of the Cherokees. She was named Nancy by the missionaries, but her Cherokee name came from her bravery.
Nancy (pronounced NANYI-HI) was born about 1738 and died in 1822. In 1755, Nancy was fighting by Kingfisher's side when Creek warriors killed him at the battle of Taliwa. She grabbed his rifle and led the Cherokees to victory. She was then chosen as GHIGAU, which translates as Beloved Woman. She had absolute power over the fate of prisoners, was a voting member of the Council and a very important woman in the Cherokee government.
About 1759, she wed a white trader, Bryan Ward. Nancy was a friend of white settlers, believing in peace between Indians and whites. Nancy was known as a "patriot" during the Revolutionary War and has been described as a tall, erect, beautiful, queenly woman. Her ancestors are eligible to join DAR.
Nancy fed many prisoners and helped some escape. In 1776 she warned the settlers of an impending attack by the Cherokees, instigated by the British. Nancy saved the life of Mrs. William Bean, a white prisoner, and it has been said that in turn Mrs. Bean taught Nancy how to make butter and perform other housekeeping chores.
Nancy died in 1822 and her gravesite, now a state park, is located south of Benton, Tenn.
Ellis and Katie Harlan, married in 1778, had six children: Nancy, George, Ezekiel, Ruth, Sarah (Alpheus calls her Sallie) and Elizabeth. I descend from their daughter, Nancy (#497-a) and her husband Caleb Starr.
During the Revolutionary War, the British took Ellis prisoner. While he was being held, the Tories and their Cherokee allies seized some of Ellis' property, for which he was never paid. After his death, his son Ezekiel claimed payment owed to "Ellis Harlan, deceased" from the Cherokee Council.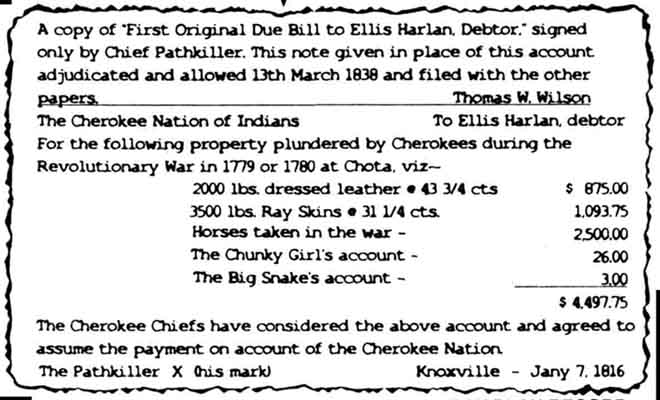 Ellis had died by the time funds became available for these debts, in 1835. The heirs attempted to collect the debt, but there were disputes among them. In the end, it was determined that Ezekiel's brother George had sold his rights to the debt to Ezekiel. Ezekiel's wife (now remarried to Silas Perry) and children received 2/7 of the distribution. Ezekiel's five sisters each received 1/7.

---
Have You Heard of Blue Rock?

Richard C. Walz has heard a lot of Harlan stories over the years, and he takes as much interest in the Harlan name as in his own.
His grandfather-in-law, James Fred Harlan (1869-1956) raised show roosters in Ohio that were sometimes kept in wooden crates labeled with the words "Blue Rock." In fact, he called his roosters Blue Rocks.
Richard learned why they were called this when his father-in-law, Charles Jeffrey Harlan (1899-1983), James' son, died. Richard noticed the Blue Rock postmark on some old mail. An atlas revealed the little town of Blue Rock, located near Zanesville, Ohio.
Richard's curiosity led him to drive to Blue Rock, and while he was visiting its cemetery, he located graves of three Harlans, possibly Civil War veterans. Blue Rock State Park is in the area.
Richard, who lives in Cleveland, spends his retirement years helping others. He keeps tools in his car and helps build for Habitat for Humanity. He was involved in a thrift store in Phoenix whose profits will help widowed persons, and he has given his time and talents to orphanages and schools in Russia (2000-2001). At home he helps churches and community theaters, as well as researches Harlan connections!

---
The Story of the John H. Harland Company
(Ed. Note: You may have written checks that were printed by the John H. Harland Company and wondered how it fits into the Harlan(d) Family? A recent inquiry to the company resulted in the following story, written in 1976, about the company's founder. It is printed with permission of the John H. Harland Company. The company has now expanded its services to include several kinds of financial services and solutions.)
"I'd like to be remembered as someone very friendly."
Several years ago, Mr. Harland was interviewed for a series of stories on the history of his company and his involvement with it. His answer to one of the last questions in that interview is above.
There is no doubt that his wish will be fulfilled, for everyone who knew him received a blessing of friendship, loyalty, and genuine concern.
Our beloved founder passed away on March 5 (1976) at the age of 91 following a brief illness. Ceremonies were held at St. Luke's Episcopal Church in Atlanta and the family has asked that anyone wishing to honor Mr. Harland make a donation to any one of three of his favorite charities—The Atlanta Boy's Clubs, St. Luke's Episcopal Church, or The Henrietta Egleston Hospital.
When Mr. Harland first came to America in 1901, the only person here he knew was his uncle in Providence, Rhode Island. He was a stranger in a strange country. When he left this earth on March fifth, his friends, associates in business, and employees numbered in the thousands. He was no longer a stranger.
Mr. Harland came to Atlanta in 1906, and after a brief period of employment with American Express Company, he joined Foote and Davies Printing. Staying with Foote and Davies for 17 years, he rose to the position of cashier, then treasurer.
But the desire that brought him to America from his beloved Northern Ireland drove him to be something more.
So in 1923, he, along with four other investors, began the John H. Harland Company. Their initial investment of $50,000 for one small print shop on the second floor of the original Coca-Cola building has grown to 25 plants across the country and sales of over $44 million for 1975.
But those early years were not easy years by any stretch of the imagination. In fact, net profit from operations in 1932 was just 31 cents. With that rather inauspicious ending for 1932, who knew what 1933 would hold.
Fortunately it held good news. Early that year Roosevelt became president and declared a banking holiday. This meant the banks across the country had no idea when they would next receive a supply of cash from the treasury.
This fear led the banks in Atlanta to decide to issue scrip of their own so Atlanta and the area surrounding it would have a supply of "money." Harland was selected to print the scrip and produced millions of dollars in Atlanta Clearing House notes in a week.
The crisis eventually lessened but the banks had called on Harland, and the company had responded on their terms and within the time limit specified. Thus, Harland's relationship with the banking community was strengthened and has grown tremendously from those doubt-ridden Depression years.
The Forties and Fifties were growth decades for Harland. The first branch operation was opened in Orlando in 1948, followed by Nashville in 1952, Greensboro in 1955, and New Orleans in 1959.
The Fifties also brought about another banking development, which was to act as the final step in tying Harland with the financial institutions of America.
Magnetic Ink Character Recognition (MICR) encoding of account numbers was developed by the American Bankers Association, and Harland was among the checkprinters asked to implement the program. Many checkprinters who doubted the benefit of high-speed check processing by computer equipment did not participate. They eventually changed their minds or are no longer in the check-printing
business.
From there, the story of the company Mr. Harland founded in the summer of 1923 is history and well known.
What of John Harland, the man? His generosity to those less fortunate, dedication to his church, and most of all, his concern for those who worked for him was limitless.
In 1971 Mr. Harland was honored for his long support of Boy's Club activities with the dedication of a Boy's Club bearing his name. Just last year he personally donated an indoor pool to the club.
For years he served at St. Luke's Episcopal church in Atlanta as organist. Those close to him claim that age did not hinder his ability to sit at a piano or organ and pick a tune.
But his company and his employees were his real joy.
Until his recent illness and orders from his doctors to slow down, Mr. Harland came to the office practically every day.
Many were amazed by the longevity of his career and would ask him why he hadn't retired when he reached 65. He would chuckle and in his Irish brogue inform the curious party that he was well past 65 when that company policy went into effect so he didn't think it applied to him.
His employees were something special to him. For years, before the company opened any branches outside the Atlanta area, he knew every employee by name and would personally hand out the paychecks.
In 1973 he showed further evidence of his concern for his employees and the great performance record they had attained. He gave away a million dollars worth of his own Harland stock to employees. It was truly an unselfish act and almost unprecedented in business history. News of his generosity went all across the country and he received letters from anonymous admirers. In fact, he even received one from Australia.
Most visitors to his office would be treated to seeing one of his prized possessions— a tattered copy of the original time book for his company's first ten employees. He would take it out and call attention to the number of hours and days in a work week, the names in the book, and the salary amounts, low by today's standards, but good wages in 1923.
He would sit for hours at his desk looking over a computer printout that itemized the account of each employee in the Harland profit sharing plan. This plan was his pride and joy and an example of his business sense and feel for looking into the future.
He realized his employees needed more than a static pension plan that had no room for growth. So, in 1959, he initiated the profit sharing plan. Since that time, the accounts have grown steadily without a single penny coming from an employee's paycheck. All money is generated from a yearly company contribution.
That type of generosity typifies the man and the company he founded.
But now, after 91 years of being blessed with having him among us, he is gone. He was blessed with a long and good life, and those fortunate enough to have known him were blessed by his Irish wit, his love, and his sincere concern for all.
---

Harlan Web Site Links Have Engaging Accounts
Have you visited the various links on the family Web site? If not, take some time and get acquainted with some Harlans who have unique places in history. www.harlanfamily.org
Under Historical Documents you'll find a copy of the marriage certificate, dated 1678 in Ireland, for George Harlan (#3) and Elizabeth Duck. There's a document from William Harlan (#474) and an 1845 letter from George Harlan (#672). A Civil War Diary of Jacob Harlan (1845-1928) can be found there also.
The Stories link features:
• Stevan Armstrong (Harlan descendant travels the world)
• Ronald & Bernice Harlan (lives of service)
• Otis Harlan (comedian of the past)
• Six generation of Kentucky Harlans
• Answering the Call (Harlan family's connection to a phone company)
• Charles Wesley Harlan (Nebraska homesteader)
• Double Harlan Ancestry (descends from Harlans on both mother's and father's sides)
• Historic Atom Plane (Lee O. Harlan, test pilot of Enola Gay)
• Mark Harlan (bicycles across America for buddy)
• Joe Harlan (close call on Alaskan crab boat)
• Harlan Wagon Train (diary of trip to California)
• Pearl Harlan and John F. Hullinger (memories and milestones of the couple)
The Who's Who link contains bios and/or stories of:
• Mason & Dixon (& John Harlan #68)
• Benjamin Harlan (current musician, composer, arranger)
• General Josiah Harlan (in Afghanistan in the 1830s)
• Jack Rodney Harlan (agronomist)
• Robert E. Harlan (president and CEO of Green Bay Packers)
• Kevin Harlan (play-by-play sports announcer and Robert E. Harlan's son)
• Major Silas Harlan (Kentucky soldier in 1700s)
• Erasmus Harland (English "cousin")
• Rep. Timothy Harlan (Missouri House representative)
• Heather Harlan Randall (wife of actor Tony Randall)
• Bios on Daniel Harlan, John R. Harlan and Tom & Marylee Harlan
• Alpheus Harlan (compiler and publisher of 1914 genealogy book)
• Ida Saxton McKinley (Harlan descendant and wife of President William McKinley)
• Dr. Aurelius Harland (physician who served in China in 1840s)
• Titanic and Scarborough connection (England)
• The Father of the Titanic (Sir Edward Harland)
• Harlan Ghosts of Gettysburg
• Accounts of two Supreme Court justices, both named John Marshall Harlan
• Oliver Harlan Cross (elected to Congress in 1927)
• Heather Harlan Duetschman (journalist)
• Kimberly Harlan (Miss Georgia Teen USA 2002)
• Thomas P. Harlan IV (dendrochronologist)
The next national reunion (2007) is planned for the West, so get ready by reading the "Great Trek" link, by William K. Harlan.
Historical Sites has interesting accounts of these places:
• The farm of George Harlan (#45) in Spring Hill, W. Va.
• Blue Licks Battlefield in Kentucky
• Harlan Log House in Chadds Ford, Pa.
• Hildene, the Vermont home of Mary Eunice Harlan and Robert Todd Lincoln
• Brandywine Battlefield Park, Chadds Ford, Pa.
• Harlan Hall, Marshall, Iowa
• Old Harlin House, Gainesville, Mo.
Each link on the Harlan Web site gives you interesting and valuable information. Many thanks go to the Web site founder and sponsor Jonathan Harlan (TN), Web Master Pam Ellingson (WI), Coordinator Junior Harlan (AZ), Technical Advisor Kurt Harlan (OR) and Directors Tom and Marylee Harlan (WA).

---

Update on Harlan-Lincoln House
The former home of Senator James A. Harlan, whose daughter, Mary Eunice, married Robert Todd Lincoln, is undergoing renovation and preservation work. The home is part of Iowa Wesleyan College, located in Mount Pleasant, Iowa, location of the 1997 national Harlan reunion.


The house was built in 1860 and is now a museum with a collection of Harlan and Lincoln personal items and furnishings.

The house sustained water and humidity damage in March of 2002. The State Historical Society of Iowa supplied an architect to survey the damage and make recommendations, including the removal of a 1931 addition which was putting stress on the main structure. The property was regraded to promote proper drainage, and two out buildings were removed. Deteriorated trim was replaced, ceiling plaster repaired, the floor refinished and the west rooms and front hall were painted.
A new heating, air conditioning and ventilation system was installed, and now the house has climate control which will help preserve the museum collection. A security system was also added for protection.
A paint analysis determined that the original outside color of the house paint was pale yellow. Thanks to two foundation grants, the house will be repainted yellow with white trim.
After the water damage in 2002, many books and framed artifacts were trucked to Chicago where they were air-dried and disinfected. A computerized inventory of the Harlan-Lincoln House collection has now been made, thanks to a volunteer from Iowa City.
Mary Harlan Lincoln gave the college a fragment of the coat collar Abraham Lincoln was wearing when assassinated. The remainder of the coat, minus its left sleeve, is at Ford's Theatre in Washington, D.C. Several group and individual donations paid to have the collar piece properly mounted and framed.
Long-range planning sessions have been held to decide the priority of issues that need to be resolved and how it will happen.
Several events have taken place which are aimed to encourage using the Harlan-Lincoln House history as a resource for college students.
The Harlan Family in America has donated to the cause in the past. Financial help from interested individuals will be greatly appreciated.
A video entitled "The Lincoln Grandchildren in Mt. Pleasant, Iowa," is available with a $100 donation (supplies are limited). Contact Lynn Ellsworth of Iowa Wesleyan College, 601 N. Main Street, Mt. Pleasant, Iowa 52641.
---
Remember to update us if you have a change of address. You can e-mail the information to Ruth Harlan Lamb at: harlamb@aol.com or snail-mail to the organization.
Junior Harlan keeps a roster of Harlan family e-mail addresses, and these need to be updated as they change. E-mail addresses are used to put people in touch with each other and are never given out without the owner's permission. Send e-mail updates to: JFDMHarlan@aol.com
Data collected by Esther Harlan Wells bewell123@att.net
Director of Genealogy: Cynthia Rhoades cr.rhoades@comcast.net
---
Planning for 2007 National Reunion
The board of The Harlan Family in America has voted to have the next national reunion in 2007, to be located in the West. Reno is being seriously considered as the site, and Harlan history is nearby. The location will most likely be finalized at the spring board meeting of the association.
Volunteers are encouraged to apply, especially those who live in the western states. If you'll help, let us hear from you!
Please e-mail Junior Harlan: harlanjay@cox.net
---
Family Entertained on River Showboats
Submitted by Becky Nufer
Thomas Henry Harland was born in 1868 in Pulaski County, Ill. He was a gifted musician and at one time, he had a radio program of country music known as "Uncle Tom and his Fiddle."
Thomas also loved band music and organized a band in every new town to which he and his family moved. He was an engineer on steamboats on the Mississippi and Ohio Rivers and once was the only person to hold an engineer's license on both salt and fresh water boats.
Thomas' wife, Bertha, played the cello and bass violin, and the couple and their three daughters formed a music group that entertained on showboats as they traveled up and down the rivers. Daughters Eva, Bess and Hazel played violin, piano, trumpet and more.
Thomas' line is George (#3), Aaron (#8), Samuel (#40), George (#189), George (#689), Thomas Cowlie, and James B. The name was spelled "Harlan" in Alpheus Harlan's genealogy book, but the family uses "Harland."
Thomas' daughter Hazel was Becky Nufer's grandmother, and Becky's mother is Janice Smith Nufer.

---
• Stila M. Harlan Gleason - Stila was a member of the Harlan Ninety-Plus Club. She was born April 2, 1909, to John P. and Emma C. Stiles Harlan, and passed away May 7, 2002. She married Charles H. Gleason in 1931 and was an elementary teacher from 1929 to 1972 in Orofino, Idaho. She is survived by three daughters: Harla Matson, Carolyn Mattson and Elaine Rinehart.
• George Stephen Christopher - George was born August 22, 1921, in Newport, Ark., son of Levin Harlan Christopher and Margaret F. Faletti. He was the grandson of Alice Viola Harlan and James Harvey Christopher, Jr. He passed away in St. Louis, Mo., October 13, 2002.
• Elizabeth Russell Harlan Strickler - Elizabeth was born January 9, 1920, to Marion Bicknell Harlan and Mary Elizabeth Russell, in La Grange, Ky. She was married to William R. Strickler, who preceded her in death, and was a former Home Health Care agent and Methodist. She passed away March 14, 2003, in Louisville and is survived by her daughter, Nancy C. Strickler, and two nieces, Anne K. Harlan and Mary E. Williams, whom she raised.
• Kathleen Harlan Dean - Kathleen was born September 15, 1910, in Huntington WV. She was the daughter of Clyde Thomas Harlan and Grace Newman. She married Lyell Fitch Dean, who preceded her in death. She passed away May 7, 2003, and is survived by daughters Anita Anne and Nancy Kay. Kathleen was also a member of the Ninety-Plus Club.
• Beverly Miller Allan - Beverly, along with her sisters Charlotte Maifield and Phyllis Armstrong, brother Cecil Miller, and niece Belva Miller Ogren, attended the 2002 Harlan Reunion in Delaware. She passed away July 22, 2003, in Seattle, Wash. Beverly was born March 24, 1922, in Emmettsburg, Iowa, the daughter of Eula DeArmoun and Earl Miller. Her great-grandmother, Esther Harlan DeArmoun, wrote the story of their wagon train trip from Ohio to Iowa which is told in the History and Genealogy of the Harlan Family.
• Eva Hoaglin Harlan - Eva attended Celebration 310 in Mount Pleasant, Iowa. She was born May 2, 1904, in Hillsboro, Iowa, and married Lawrence Tade Harlan in 1939. Eva passed away August 25, 2003, and is survived by daughter Melissa Harlan Christians and two grandchildren.
---
Search and Research
by Cynthia Rhoades, Director of Genealogy
There are so many wonderful resources today to use for research. Many times I hit a seemingly dead end but know there is a solution somewhere. The trick is to discover where and how to look. I was fortunate to have a very experienced person get me started. Otherwise I might still be floundering in Research 101.

Recently a friend asked me to join her on an outing to a library in a town across the nearby state line. We share a common grandparent through marriage, so I agreed to go but didn't expect the day to be very fruitful. I was amazed at how much material was available at that particular library. Genealogy research has become so popular that libraries are branching out more and more to accommodate people searching for their ancestors.

I was only prepared to look at one family line. It was my loss since the available material was so extensive. I promised myself I would print a family report on each line I am researching when I got home that day. That way when the opportunity is available I will have one of the necessary tools to look for information. When I work on a half a dozen different families I tend to get names, places and dates confused. Having a hard copy of the information can be a time saver if there is any doubt whether you have found the right person.

That holds true whether you're working in a library, a courthouse or any other depository that keeps records. Another instance a while back allowed me a few minutes in the Clerk's Office in the courthouse. The Clerk's Office is an excellent resource. In my state, marriage records, wills, probate and records of that nature can be found there. Not having planned to even stop there I was totally unprepared to do any productive research. That was another instance when I wish I carried copies of my family tree(s) in the car all of the time. I haven't done so yet but think it's a great idea.
---

---
Contributions to the
Remembrance Fund


In Memory of ....

Pearl Edith Harlan Bledsoe
by her granddaughter, Carol A. Froman (CA)

Judith Anne Chaix
by her sister, Roberta M. Peterson (CA)

Note to Indiana Harlans!

The Indiana Reunion committee is beginning to meet and plan for a reunion in the summer of 2004. Details will be available on the Web site and in the spring newsletter.

Contributions to the
Harlan Family in America Fund
March 1, 2003 - Sept. 1, 2003

CA - Dennis & Jan Harlan
Carol Harlan & James Matthews
Gloria Harlan Peter
CO - Shirley Harlan Stoner
FL - Rosalie L. Hartinger
GA - Thomas & Martha Harlan
IA - Phyllis Luckinbill
ID - Eleanor Harland Blume
IN - Jacqueline J. Mahar
LA - John P. Harlan
MA - Charles W. Burlin, Jr.
MO -James & Dorothy Harlan
PA - Kathy Kemerer
TX - Billy & Chris Harlan
Richard L. & Sharon Harlan
John Link Levins
Dr. Thomas B. Williams
UT - Kent & Helen Houskeeper
VA - Katherine B. Harlan

---

Available Items from The Store and other Harlan Collectibles
After the retirement of Sue and Jim Harlan, longtime keepers of The Harlan Store, no one volunteered to take over the task. A few articles are still available through the organization.
Make check payable to:
The Harlan Family in America and mail the order to P. O. Box 1654, Independence, MO 64055
Shirts, Jackets with Harlan Family logo "Family of Friends"



1- XL Sport shirt with pocket $29.00
1- Youth L Sport shirt, no pocket 13.25
3- 2 med, 1 LG Sweatshirt, Ash 28.50
1- XXXL Sweatshirt, Ash 31.00
1- XL Sweatshirt, White 28.50
6- 2 med, 1 LG, 3 XL - Sport Shirt, American 50.00
1- LG Ladies Denim Shirt 49.50
2- 1 med, 1 sm Jacket 47.50
1- XXL Jacket 50.00
2- Youth, LG T-shirt; silk screened 10.00
1- Youth, sm T-shirt; embroidered 15.00
4- 2 med, 2 LG T-shirt; adult; embroidered 22.00

To each order, add $5 for shipping and handling.

Shirts, Jackets with Coat-of-Arms
2 - XXL Sport shirt, no pocket, white 31.50
2- 1 sm, 1XL Sweatshirt, white 28.50
1- LG Ladies Denim Shirt 49.50
1- XL Jacket 47.50
2- 1 med,1 LG T-shirt; Ash 22.00
6- 3 med, 3 XL T-shirt; White 22.00
4- 3 med, 1 XL T-shirt; Ladies 22.00
1- LG Baseball shirt 22.00

To each order, add $5 for shipping and handling.
2002 Reunion SUN CATCHERS
Appr. 5 x 7 inches, clear acrylic with red and blue imprint of Harlan Family logo

$5 postpaid

2002 Reunion PAPER WEIGHTS
Appr. 3 x 4 1/2 x 1 inches, clear acrylic with red, white and blue Harlan Family logo

$10 postpaid
(Half of original price; includes postage)

Embroidered Patches, "Family of Friends"

101 - red/white/blue, 2 1/4 x 3 3/4 inches $6.50 each, postpaid

Metal Pins with "Family of Friends" logo
151 - appr. 1 1/8 x 1 3/8 inches $4.00 each,
postpaid

"Coat-of-Arms" Paper Prints
51 - Overall size= 5 1/4 x 8 1/4 in.; image = 3 x 3/3/4 in. $1.85 each, postpaid

Deck of Playing Cards
16 - Gold foil Harlan logo on royal blue $3.00 each deck, postpaid

Magnets with Family Logo
55 - Business-card size; red, white and blue 1.50 each, postpaid

Alpheus Harlan's
"The History and Genealogy of the Harlan Family"
(first published in 1914)

Reprints are available from:

Peggy Harlan Talley
104 Fern
Poteau, OK 74953

$60 Make check payable to The Harlan Family in America

---
THE HARLAN FAMILY IN AMERICA
Mailing List
[_] ADDRESS CHANGE [_] ADDRESS CORRECTION [_] RECEIVING DUPLICATES
[_] PLEASE SEND NEWSLETTER BY E-MAIL (instead of snail mail) [_] PLEASE ADD MY NAME
e-mail address:________________________________
Contributions

Please accept my donation of $ _____________ to help defray
[_] newsletter expense and Association expenses.

I wish to contribute $________ to the Remembrance Fund
[_] in memory of
[_] in honor of ________________________________________________

Make check payable to: The Harlan Family in America
Mail to: The Harlan Family in America - P.O. Box 1654 - Independence, MO 64055
Name_____________________________________
Address___________________________________
City_______________________ State______________ Zip___________
A Membership & Contribution Form that can be printed
To stay on the mailing list, please notify us of ANY change in your address.
- - - - - - - - - - - - - - - - - - - - - - - - - -
- - - - - - - - - - - - - - - - - - - - - - - - - -


---

The Harlan Family in America is sending its newsletter, The Harlan Record, and other Harlan-related material to those interested in the organization and its mission.
If you do not wish to receive mailings of The Harlan Record and future reunion notices, kindly return this form to The Harlan Family in America P. O. Box 1654 - Independence, MO 64055
or e-mail your request for discontinuation to Ruth Harlan Lamb at harlamb@aol.com
Thank you.
I wish to be removed from the Harlan Family mailing list.
Name _____________________________________________________________
Address _____________________________________________________________________
City, State, Zip_________________________________________________________________


---
---
comments or suggestions to Ruth Harlan Lamb harlamb@aol.com
P.O. Box 1654, Independence, MO 64055