Dr. Gourmet (Dr. Harlan) & the Webmaster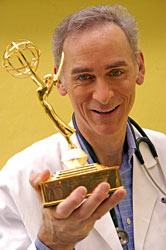 It is Dr. Tim Harlan's face that you will see at < www.drgourmet. com >, but this award-winning venture is more than a one-Harlan operation. Originally, the Dr. Gourmet trademark was the brainchild of two Harlan brothers, Tim and Bruce, and now another Harlan is involved as well.
A board-certified Internist who practices medicine in New Orleans, Tim started off as a teenager working in the restaurant business in Atlanta. He began as a dishwasher and worked his way up, learning to cook from many fine chefs. At age 18, he was managing his first restaurant, and at 22, he opened his own restaurant, a small country-French café, Le Petit Café, in Athens, Ga.
For the next three years, he enjoyed the challenge of creating menus, being a chef and teaching cooking classes. When he enrolled at Emory University in Atlanta, he was planning on a degree in hotel and restaurant management, but along the way, he changed his mind and decided to become a physician. He discovered his fascination with medicine by spending a lot of time around physicians while his former wife dealt with severe diabetes and the possibility of a kidney transplant. He decided that he was passionate enough about medicine to pursue it as a career.
He worked as a caterer while earning an undergraduate degree in biology and anthropology. He then went on to Emory University School of Medicine. While there, he noticed that medical providers concentrated on telling patients what not to eat, not on what they should eat and how to make it taste delicious. This inspired him to write his first book, It's Heartly Fare, a food manual for patients with cardiovascular disease (Pritchett & Hull, 4th ed., 2005).
He has also published Cooking to Reduce the Burn (Tap Pharmaceutical, 2005) for those who suffer from gastric reflux disease, and Hand on Heart, with recipes from the Dr. Gourmet Web site, published by END-papers in 2004.
Dr. Tim spent 12 years as a "country doctor," practicing in the small, rural town of Front Royal, Va., west of D.C. He saw patients with all kinds of complaints, and it seemed like the most common cause was a poor diet. Over time, his interest in good food evolved into a concern over public health.
His Web site, < www. drgourmet. com >, features a basic good-health diet planner called the "eatTHISdiet," which is a delicious way to eat healthy, lose weight, or take care of conditions like lactose intolerance, gastric reflux, or diabetes; to reduce sodium, cholesterol, and fat, or to eat right if you're taking Coumadin (generic name: warfarin). The Web site also offers reviews of fast food and convenience foods, nutritional newsletters, guest columnists, a recipe of the week, and more.
Dr. Gourmet® is a natural outgrowth of Dr. Harlan's interest in good food and good health: "Eating well and eating healthy is the same thing," he says.
Tim and his brother, a television producer, developed The Dr. Gourmet Show, filming it at Bruce's studios in Atlanta to air on public television in Atlanta and the Southeast. In 2002, The Dr. Gourmet Show won an Emmy® award.
Dr. Harlan has also been an on-air consultant to the TV Food Network show Cooking Thin and has hosted the DIY network show, AskDIY.
Morgan Ladd Harlan, Tim's wife, is Webmaster for the Dr. Gourmet Web site. As such, she creates the actual pages you see when you visit the Web site. Each time you click on a link, you are taken to a new "page." Each page is actually a separate file that is stored on the host computer, the "server."
She recently agreed to take over as the new Webmaster for the Harlan Family in America Web site < www.harlanfamily.org >, a job that Pam Ellingson has been doing since the Web site was first created after the 1997 Iowa reunion. Jonathan Harlan, of Tennessee, founded the Web site, and he has allowed his company's computer to be used as the server, where all of the Harlan Web site-page files are stored.
Morgan grew up in Los Angeles. She has been a Web designer since 1995, and in 2000, she moved to Washington, D.C., to manage the Web site for Trinity College. A year later, she was hired by the Association of American Medical Colleges as a Web developer, where she specialized in information architecture. She met Tim while working there, and they moved to New Orleans in January 2007, soon after they were married.
They met, appropriately enough, by online dating. Morgan said she was very careful to post a profile asking questions in such a way that she could gauge the respondent's age and personality from the way he answered. She said their first date was "terrible" because Tim asked so many questions she felt like a patient being grilled by her doctor! But she decided to give it another chance, and after that things went much better!
Tim was offered a job at the Tulane University Medical School, Morgan's alma mater, so they decided to move to New Orleans. It was the first place they traveled to together, and they spent their honeymoon there. "It's a fantastic place to live, and to be here and be part of the renaissance of the city at this time is very special," he says.
Both Tim and Morgan enjoyed learning about the Harlan heritage at Celebration 300 and at the Reno reunion. Tim also accompanied his mother, Katherine Bartlett Harlan, on the last Harlan Family heritage trip to England in 2003. His sister, Katherine Mignon Harlan, of Downingtown, Pa., recently joined the Harlan Family board. Tim and Katherine have two other siblings, Bruce and Ralph. They haven't worked out their whole Harlan line yet, but their father's family is from central Pennsylvania, and Katherine M. says that finding the missing links is a project on her list for retirement.
OFFICERS OF THE HARLAN FAMILY IN AMERICA
President - Robert R. Harlan
1716 Clark Ave., Yuba City, CA 95991
Vice President - Junior F. Harlan
6218 Betty Elyse Ln., Scottsdale, AZ 85254
Secretary - Gerry Harlan Lundgren
2517 - 190th, Stanton, IA 51573
< gerrylun@myfmtc.com >
Treasurer - John R. Harlan
422 Aumond Rd., Augusta, GA 30909
BOARD OF DIRECTORS
Pat Fluetsch (CA)
Joe Hannon (CA)
Katherine M. Harlan (PA)
Robert A. Harlan (PA)
William K. Harlan (CA)
Becky Hines (FL)
Ruth Harlan Lamb (MO)
Mary Harlan Murphy (PA)
Liz Harlan Sly (VA)
BOARD MEMBER EMERITUS
Dan Harlan (NC)
The Harlan Record is published semiannually by
The Harlan Family in America
P. O. Box 1654
Independence, MO 64055
a permanent organization established to document the historical contributions made by Harlans in America. Submissions of articles are welcome. They are subject to editing and may be held until a future issue if space is limited.
E-mail to: C. J. King, Editor
< joking@sover.net >
or Ruth Harlan Lamb, Layout/Mailing
< harlamb@aol.com >
or mail to the organization's address shown above.
If you want an electronic version of The Harlan Record, e-mail your request to: < harlamb@aol.com > The e-mail newsletter will be sent close to the time that printed newsletters are mailed. The Harlan Record is also available on the Harlan Web site: < www.harlanfamily.org > under the link "Newsletter."
Contributors to The Harlan Family in America
Donations received from Aug. 1, 2007 - Feb. 1. 2008
CA - Thomas M. Harlan
Robert D. Mustain
MD - Enoch L. Harlan, Jr.

MI - Charles R. Gallaher

OH - Aretta J. Adams

TN - Grover V. Harlan
TX - Harry N. Dell
Texas Harlan Family
Mr. & Mrs. Tom Harlan
Many thanks for your support.
THE HARLAN FAMILY IN AMERICA
FINANCIAL REPORT
February 1, 2008
Checking Account Balance:
8/1/2007 $ 6,563.71
INCOME:
Contributions since 9/1/07 $ 975.00
Harlan Gen'logy Bk Sales 840.00
TOTAL INCOME $ 1,815.00

DISBURSEMENTS:
Reunion Printing $ 900.61
Printing, other 441.93
Newsletter Printing 1,250.00
Donation, All Hallows Church in England 1,000.00
Book Shipping 33.04
TOTAL DISBURSEMENTS $ 3,625.58
Checking Account Balance:
2/1/2007 $ 4,753.13
Certificate of Deposit $ 30,000.00
Net worth 2/1/08 $ 34,753.13
Remembrance Fund
in memory of.....
Robert Harlan
by his wife, Lois E. Harlan - IL

Robert B. Harlan
by Thomas M. Harlan - CA
Reminders . . .
* When sending e-mails with Harlan information or if making Harlan inquiries, please put "Harlan" somewhere in the subject line of your e-mail.
* For the Harlan Record, send postal and e-mail address changes to The Harlan Family in America, P. O. Box 1654, Independence, MO 64055 or e-mail < harlamb@aol.com >.
* If you'd like to be on the Harlan e-mail registry, send your address and any changes to Junior Harlan < harlanjay@cox.net >
Addresses are kept confidential unless permission is granted.
Elisha Harlan (1838-1919): California Pioneer
by Steve Harrison, Hendersonville, NC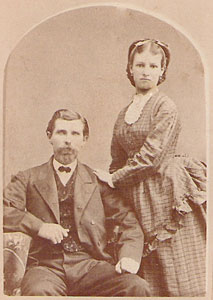 Elisha and Lucy Harlan
When Elisha Harlan (#2995) died in 1919, his obituary in the local newspaper proclaimed "Pioneer of 1846 Crosses Divide." He was 80 years old, and there was a lot to report about his life which began on August 5, 1838, in Berrien County, Mich.
Descended from a long line of farmers, his father, George Harlan (#852), had moved to Michigan from Indiana. George owned considerable acreage and was apparently a successful farmer when he sold everything and headed for California with his extended family and a large herd of cattle in 1845. After wintering in Lexington, Mo., the party continued on to California, arriving in 1846. The details of this epic journey are well-told by my cousin, William K. Harlan, in "The Great Trek," available at the Harlan Family Web site and included in the newly-reprinted autobiography of Jacob Harlan, California 1846-1888, available from Squire Cheyney Books, P.O. Box 439, Downingtown, PA 19335. (Repacked book is entitled Eyewitness to the Settlement of the West: Jacob Wright Harlan's California 1846-1888.)
Elisha was a boy of 8 when he arrived in California in 1846. His mother, Elizabeth Duncan, died that fall at Mission Santa Clara. His father, George, died at Mission San Jose in 1850. At only 12 years old, Elisha was an orphan in this distant land that had recently been under Mexican rule. But he had a large extended family scattered around the San Francisco Bay. Young Elisha lived at various locations in California including Mission San Jose, San Francisco, Napa Valley near Calistoga, Coloma in the Sierras after gold was discovered in 1848, and finally San Ramon in Contra Costa County, where his older brother Joel (#2992) had a large ranch.
In 1860 he went over the Coast Mountains into the San Joaquin Valley where he bought land near Kingston on the lower Kings River. There he engaged in livestock buying and selling. In 1869 he moved to the vicinity of Riverdale in Fresno County where he homesteaded 160 acres. The area was then known as Liberty.
Elisha married Margaret Bonnard in 1867, but she died before the end of the year. Then on September 14, 1871, in San Luis Obispo, Calif., Elisha married Lucy I. Hobaugh, a native of Indiana. They had five children. The first, Nellie (#7444), died an infant. Jerome (#7445) lived on, and ranched, part of Elisha's land where one of his descendants, Brad Harlan, still lives and farms. Irene (#7446) was active in ranching also. Leroy (#7447) lived on, and ranched, part of Elisha's land and one of his descendants, Robert Harlan, still lives on the property. Aleda (#7448) married a minister and moved around California.
From about 1883-1901, the Harlan family had the Liberty post office in their living room. Lucy Harlan was the postmistress for the small agricultural community. The mail must have brought many neighbors to their home just northeast of Riverdale, where the post office was relocated in 1901.
After homesteading 160 acres in 1869, Elisha continued to buy land in Fresno, Kings and Monterey counties until he had about 3,000 acres. At his ranch in Riverdale he had both dairy cows and beef cattle that were driven to his extensive rangeland in the Coast Mountains each summer for pasturage.
When Elisha finally retired from ranching, he and Lucy moved to a house near Laton just east of Riverdale. The ranch was divided among their four children. I was born and raised in Fresno and have very fond memories of going to my grandfather Leroy's house. We played in the surrounding fields, soaked in irrigation ditches and rode horses.
I recall peering into the dark old barn that was part of the original homestead and still offered some protection for dusty old wagons and buggies.
When Elisha Harlan died on February 27, 1919, he was remembered as "one of Riverdale's oldest and most respected citizens." He and his wife, as well as several of their children and grandchildren, are buried in the Washington Colony Cemetery located in Easton between Riverdale and Fresno.
A Harlan Performer from the Past
A native of Zanesville, Ohio, actor Otis Harlan (#9495) will forever be remembered as the voice of "Happy," the lovable character in Walt Disney's "Snow White and the Seven Dwarfs," filmed in 1937.
Otis was born in 1865 and grew up to be a roly-poly comedian and actor. For years he played vaudeville and later acted on Broadway and in numerous films, including animated movies. He performed in "Alexander's Ragtime Band," a 1911 vaudeville show by Irving Berlin.
According to Alpheus Harlan's genealogy book, he married Nellie Hallett at Camden, N.J., on November 4, 1902, and they had one daughter, Marion Louise, born June 8, 1904. The book gives Otis' date of birth as 1864, but other biographies list the year as 1865.
Otis' Harlan lineage is: George #3, Ezekiel #5, William #22, George #116, Ezekiel #470, Ezekiel Jefferson #1693, and William S. #4676.
Apparently, Otis tried to retire in 1914, but he couldn't stay away from acting. A 1914 New York Times news story reported that he had signed up for a role in the upcoming "Apartment 12-K." What happened next is not certain, but the show was short-lived, and recent movie history databases list another actor in that role. Still, his acting career continued until at least 1938. He died of a stroke in 1940 at the age of 74. For more information and pictures, visit: < www.fandango.com > < www.imdb.com >, or < http://movies.nytimes.com >
Nephew of Otis Harlan Was Handsome Actor
Kenneth D. Harlan was a handsome stage actor in New York during the early 1900s. In 1916, he moved to Hollywood and appeared in dozens of silent movies and later, sound movies.
With his good looks and talent, he was tapped for roles in dramas, comedies and western movies. He states that his inspiration came from his mother, an actress, and as a youth, he spent much time in the wings of theaters where she performed. As a student, he not only had lead parts in plays but also designed sets and costumes and coached other actors.
Kenneth was born in Boston, Mass., in 1895 and attended St. Francis College and Fordham University in New York. He married a total of seven times, including a marriage to Marie Prevost, silent screen star. He retired in 1943 but reappeared in 1966 in small roles for television movies. He died in 1967 in Sacramento, Calif.
The Web site: < www.goldensilents.com > contains a list of Kenneth Harlan's movies as well as photographs of the handsome actor.
Hamming It Up with a Harlan in the Smokehouse
submitted by Virginia Harlan Hess, Windsor, Mo.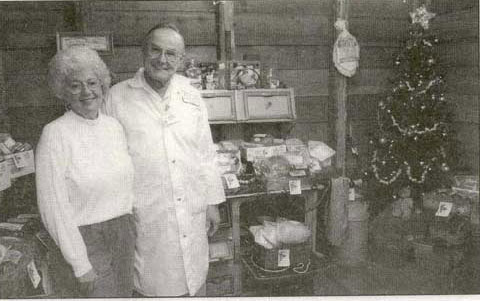 Dolores and Morris Burger
Deep in the heart of Missouri, three generations of the Burger family have, for the past 80-plus years, been producing country cured hams on the family farm. Burgers' Smokehouse is now the nation's largest producer of country ham and smoked meats, and is the mail order leader in cured and hickory smoked meats.
Current management of the multimillion dollar family-owned company includes third-generation Steven and Philip Burger, the sons of Morris and Dolores Harlan Burger. Morris led the business from 1959 to 2000. The company was founded by Morris's father, E. M. Burger, who cured his first ham for resale in 1927.
Dolores served the company as secretary to the president and corporate secretary for over 25 years. Semi-retired, she is now working on the company archives. In addition to their two sons, the Burgers have one daughter, Sara Beth Rohrbach, and eight grandsons.
Burgers' Smokehouse cures more than 750,000 hams annually, with the entire curing process taking four to six months. The hams are seasoned and hand-rubbed, aged and smoked, then trimmed, sliced and packaged using the latest technology in the processing of the meats. In addition to its mail-order business, Burgers' provides meat products to many national restaurants including Cracker Barrel, Waffle House, and Bob Evans, and their meats are available in retail stores across the country.
What began as a small family business now employs several hundred workers, and their plant has been enlarged several times over the years. In addition to their famous country cured hams, they sell a number of other meats, including Cornish hen, turkey, quail, pheasant, bacon, beef roasts, tenderloin, pork chops, and other epicurean specialties.
Burgers' Smokehouse was included in the History Channel's Modern Marvels episode called "The Pig," which aired in November and continues to be shown from time to time. Recent articles featuring Burgers' have been published in Rural Missouri (November 2007) and other regional publications, and a feature article about the Smokehouse was written by Brook Harlan of Columbia, Mo., for Inside Columbia.
In 2007 Burgers' Smokehouse was voted Best AgriMissouri product in a survey conducted by Rural Missouri, a monthly magazine published by Missouri Electric Cooperatives. The company has also been featured on NBC's "Today Show" and in Better Homes and Gardens magazine.
Visitors to Burgers' plant, just south of California, Mo., may enter the Visitors' Center through a replica of a covered bridge, and then enjoy looking at the large and impressive dioramas, which represent the four seasons of the year, before concluding their tour in the meat store and snack bar.
Dolores has served on the Alumni and Foundation Boards of the University of Central Missouri, with emeritus status in both. Among other volunteer activities, she is a director on the boards of the California (Mo.) Chamber of Commerce and Missouri KidsFirst, a program dealing with the prevention of child abuse in Missouri; she also serves her church as an adult Sunday school teacher and member of the Pastor/Parish committee.
Dolores is a descendant of George Harlan (#3) in the History and Genealogy of the Harlan Family, great-granddaughter of George Alexander Harlan (#7035), granddaughter of Wilber Gilbert Harlan, and daughter of Byron Morris Harlan. She is a first cousin, once removed, of Lane and Ridge Harlan, who were instrumental in the organization of The Harlan Family in America association.
Dolores and Morris have attended all four of the recent national Harlan Reunions, and she served as co-chairman of the Hospitality/Registration committee for Celebration 310 in Mount Pleasant, Iowa, in 1997.
For more information on the production and distribution of Burgers' country cured hams and other products, go to: < www.smokehouse.com >.
Additions to the Harlan Bookshelf
Wild West Books
by Byrl Harlan
Byrl Harlan, of Brownsburg, Ind., has found his muse. Last year, he published two books and had an excerpt of one of these published in an anthology of Indiana writers. This year, a third novel is scheduled for publication.
Hidden Creek Ranch, published by Xlibris in 2007, is a modern-day western. The main character, Will Davis, rides the Interstates as well as bucking broncos, traveling to compete in the rodeo circuit. The book is a mix of Old West elements, Christian values, and the pains and pleasures of life.
Byrl's second book, The Arrival of Tom and Jenny, also published by Xlibris, has a western setting as well. It's a children's picture book about two cats who arrive at a ranch and are befriended by the ranch hands.
These two books are available from the author:
< www.byrlharlanbooks.com > or < bdharlan@comcast.net> or from < www.xlibris.com >.
Xlibris is a print-on-demand, self-publishing service affiliated with Random House.
An excerpt of Hidden Ranch was chosen from hundreds of submissions for inclusion in Indiana Authors 2007, a three-book anthology published by the Indiana Authors Bookstore, 36 E. Maryland St., Indianapolis, IN, 46204, phone 317-633-4070.
Byrl was trained by the U.S. Air Force as an air traffic controller and spent 24 years in that career, working in the U.S., Japan, Korea and Saudi Arabia. He began writing a few years ago and hasn't stopped since! He and his wife Dolores have two children, Stephen and Clarissa.
Tales from the Ozarks
The Spring 2007 issue of the Harlan Record included a story about Chris and Missy Harlin and their Old Harlin House Café, in Gainesville, Mo. Chris's grandfather, Hugh Tan Harlin, published a book in 1996 that traces the lives of the Harlins of Ozark County, Mo. Titled The Harlins of Ozark County, the book is now available from Chris's father, John Layton Harlin (P.O. Box 68, Gainesville, MO 65655).
The book begins with Hugh Tan Harlin's grandparents, who migrated to Missouri from Monroe County, Kentucky, in 1869. After settling in Gainesville, the Harlins started the town's first bank, now called Century Bank of the Ozarks, and several generations of the family were bankers. This memoir also includes reminiscences of small town life throughout the 20th century.
Hugh Tan Harlin's first cousin wrote a different kind of memoir about life in this Ozark community. Amos Harlin's book, For Here is My Fortune, is a fictionalized account that attempts to correct false impressions.
Amos was inspired to write by the negative reactions he used to get when he told people where he was from. He wrote that, "In time I learned that this amazement had its inception not as I first supposed, because I had enjoyed the unique privilege of growing up in that lovely land, but from their inability to conceive of anyone so lacking in pride as to openly admit having spring from the strange denizens of that dark country." His literary effort celebrates the character of the Ozarks people. John Harlin also has copies of this book, originally published in 1946 by a division of McGraw-Hill.
Alpheus Harlan's Genealogy Book
A reprinted copy of Alpheus Harlan's book, History and Genealogy of the Harlan Family, is available by ordering from:
Peggy Harlan Talley
104 Fern
Poteau, OK 74953
The book, first published in 1914, contains historical information about early English Harlands in the 1600s, the move of some to Ireland, the arrival of brothers George and Michael Harlan in America in 1687, and their many descendants.
The postpaid price is $60. Make check payable to The Harlan Family in America.
Other books of interest to Harlan-kin ...
Some Memories of a Long Life 1854-1911
by Malvina Shanklin Harlan
The Immigration of Irish Quakers into PA, 1682-1750
by Albert Cook Meyers
All at Sea: Coming of Age in World War II
by Louis R. Harlan
Eyewitness to the Settlement of the West, Jacob Wright Harlan's California 1846-1888
Bruce Mowday, publisher
Drawing the Line: How Mason & Dixon Surveyed the Most Famous Border in America
by Edwin Danson
Quaker Roots
Norma Jacob, editor
The Man Who Would Be King
The First American in Afghanistan
by Ben Macintyre
Four Marys and a Jessie
The Story of the Lincoln Women
by C. J. King
Unfortunate Emigrants
Kristin Johnson, editor
Addition to the 90 Plus Club
Leah Corrine Harlan Kenworthy of Fountain City, Ind., was born May 26, 1917, in Randolph Co., Ind. She is the daughter of Russell and Goldie McFarland Harlan.
Her Harlan line is: George (#3), Aaron (#8), Aaron (#41), James (#199), Valentine (#736), Joshua (#2489), Valentine (#6249) Russell (#6249.7).
A Four-Legged Harlan
Harlan, an American Quarter Horse Association (AQHA) stallion, was foaled in 1951 to Paul and Jack Smith of Indiahoma, Okla. He was named for Harlan Beetch, to whom the Smiths had loaned the foal's stallion for breeding purposes.
In 1954, Harlan was purchased by Bob and Joan Robey of Edmond, Okla. When they first saw him, he was a shaggy colt who at feeding time, finished his grain and then went stall-to-stall and finished the grain of the other horses. This fits right in with the human Harlan trait of loving to eat!
Bob Robey trained Harlan for calf roping. He had tremendous speed and a great stop. His greatest success came as a breeding stallion. His foals performed in reining and cutting competition and the show arena. Seventeen of his foals were AQHA Champions, one a World Champion, and 51 earned Register of Merit for superior performance. Harlan is still listed as one of the all-time leading sires of AQHA Champions. He died in 1973 and was buried on the Robey ranch.
(Information taken from Legends, Vol. 4, published by Western Horseman, Inc., 1999. Submitted by Robert A. Harlan, PA)
Unexpected Encounter
By Judy Knight, Cuba, Mo.
The saying, "It's a Small World," seems to take on new meaning when you're a Harlan descendant. Since discovering my Harlan heritage I've found cousins in the most unexpected places.
My husband, Bob, is a Southern Baptist pastor. From 1982 until 2005 he pastored in a small rural town in northeast Missouri — a town called Eolia. One evening we were at an associational meeting and one of our pastor friends came to me after the meeting and said, "Your shirt!" I looked and saw that I was wearing a "Harlan Family in America" shirt. I asked what was wrong with my shirt and he replied, "Nothing's wrong with it. My mom is a Harlan!" He put me in contact with his mom, Linda Job, and we kept in touch for awhile. I have to admit that I have lost contact with her.
I thought that was "fun" and told many people about it.
In 2005 we were called to the First Baptist Church, Cuba, Mo., and in July 2006 I became the church secretary. "Visitor cards" come across my desk most Monday mornings. A few months ago the cards of two visiting couples were turned in — the Stephens and their friends, the Harlans!
The next Sunday morning the couples were back, so before the service began, I went over and introduced myself and asked, "Which of you are the Harlans?" Paul and Sue immediately spoke up. I explained that I was also a Harlan. Paul brought me a copy of his "family tree," and I have compared it to mine. We have to go all the way back to 1687 and George to find our common ancestor because when George had children, we branch off — Paul is a descendant of James, and I'm a descendant of Ezekiel — but that's okay. We're still "family," and it's great.
In Memory of ...
Neilla Harlan Banse, 62, of Sutherland, Iowa, passed away September 19, 2007. She was interred in the Harlan Cemetery at Dumont, Iowa.
Neilla was deeply involved in the research of Harlans from the New Castle, Del., landing point, on across the United States, finding many homesteads and final resting places of Harlan descendants.
She is survived by her husband of almost 41 years, Eugene; a son, Eric Banse; a daughter, Brandi Philbrick; as well as three siblings; seven grandchildren and extended family.
Matthew Duggan Harlan, 45, died February 14, 2008, in Twiggs County, Ga. He was a graduate of the University of Georgia and was a tree farmer.
The son of Annette and John Harlan, treasurer of the Harlan Family association, Matt attended the 2007 Reunion in Reno with his children, Chris, Mary J. and Autumn. He is also survived by two sisters.
Virginia Ruth Williams Harlan, 84, of Brownsburg, Ind., died Jan. 28, 2008. She and her husband Gerald Eugene "Gene" Harlan attended the 1987 national reunion and helped plan the 1997 reunion, as well as recent Indiana Harlan reunions.
Virginia grew up in Greencastle, Ind., and worked for Allison-General Motors in the Communications Department for over 30 years. Both she and Gene were graduates of Greencastle High School.
Edward S. Johnson, 95, passed away on Christmas Day, 2007. He was listed in Alpheus Harlan's book on page 878 as #9953.6 and was a member of the 90 Plus Club. Edward lived in Byrn Mawr, Pa., and was an uncle of Harlan board member, Mary Harlan Murphy.
Mary Jo Harlan Lee, 101, died May 29, 2007. She lived in Palatka, Fla., and was the grandmother of Annette Beacham.
Harlan Family Gives to Harlan-Lincoln House
At the 2007 national Harlan reunion in Reno, one of the beneficiaries chosen for financial support was the Harlan-Lincoln House in Mt. Pleasant, Iowa. A donation was made in honor of the late Ridge Harlan, coordinator of the 1997 Harlan reunion held in Mt. Pleasant.
Two projects were selected for the Harlan support—the restoration of the Lincoln pump organ, and the preservation and reframing of a lithograph of the Andersonville Civil War prisoner of war camp.
Mary Harlan Lincoln and her daughter, Jessie Lincoln Beckwith, both used the organ, and it was later donated to the Christian Science Church in Mt. Pleasant. The organ was then privately owned before being donated to the Harlan-Lincoln House.
The State Historical Society of Iowa will undertake the conservation of the lithograph, and it will then be framed, using museum quality materials.
The Harlan Family in America has supported the Harlan-Lincoln House for several years and is a charter member of Friends of the Harlan-Lincoln House. Individual members of the Harlan Family also support the Harlan-Lincoln House restoration efforts. For more information, call Harlan-Lincoln House Executive Director Lynn Ellsworth, 319-385-6320.
All Hallows Church, England, Sends Thanks
A letter from Derek Jacobs, Chairman of the All Hallows Trust Fund, sent a letter of appreciation for the $1,000 contribution towards the restoration of Harlan memorials in the church. All Hallows is located in Sutton on the Forest in England.
Several memorials at the church have been declared "perilous" by the church architect and have had to be "strapped securely to the church walls, covered by plastic foam and boxed in. These steps are for safety reasons only, pending urgent repairs," according to Mr. Jacobs.
The All Hallows Church has been visited by many Harlan travelers. A trust fund was established four years ago so anyone interested in maintaining the church can contribute to the maintenance and repair of the historic structure which contains many Harlan memorials. For more information, e-mail Derek Jacobs at < djj3@btinternet.com >.
Jacob Wright Harlan Book Donation
A copy of the book, Eyewitness to the Settlement of the West, Jacob Wright Harlan's California 1846-1888, was donated to the Genealogical Society of Utah. A letter of appreciation from the Society has been received by the Harlan Family.
The book contains Jacob Wright Harlan's account of the Harlan wagon trip West, at times with the Donner Party. He tells of the gold rush, settlement and life in California. Other Harlan historical articles are included in the book.
Arrangements for publishing the book were made by Bruce Mowday, and the book can be ordered from Squire Cheyney Books, P.O. Box 439, Downing-town, PA 19335. ($23.00, post-paid.) Make checks to Squire Cheyney Books.
Texas Harlan Family Events
The Annual May Day Sing will be held at the Blue Ridge Baptist Church near Marlin, Texas, on May 4. The church was established in 1859 with 11 charter members, and worship has been held here ever since. The May Day Sing began in 1887, and Harlan descendants have always attended.
The annual Harlan Family Reunion will be held October 5.
The Blue Ridge Cemetery was established on land donated by George Harlan in 1873 for the burial of his family and church members. The Blue Ridge Cemetery Association was formed to collect funds and oversee the preservation of the cemetery grounds. The Harlan Family in America recently made a donation to the Cemetery fund which is used for maintenance and repairs.
For a wealth of cemetery and church information, including photos of gravestones, bylaws, maintenance guidelines, and more, visit < www.blueridgetx.com >. For more information, contact Blue Ridge Harlan Family in Texas:
• Claudia Martin, president,
< CBrownMartin@aol.com >
214-692-0878
• Martha Baer, secretary-treasurer
< mbaer1111@aol.com >
• Robert Powers
< waltzinbob1@juno.com >
• David Kinard, president
Blue Ridge Cemetery Association
< DHKinard@aol.com >
Connection Sought
Kim Harlan, of Great Falls, Mont., has a last will for Kitte Summers and other documents listing the heirs and would like to pass them along to another Harlan who has use for them. According to the will, Kitte is buried in Elmwood Cemetery, Litchfield, Ill., near her twin sister Mattie Keating. The documents belonged to Kim's grandfather, Keith Cameron Harlan, and they also list his two brothers and two sisters, along with others. Kim has not heard of Kitte before reading the wills. Kim thinks the great-great grandmother on one side was a Keating and on the other was a Cameron, and that Kittie was a Harlan but isn't sure. The documents will be sent to whomever has use for them. Contact Kim C. Harlan at 406-761-7188 or < kcharlan@montana.com>
---
Genealogy Updates
Since the Fall 2007 newsletter, updates to the following family lines have been submitted to be entered into the Harlan Family database.
• John Franklin Harlan #6326 –
submitted by Cynthia Rhodes (IN)
• James Pouncy Harlan #2958 –
submitted by Roy Kennedy (Upper Gwynedd, PA)
• Henry Harlan #6890 –
submitted by Bill Harlan (Ponca City, OK)
• Reuben M. Harlan #2729 –
submitted by Dorothy Wear (WA)

• Mary Harlan #2705 –
submitted by Ann Pennington (MO)
• Isaac Harlan #207 - by Virginia Harlan Anderson (IL),
submitted by Ann Pennington (MO)
• Alice Harlan #9237 & Mary Ann Harlan #4422 –
submitted by Charles R. Gallagher (MI)
We have received requests for information about the following family lines:
Nathan Harlan #4754
Lydia Harlan Meredith #1966
Jack Brinton Harlan of Mississippi
Corrections/Updates to Alpheus Harlan's book:
Page 808 – Lidie J. Harlan #9236 – first name was "Eliza" – submitted by Charles R. Gallagher (MI)
Page 808 – Caroline Burdelle McCullough's middle name was"Burdette" – submitted by Charles R. Gallagher (MI)
If you have updated a family line and wish to submit it, or if you want to inquire about one, contact Fred Harlan at: < fredharlan@verizon.net >
GENEALOGY CORNER
Genealogy Quotes
"Why waste your money looking up your family tree? Just go into politics and your opponents will do it for you." Mark Twain
"He who has no fools, beggars or knaves in his family was begot by a flash of lighting." Old English Proverb
"If you cannot get rid of the family skeleton you might as well make it dance." George Bernard Shaw
Lawyer's epitaph in England: "Sir John Strange, Here lies an honest lawyer, and that is strange."
Cynthia Rhoades
Director of Genealogy
THE HARLAN FAMILY IN AMERICA
Mailing List
[_] ADDRESS CHANGE [_] ADDRESS CORRECTION [_] RECEIVING DUPLICATES
[_] PLEASE SEND NEWSLETTER BY E-MAIL (instead of snail mail) [_] PLEASE ADD MY NAME
e-mail address:________________________________
Contributions

Please accept my donation of $ _____________ to help defray
[_] newsletter expense and Association expenses.

I wish to contribute $________ to the Remembrance Fund
[_] in memory of
[_] in honor of ________________________________________________

Make check payable to: The Harlan Family in America
Mail to: The Harlan Family in America - P.O. Box 1654 - Independence, MO 64055
Name_____________________________________
Address___________________________________
City_______________________ State______________ Zip___________
A Membership & Contribution Form that can be printed