Louis R. Harlan; Pulitzer-winning Historian
By Matt Schudel
Published in The Washington Post, Jan. 29, 2010
Reprinted by permission of The Washington Post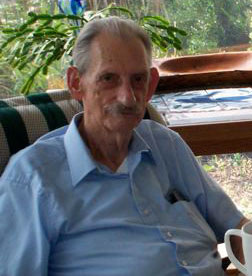 Louis R. Harlan, 87, a Pulitzer Prize-winning historian at the University of Maryland whose two-volume biography of Booker T. Washington made him one of thenation's foremost scholars of the history of race relations, died Jan. 22 at a nursing facility in Lexington, Va. He had Crohn's disease, a chronic digestive disorder.
Dr. Harlan, who taught at Maryland for more than 25 years, devoted much of his scholarly careerto Washington, who was born into slavery in Virginia in 1856, led theTuskegee Institute in Alabama and was perhaps the country's most prominent black leader at the start of the 20th century.
The first volume of Dr. Harlan's biography, "Booker T. Washington: The Making of a Black Leader,1856-1901," came out in 1972 and was awarded the Bancroft Prize, the most prestigious annual honor in the field of American history. After the second volume, "Booker T. Washington: The Wizard of Tuskegee, 1901-1915" was published in 1983, Dr. Harlan won the Pulitzer Prize for biography, a second Bancroft Prize and the Albert J. Beveridge Award for the best book on American history.
His monumental study covered more than just the life of a single man, albeit a significant and complex one. Historians saw the two-part biography as a beautifully written portrait of black American life during the nation's darkest days of segregation.
C. Vann Woodward, who was often called the dean of Southern history and who taught Dr. Harlan in graduate school, wrote in the New York Times in 1983: "In a review of the first volume of this superb work of scholarship more than 10 years ago, I wrote, 'If the second volume measures up to the first, Harlan's biography of Booker Washington will be the best study we have of a black American.' It is."
Dr. Harlan delved into more than 1 million archival items in the Library of Congress to compile his biography and the 14-volume "Booker T. Washington Papers" (1972-1988). Raymond W. Smock, who helped edit the papers and last year published a short biography of Washington, said of his onetime mentor: "By any definition of the term, he was one of the leading historians of the 20th century."
During the early years of the civil rights movement, when Dr. Harlan began his research, the study of Booker T. Washington was not a popular subject. When Jim Crow laws were prevalent and lynchings were common, Washington championed a non-confrontational approach to race relations, maintaining that hard work and self-reliance would improve the lot of black Americans. He fell into disfavor among a later generation of black leaders, many of whom thought he was too willing to make accommodations with white authority.
Dr. Harlan made the case that Washington was a deeplycomplicated man. "Washington's life and thought were layered into public, private, and secret," Dr. Harlan wrote, "and also segmented according to which subgroup of black or white he confronted. For each role, he wore a different mask."
Among Washington's 14 volumes of writings, Dr. Harlan wrote, there was "not a single love letter, not a cry of joy."
Louis Rudolph Harlan was born July 13, 1922, in West Point, Miss., and grew up in Decatur, Ga. He was on the swimming team at Atlanta's Emory University, from which he graduated in 1943.
During World War II, he was a Navy officer aboard a landing craft that transported troops to Omaha Beach on D-Day. He wrote a memoir of his Navy years in 1996, "All at Sea: Coming of Age in World War II."
He received a master's degree in history in 1948 from Vanderbilt University in Nashville and a doctorate in history in 1955 from Johns Hopkins University, where his mentor was Woodward.
As a white Southerner, Dr. Harlan might not have seemed a likely candidate to write the biography of a black leader. But as a graduate student, he met John Hope Franklin, an African American historian then at Howard University, who encouraged the young scholar to study the history of race relations in the South. Dr. Harlan's first book, "Separate and Unequal" (1958), explored racial inequities in Southern schools.
He joined the NAACP in the 1950s, held leadership posts in the American Civil Liberties Union and participated in civil rights marches in Washington and Montgomery, Ala., with the Rev. Martin Luther King Jr.
Dr. Harlan taught at what is now Texas A&M University at Commerce and the University of Cincinnati before joining the Maryland faculty in 1966. In 1985, he was named a distinguished university professor, U-Md.'s highest faculty honor. He was the first person to be president of all three major scholarly organizations in his field—the American Historical Association, Organization of American Historians and Southern Historical Association —at the same time.
Dr. Harlan cut a striking figure on campus with his weathered face and a bushy mustache that made him look like Wild Bill Hickok. He once shaved it off, his wife said Thursday [Jan. 28, 2010], but she didn't recognize him and asked him to grow it back. He retired in 1992 and moved to Virginia in 2000.
Survivors include his wife of 62 years, Sadie Morton Harlan of Lexington; two sons, Louis K. Harlan of Ronceverte, W.Va., and Benjamin W. Harlan of Second-creek, W.Va.; a sister [Harriet Harlan of Tallahassee, Fla.]; and a grandson.
Of all the lessons to be learned from history, Dr. Harlan said, the most important may be this: "The wisdom of one era is the foolishness of another."
Editor's Note: Louis R. Harlan is the author of The Harlan Family in America -A Brief History, written in 1997 for the Mount Pleasant, Iowa, national reunion of Harlans. The text can be accessed through the Harlan Web site: www.harlanfamily.orgunder the link "History."
Officers of the Harlan Family of America
President - Robert R. Harlan
1716 Clark Ave., Yuba City, CA 95991
Vice President - Junior F. Harlan
6218 Betty Elyse Ln.
Scottsdale, AZ 85254
Secretary - Gerry Harlan Lundgren
2517 - 190th, Stanton, IA 51573
gerrylun@myfmtc.com
Treasurer - John R. Harlan
422 Aumond Rd., Augusta, GA 30909
BOARD OF DIRECTORS
Pat Fluetsch (CA)
Joe Hannon (CA)
Katherine M. Harlan (PA)
Robert A. Harlan (PA)
William K. Harlan (CA)
Becky Hines (FL)
Ruth Harlan Lamb (MO)
Mary Harlan Murphy (PA)
Liz Harlan Sly (VA)
BOARD MEMBER EMERITUS
Dan Harlan (NC)
The Harlan Record is published semiannually by
The Harlan Family in America
P. O. Box 1654
Independence, MO 64055
a permanent organization established to document the historical contributions made by Harlans in America. Submissions of articles are welcome. They are subject to editing and may be held until a future issue if space is limited.
E-mail to: C. J. King, Editor
joking@sover.net
or Ruth Harlan Lamb, Layout/Mailing
harlamb@aol.com
or mail to the organization's address shown above.
If you want an electronic version of The Harlan Record, e-mail your request to: harlamb@aol.com. The e-mail newsletter will be sent close to the time that printed newsletters are mailed. The Harlan Record is also available on the Harlan Web site: www.harlanfamily.org under the link "Newsletter."
Contributors to The Harlan Family in America
Donations received from since September 1, 2009.
CO -Robert & Caroline Chambers
IN -Roberta & Russell Gordon
OH -Wilma L. Adams
OK -Charleen Harlan Lance E. Lassiter
TX -Bill & Mary Ann Thurman
VA -Katherine B. Harlan
Thank you for your generous support.
Remembrance Fund
in memory of.....
Virginia Markle Chittenden, by the Chittenden Family -VA
Frank Graves Harlan, by Gail Harlan Cole - CA
Jesse Harlan, by Hubert N. Grimes, M.D. -IN
Marjory Harlan, by her niece, Linnet C. Harlan -CA
Ridge & Marjory Harlan, by his nephew, Timothy C. Harlan - MO
Ross E. Harlan, Lt.Col. USAF, by Margaret B. Harlan -OK
Order Harlan Family History Book
To order a copy of Alpheus Harlan's book, History & Genealogy of the Harlan Family, contact:
Peggy Harlan Talley
104 Fern
Poteau, OK 74953
The cost is $60, postpaid. Make check payable to The Harlan Family in America.
Reminders . . .
When sending e-mails with Harlan information or if making Harlan inquiries, please put "Harlan" somewhere in the subject line of your e-mail.
For The Harlan Record, send postal and e-mail address changes to
The Harlan Family in America, P. O. Box 1654, Independence, MO 64055 or e-mail harlamb@aol.com
If you'd like to be on the Harlan e-mail registry, send your address and any changes to Junior Harlan at: harlanjay@cox.net. Addresses are kept confidential unless permission is granted.
THE HARLAN FAMILY IN AMERICA
FINANCIAL REPORT
February 1, 2010
| | |
| --- | --- |
| Checking Account Balance: | |
| 9/1/2009 | $3417.40 |
| | |
| INCOME: | |
| Contributions since 9/1/09 | $ 490.00 |
| Harlan Gen'logy Bk. Sales | 600.00 |
| Interest from CD | 164.66 |
| TOTAL INCOME | $ 1254.66 |
| | |
| DISBURSEMENTS: | |
| Newsletter Printing/Mail'g | 600.00 |
| Book Shipping | 47.01 |
| TOTAL DISBURSEMENTS | $ 647.01 |
| | |
| Checking Account Balance: | |
| 2/1/2010 | $ 4025.05 |
| Certificate of Deposit | $ 30,000.00 |
| Net worth 9/1/09 | $ 34,025.05 |
Harlan Items Featured on Antiques Roadshow
By Betsy Chittenden, Vienna, Va.
Harlan Family readers may be interested to know that a piece of Harlan furniture from the StargazerFarm, the historic Harlan property in Chester County, Pa., where Mason and Dixon stayed for several winters while surveying the Mason-Dixon line, was featured on Antiques Roadshow recently. The show was taped in Atlantic City during the summer of 2009 and aired January 25, 2010.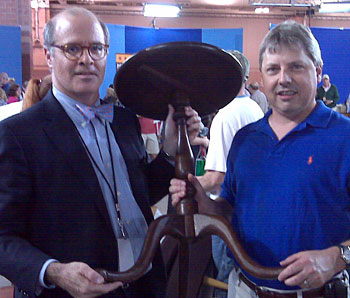 John Hays, appraiser, and Tom Chittenden
The piece of furniture is a candle stand dating from the mid- 18th century, so it was probably originally made or purchased by Joel Harlan (#72). The candle stand stayed in the farmhouse and with the family, and thus would have been owned successively by Caleb Harlan (#305), Joel Harlan(#1191), Henry Kirk Harlan (#3727), Mamie E. (#8270) and Annie (#8271) Harlan, and my mother, Virginia Markle Chittenden.
Virginia Markle Chittenden (1921-2009) was the daughter of Frank Harlan Markle, the only child of Mamie Harlan (#8270) and Frank Markle. While she was growing up in Paoli, Pa., outside of Philadelphia, she and her brother frequently visited their grandparents at their home, the Stargazer Farm, in Embreeville, Pa., where they lived with Mamie's unmarried sister, Annie.
My mother loved the time she spent there, remembering it as very old-fashioned by 1920s standards (electricity was not put in until about 1926). She and her brother ran about in the fields and with the neighbor children. They spent a lot of time playing in Brandywine Creek with an old rowboat that her grandfather kept there.
Her grandfather was a well-known tinkerer in the neighborhood and very skilled at fixing clocks and machines. He also apparently made small items from old cigar boxes and the like. The Markles and Annie, being elderly, did not actively farm themselves, but leased most of the land to neighbors. They did keep chickens, and sold some of the eggs. We have a diary that my great-grandfather Frank kept in 1934 and 1935; it is filled with the sort of daily events that happen on a small rural farm —visits from neighbors, comments on the weather, trips to Westchester, and every day a note on the number of eggs that the chickens had laid. My mother recalls an old woman coming to visit often, from the county "home" that was nearby, who was supposedly the last Lenape Indian in Chester County.
The house at Stargazer Farm was probably built or possibly expanded by George Harlan (#14); there is a date stone with the date 1724 on it. The house was not sold out of the family until the 1950s when Mamie, Frank and Annie had all passed away, and their son Frank Markle, Jr. could not afford to keep it. Although I have not researched the actual chain of deeds, we assume that the house generally passed in ownership from George Harlan(#14) to Joel Harlan (#72), to Caleb Harlan (#305), to Joel Harlan(#1191), to Henry Kirk Harlan (#3727), and then to his daughters, Mamie and Annie.
When the house was sold, my mother and her brother obtained a number of furnishings from the house, all of which my mother knew to be there in the 1920s. Much of the furniture in the house had apparently passed down from generation to generation with the house itself.
Sadly, my mother passed away this past summer at the age of 88. Her brother had predeceased her in 2004.
This past June, my brother, Tom, and his wife, Tracy, obtained tickets to an Antiques Roadshow taping in Atlantic City and took several Harlan items to be appraised. Standing in the furniture line, he was pulled out of line by one of the appraisers who had spotted the candle stand he was holding and wanted to see it immediately.
The actual on-camera appraisal was done by one of the show's regular appraisers, John Hays of Christie's. He dated the candle-stand at around 1750, so we presume it was made or purchased by Joel (#72), whose dates are 1724-1796. And yes, he gave it a value —$8,000 to $12,000! Mr. Hays said that stains on the stand's top were genuine port wine stains—possibly where Joel himself spilled his drink. Needless to say, Tom and Tracy never did make it to any of the other lines to get their other items appraised that day.
There are many items from the Stargazer Farm in the family that we hope to find more about in the future, either through Antiques Roadshow or other means— including an early 19th century grandfather clock, a large sampler done by Margaretta Ann Baily [wife of Joel (#1191)], the 1781 marriage certificate between Caleb (#305) and Hannah Edwards, and other treasures.
Editor's Note; The Stargazer Farm has been featured in some articles in past issues of the Harlan Record: #5 "Annie"; #7 "Stargazer's Stone"; #16, front page mention plus "Mystery Surrounds Stargazer House" and "Concealed Shoe Found in StargazerHouse" on page 7; and #18, lead story.
Isaiah Harlan, MD: Early Texas Settler
By Robert Powers, descendant of Mary Harlan Millerman #2396
Dr. Isaiah Harlan (#712 in Alpheus Harlan's History and Genealogy of the Harlan Family) was a doctor, planter and stockman. He was born on May 4, 1798, in Laurens District, S.C., a seventh generation descendent of Captain William Harland. He was only nine years old when his father, Aaron Harlan (#194), died.
Isaiah was quite young when he graduated as a medical doctor. He was a fine scholar (called brilliant) and excelled in the sciences and languages, including Latin, Greek and Hebrew. He continued his medical practice throughout his life, eventually also owning up to ten thousand acres of land in two counties in Texas and being a planter and a stockman.
He still lived in South Carolina when he married Nancy Henry (1800 -1852) on December 12, 1817. She was born upon a sailing vessel on the Atlantic Ocean, en route to America from Ireland.
In 1819, Isaiah, Nancy, and their first-born child, Martha (#2395), left South Carolina and moved to Indiana, where several of Isaiah's older brothers had previously settled. They lived in Fayette County, Ind., with his oldest brother, Samuel Harlan (#703) until the birth of their second child (Mary #2396, listed in the 1820 Federal Census in Fayette County, Ind.). Isaiah then moved his family to settle about nine miles from Rockville, Ind., on Little Raccoon Creek in Parke County, Ind., where the family lived until 1834.
On August 24, 1829, his family was visited by a cousin, Reason R. Harlan (#229), who described Isaiah Harlan as a well-looking man, who then had seven children.
At some point, Isaiah had evidently set his eyes on the area then known as Tejas, for in 1825 he wrote a letter to Stephen F. Austin (founding father of Anglo-Texas) and requested information about obtaining a land grant there. Things did not work out immediately, and it was not until the fall of 1834 that the family arrived in the State of Coahuila, Mexico (which included Texas), as family immigrants in Sterling Clack Robertson's Colony. Robertson was a noted land impresario in the Anglo settlement of the Republic of Texas.
Isaiah received a grant for a league of land (4,428 acres) in Sarahville de Viesca—then Robertson Colony Headquarters (site of present-day Falls County). The land granted to Isaiah was located in what became (in 1837) Robertson County, Republic of Texas, and in what (in 1850) became Falls County, Texas (the eastern section on which Blue Ridge community is located).
Texas Archive records reveal that Dr. Isaiah Harlan served under Captain N. Doyle as a Volunteer Ranger from March 8, 1839, to June 10, 1839, as did his brother Joseph Harlan (#711) and Joseph's eldest son, William Craig Harlan (#2386). He was elected to the State Legislature of Texas, but declined to serve, not having a taste for public life.
Isaiah Harlan died January 29, 1847 (not 1846 as printed in the1914 Harlan genealogy). He passed in his own home in Montgomery County, Texas, (present day Willis, Texas) and was buried in a mausoleum on his own property in what was then called Harlan Burying Ground (now Willis, Texas, Cemetery).
Isaiah's wife, Nancy, passed on April 10, 1852 (not 1856 as printed in the 1914 Harlan genealogy). She is buried in the mausoleum beside her husband. She was the daughter of Matthew and Elizabeth Jean (Hunter) Henry, natives of Ireland who settled in Laurens District, S.C., in 1800.
Isaiah and Nancy were the parents of twelve children, but onlysix survived to marry and have families of their own. These six are:
#2395 Martha b. 12-8-1818; d. 3-8-1887 #2396 Mary b. 1-22-1820; d. 5-3-1902 #2399 Silas b. 9-11-1825; d. 10-4-1888 #2400 Jonathan b. 10-21-1828; d. 3-23-1891#2404 Charles b. 6-2-1833; d. 6-22-1869 #2405 George b. 2-2-1835; d.12-30-1919
The corrections contained in this history of Dr. Isaiah Harlan and Mrs. Nancy (Henry) Harlan have all been verified in the Archives of Texas, the Robertson Colony Papers and the Estate Records of Montgomery County, Texas.
The above information has been extracted from History and Genealogy of the Harlan Family by Alpheus H. Harlan (1914) and An Updated Genealogy: The Descendants of Aaron (#194) and Elizabeth (Stuart) Harlan by Joydelle Garrett Wolfram, compiler (1990). Note: All numbers are those found in the 1914 Harlan Genealogy.
Save the date!
The next national reunion of The Harlan Family in America is planned for
July 5-8, 2012
San Antonio, Texas
Two Texas History Books Recommended
By Tom Powers, brother of Robert Powers, p.4
There are hundreds of interesting books about Texas and Texans. However, for those who are truly searching for in-depth information on the building of thestate over the centuries, in preparation for the 2012 Harlan national reunion in San Antonio, Texas, I will recommend the following two books:
LONE STAR: A History of Texas and Texans, by T.R. Fehrenbach
This well-researched book is for anyone seriously interested in the people who have shaped the Texian character over the centuries, from native tribes, through Spanish rule for 300 years, Mexican rule for 15 years, Republic of Texas for nine years, U.S. statehood for 15 years, a Confederate state for four years, then rejoining the U.S. to become one of the leaders of the Union today.
Fehrenbach chronicles the events of the Texas Revolution, Declaration of Independence, Battle of the Alamo, Battle of San Jacinto, the years of the Republic, and its annexation as a state in 1845. The sagas of cotton and oil empires are presented here in vivid language that fills pages with characters and epic dynasties. In the last century, and to this day, the global importance of oil as an economic resource has changed Texas as radically as the cattle culture did 100 years earlier. Lone Star explains and celebrates all the regimes, the droughts, the wars, and the boom times, to provide an exciting history of the Lone Star State to 2000 A.D.
The Texas Rangers -A Century of Frontier Defense, by Walter Prescott Webb
A Century of Frontier Defense, the subtitle of this book, well describes the stories told in this excellent book. In the early days of Anglo-Texian settlements, there were many men who wanted to live by their own laws, plus several tribes of natives that didn't want white men taking the land they called home.
Into this situation rode a small group of men destined to become a model for state law enforcement throughout the nation, a group whose fame was to become worldwide. They were the Texas Rangers. They knew how to sit on a horse and fire a gun. They knew what had to be done, and they simply went out and did it.
Patrolling a land almost as large as the Republic of France, the Ranger never calculated the dangers except in the most casual way. Who was making the trouble? Where? With that meager information, he rode off, a quiet man on horseback, heading for trouble spots of his world, working to make a country where men could live without fear.
Walter Prescott Webb has told the complete story of this unique law enforcement agency. He rode with the Rangers for 14 years when desperate, greedy men thought the border between Texas and Mexico was an open gate to bootleggers. Anyone interested in law enforcement will like this book.
These two books on Texas history are available at www.amazon.com. They are two of my all-time favorites. They may be too long for some readers, but they are very good for a serious student of Texas history.
The great gift of family life is to be intimately acquainted with people you might never even introduce yourself to, had life not done it for you.
~Kendall Hailey

The Rest of the Story: Jacob Wright Harlan, -88 to -02
by Steve Harrison (#7447-54)
Jacob Wright Harlan (#2984) was one of the literary members of the Harlan family. After making the long and difficult western journey across the plains with his uncle, George Harlan, in 1846, he led an eventful life in California. His book, California '46 to '88 was first published in 1888. Jacob reprinted it himself in a second edition in 1896. (See information at the end for ordering the current reprint of this book.) As you might guess from the title, the published account of his life ends in 1888. Not even the Harlan genealogy, published in 1914, adds information about his life after 1888.
In this article, I will fill in some of the events of his life between 1888 and March 7, 1902, when he died at the age of 73 in San Leandro, Calif.
Jacob's first wife, Ann Eliza Fowler, died on June 30, 1866. She was buried, along with many of Jacob's family, in the San Lorenzo Cemetery, San Lorenzo, Calif. Jacob had six young children to care for but was reportedly depressed over the death of his young wife. It was 20 years before he remarried.
On December 25, 1886, he married a Scotch woman named Margaret. She may have been a nurse at the Alameda County infirmary (now Fairmont Hospital in San Leandro) which he had entered in 1886 when his health began to fail. It is likely that he wrote his book at the infirmary.
As a veteran of the Mexican War, Jacob received a pension. His status as a veteran also entitled him to live at the Soldiers' Home in Yountville, Napa County, which he did from 1889-1891. However, there was a dramatic and sad turn of events at the Home which led to his sudden discharge.
A San Francisco newspaper reported that the Veterans Home Association had decided to give Jacob W. Harlan a hearing on Sunday at the home at Yountville. "On Christmas day (1891) Harlan became drunk and noisy, and ended by flourishing a bulldog pistol (nowadays known as a Saturday night special). He is likely to be expelled from the home." He was probably not happy about losing his residence and quickly applied for readmission. The San Francisco Call reported in their issue of January 26, 1892, that the Directors of the Soldiers' Home rejected the petition of Jacob W. Harlan for readmission. "Harlan is the old veteran who was discharged last Christmas for drunkenness and threats to kill the steward."
In the preface to the second edition of his book, Jacob has this to say about the Soldiers' Home: "Like many other old men, I have been going on the down grade, and my time has been passed partly in the Napa Soldiers' Home and partly in the Infirmary of Alameda County. My stay in the latter institution was forced upon me by my loss of health in the former. In the Home my health failed me in consequence of damp and unwholesome quarters assigned me and bad and tyrannical treatment on the part of the authorities there.
"Old soldiers, as a rule, are far from being saints—in fact, many of us are sad sinners, and, in an institution such as this Home, need to be subjected to proper discipline fully as much as when in active service in field or garrison. Their officers should be gentlemen of character and conduct which command respect. While I was in the Home, there was much lack of this. The authorities were of lower caste than many of the veteran inmates, and substituted coarse severity of demeanor for proper official dignity; in fact, there was too much commandant and too little respect for him on the part of the veterans—too much dictatorial ordering and too little willing observance of orders—too much canteen and too little sobriety. That canteen should not have been there; if there now, it should be abolished. It was a standing temptation to indulgence in excesses by old men not very well able to withstand temptation of that kind. On the whole, my life in the Home was unhappy and unwholesome."
His stay at the Soldiers' Home was likely due to a combination of declining health and the lack of money. His veteran pension was never more than $12 per month. He admits in the preface to the second edition of his book that he was printing it in the hope that sales would "add something to the little pension which a beneficent government assigns to the old Mexican War Veteran." Following his discharge from the Soldiers' Home, he was once again admitted to the Alameda County infirmary on March 10, 1892. He was listed as a widower but that is confusing because his second wife, Margaret, didn't die until 1895. The director of the infirmary did report later that Jacob's "habits of sobriety were good." He was discharged in January 1895 but fortunately, no gunplay was involved.
A year after the death of his second wife, Margaret, he married for a third time. He was then 67 years old. His third wife was Christina (maiden name not known), born May 15, 1832, at St. Peter's on Prince Edward Island, Canada. They were married on April 13, 1896, in Oakland, Calif. She died on October 15, 1903 in San Francisco and was buried at Holy Cross Catholic Cemetery in Colma, just south of San Francisco.
Jacob himself died on March 7, 1902, in San Leandro, Alameda County. He was buried on March 9 in the San Lorenzo Cemetery with many of his family. There is no marker on his grave now, but the cemetery has been badly vandalized over the years. It was difficult to locate a death notice in the California newspapers, so this pioneer was clearly not well-known in California at the time. A Livermore newspaper reported, among other things, that, "He was a good-natured, social man and his death will be regretted by all who knew him." So quietly ended an eventful life.
New Edition of Jacob W. Harlan Book Available
A new edition of the previously out-of-print book by Jacob Wright Harlan was reprinted by Bruce Mowday prior to the Harlan reunion in Reno in 2007. Sales provide financial assistance to the Harlan Family in America.
Jacob Wright Harlan's California '46 to '88 is published in its entirety in the new edition. The book also includes additional information on the Harlan family history. The repackaged book is titled Eyewitness to the Settlement of the West: Jacob Wright Harlan's California 1846-1888.
Sales of the book benefit The Harlan Family in America organization. The cost of the book is $19.99, plus $3.01 for shipping and handling, for a total of $23.00. To order copies, include your mailing address and send a check for $23.00 for each book to: Squire Cheney Books, P.O. Box 439, Downingtown, PA 19335.
Harlan-Founded Church Celebrates 150 Years
By Robert Powers
The Blue Ridge Baptist Church, founded by Harlan settlers, celebrated its 150th anniversary on May 3, 2009. The celebration drew more than 325 attendees.
Meeting in a log cabin owned by Silas Harlan (#2399, fifth child of Isaiah & Nancy Harlan), the settlers in the Blue Ridge area decided there were enough Baptists to found a church, and on August 4, 1859, the band of Christian men and women founded the church and adopted the articles of faith.
George Harlan (#2405), younger brother of Silas, donated 28 acres of his land in Falls County, Texas, designating that it be used for the church and adjoining cemetery, and for school purposes. George's land was part of the land his deceased father had bought from Mexico through land agent Sterling Clack Robertson (see story, above). The church was founded while George lived in Montgomery Co., Texas.
The church's origina lfounders included: Brethren A.H. Chamberlain, David Barclay, A.S. Trigg, and Sisters C.D. Barclay, Emily Harlan, L.M. Morrel, Susan Ross, S.A. Trigg and Tempie G. Chamberlain. Brother Chamberlain, who came as a deacon from another Baptist church, was the first deacon at the Blue Ridge church. Many of these founders had married into the Harlan family or their descendants would do so.
The church held many annual camp meetings and started the all-day May Day Singing on the first Sunday in May, which has been held continuously since 1887. In past years, it was a covered dish dinner with Blue Ridge grazing rights, meaning you could graze off any dishes brought by any and all attendees. Now the Sunday dinners are usually catered.
The present church building, the congregation's third, was built in 1908 and is a three-room structure. It has recently been restored, remodeled and updated, the work being led by Harlan descendants Rodger Ross, Henry Thomason and Clifford Cobb, Jr. (called Junior). All three are presently Blue Ridge community residents. A large metal-covered pavilion for reunions, camp meetings, etc., was built also.
The congregation is presently being led by deacons Bill White,Dale Cox and Junior Cobb. Rev. Jim Houser brings the message each Sunday, and Sister Dorothy Bruchsch plays the piano.
The church and its facilities are used for the Texas Harlans' annual reunion the first Sunday in October and for meetings of the cemetery association. Claudia Martin is the reunion president. The cemetery is the resting place of mostly Harlan descendants and their spouses. A complete map of all the graves has been completed.
In Memory of ...
Virginia Markle Chittenden, Vienna, Va., passed away July 5, 2009. She was a descendant of the Harlan family who owned the Stargazer Farm in Embreeville, Pa., known for the location of the Stargazer stone used by Mason and Dixon to establish the border between Maryland and Pennsylvania. Virginia served as a lieutenant in the Naval intelligence field in W.W.II and later worked in the mental health field. She is survived by her husband, Thomas; three children, Betsy, Wendy and Tom; two stepchildren and 11 grandchildren.
Virginia is interred at Arlington National Cemetery.
Melba Lee Harlan King, 78, of Zionsville, Ind., died January 19, 2010. The daughter of Paul and Gladys (Atkinson) Harlan, she grew up in Speedway, now part of Indianapolis, and lived in Indiana most of her life. Learning about the 1987 Harlan reunion after the fact, she was inspired to organize a state reunion. Four Indiana reunions were subsequently held over the next 15 years, between national reunions. Melba attended the Mt. Pleasant, Iowa, and Wilmington, Del., national reunions with her husband, Ray, and her daughter, C.J. King, current Harlan Record editor. After discovering that Melba's great-grandfather and Abraham Lincoln's daughter-in-law were second cousins, Ray, Melba, and C.J. spentmany hours together doing familyhistory research.
Melba served as a minister's wife and was president of severa lstate and regional Indiana Baptist groups.
Survivors include her husband; three of her four children, Gary, Kenny, and C.J. King; four grandchildren; two great-grandchildren; and a sister, Carol Phelps.
Arlene Shaw of Stuart, Iowa, passed away August 28, 2009. She was the widow of Merritt Shaw, and the mother of Ann Partlow and Bill Shaw.
Arlene served as president of United Methodist Women for five years and was a member of Sigma Beta Delphian and the American Legion Auxiliary.
Jewell Harlan Stewart died April 14, 2009, at the age of 104.
She was born in Purdy, Mo., and later moved with her family to a homestead in Baca County, Colo. She left home to attend high schoolin Elkhart, Kans., working for her room and board.
Besides raising her family, she was a nurse, retiring in 1971.
A daughter, Willena Boaldin,survives as well as three siblings, seven grandchildren and 14 great-grandchildren.
The Harlan Family in South Texas
By Ann Harlan Whitis, New Braunfels, Texas
The small South Texas town of Bishop will celebrate its centennial the weekend of May 14 -16, 2010. The Harlan Family will be well represented as one of the Pioneer Families. Members of the Harlan Family have lived in Bishop for five generations and remain active leaders of the community.
Aaron Spencer Harlan (#6104) and his wife, Lela (Tankersly), moved with their five children from Alabama to Mart, Texas, in 1902. Farming wasn't good, so Aaron moved the family to Grandview,Texas. After several years, he heard about good, black-land farms for sale in deep South Texas near the King Ranch. He moved the family once again, buying 360 acres of farm land and becoming one of the pioneer families in Bishop in 1914.
Aaron and Lela raised four boys and one girl, but only one son, Sankie (my grandfather), continued on the family farm and raised his family in Bishop. All of Aaron and Lela's children attended college and pursued careers, as college professors, a lawyer, bankers, and a farmer. Three of the sons (Bill, Pierce, and Sankie) bought the Bishop First State Bank. In 1934, Bill thwarted an attempted holdup of the bank when he shot first! The robbers were later caught and sent to the penitentiary.
Sankie was the baby of the family. He attended Baylor University, then returned to the family farm and married the prettiest girl in town, Lottie Mayo, in 1925. Sankie and Lottie had three sons and one daughter. All three sons lived in Bishop and were partners in Harlan Farms. Over the years, Harlan Farms expanded, growing cotton, milo, and corn. The legacy continues as the oldest Sankie Harlan grandson, Steve, still farms the family land.
Sankie's athletic talent was another claim to fame. He was the first student from Bishop ever to go to State in track. (The running gene is strong in the Harlan family; Sankie's great-grandson, John Rainbolt, ran track for the University of Texas a few years ago.) Sankie was also one of the first football players for the Baylor Bears.
Sankie and Lottie Harlan instilled in their family a strong sense of pride in country, community, and family. Members of the Harlan family have been active in Bishop's school, civic, religious, and social organizations. The Harlan Family Crest will be proudly displayed at Bishop's Centennial Celebration.
Stories of Harlans
We know there are unusual and interesting story ideas out there—perhaps about your relatives or ancestors—and we hope you will share them with other Harlans through this newsletter.
Send your ideas for articles and your stories to C. J. King, editor, at: joking@sover.net or to Ruth Harlan Lamb, co-editor at: harlamb@aol.com.
Ideas can also be mailed to the Harlan Family's address found on page 2.
Harlan in Iraq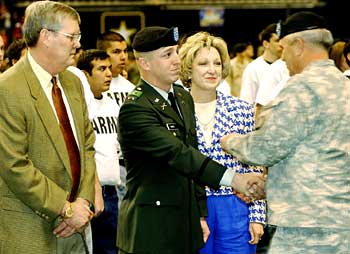 1st Lt. Christopher N. Adams, son of Sara Harlan Kliewer, of San Antonio, Texas, is shown here with his stepfather, Ed Kliewer (far left), his mom, and General Dick Cody, Army Vice-Chief of Staff, at Chris' re-commissioning ceremony during halftime at the All-American Alamo Bowl in 2005.
Chris is the Executive Officer of an infantry company stationed in Baghdad. Chris graduated from the Texas Military Institute High School and from Virginia Military Institute in 2003. He was re-commissioned in the Texas Army National Guard in 2005 and mobilized to Active Duty in Iraq in December 2009.
"The Texas Harlans are proud of Chris' dedication and service to our country," writes his aunt, Ann Whitis, Sara's sister. Photo supplied by Chris Adams.
From Harlan to Harland: A Name Change Story
Editor's Note: Spelling variations add to the genealogist's challenge, as recounted by Lottie Harland Underwood, Jacksonville, FL:
"My grandfather John Luther Harlan left the family when my father, Louis, was very young. His surname had no 'd.' My uncle William had to change his name when he entered the military in the early '50s, due to other Harlans in there. He added a 'd' to the end of his surname, and his mother and some siblings also did. My dad's birth and school records do not have a 'd,' but that's the way we spell it. Dad's siblings John, Opal, and Pearl never added the 'd.'

"My dad and his brother John were albinos and received disability. Dad spelled his name with a 'd' when that began, and John didn't. They had to keep their names that way to draw their benefits. That story was told, and I found it was true. My great-grandfather Zephania(h) spelled his name three different ways: Harlin, Harlan, and Harland.

"I have hit many brick walls with this research until I almost gave up. I keep putting a few more pieces together little by little and can't seem to stop.... You never know who I might find to be related."
A story about Lottie's father, written by Cecil Guiles, appeared in the April 1959 issue of The Lighted Pathway, a newsletter formerly published by the Church of God Publishing House, Cleveland, Tenn. The article tells about Louis Harland's generous nature. As a youngster, he mowed lawns and gave money to the church. In 1956, he gave the DeKalb, Ill., Church of God an organ and amplifier, and two years later, he donated a piano. He bought furnishings for the parsonage and solicited local businesses for funds when the church needed renovation. He worked as the church janitor for free. As Guiles wrote,"These are just a few of the many things that Louis does. ... He is loved by all who know him."
GENEALOGY CORNER
Everyone hits a brick wall in genealogy, where the birth and death records just aren't easy to find. In that case, try some different records. One good source to try: historic land records. Deeds often contain information on who sold what to whom; who inherited what from whom; or how some land was divided among a family. Historic tax records on land also sometimes have interesting information, such as co-ownership. Most archives have land records, and many have an online way to search the index and then order a copy of the record you want for a small fee.
Most beginning genealogists underestimate the importance of using land records to pin persons to specific locales. In the South, which has far fewer vital records than New England, the land records are even more crucial to genealogical success.
Land records provide two types of important evidence for the genealogist. First, they often state kinship ties, especially when a group of heirs jointly sells some inherited land. Second, they place individuals in a specific time and place, allowing the researcher to sort people and families into neighborhoods and closely related groups. By locating people with reference to creeks and other natural features, the deeds, land grants, and land tax lists help distinguish one John Harlan, son of James, from another John Harlan in the same county.
Prior to the Civil War, most free adult males owned land; so if the land records of an area have survived but do not mention your ancestor, you should reevaluate the assumption that he or she lived in the area. Deeds form the bulk and backbone of American land records. They are fairly uniform in format and content, can normally be located in routinely predictable jurisdictions—usually the county—and generally present few difficulties for the average researcher. The term "deed" can be used broadly to mean a legal document of transfer, bargain, or contract, or narrowly for a warranty deed by which the seller warrants (guarantees) the title to the land being sold. Deed books contain many types of title conveyances and contracts: deeds in fee simple granting absolute ownership, mortgages transferring property rights as security for a debt, dower releases waiving a wife's rights, quitclaim deeds releasing whatever title or right is held whether valid or not, deeds of gift transferring land without a reciprocal consideration except perhaps "love and affection," powers of attorney appointing legal agents, marriage property settlements between spouses either before or after the marriage, bills of sale transferring property that is usually not land, and various forms of contracts, such as leases, partnerships, indenture papers, and other performance bonds. These last four were not ordinarily recorded, though probate bonds were common in probate volumes.
Cynthia Rhoades,
Director of Genealogy
THE HARLAN FAMILY IN AMERICA
Mailing List
[_] ADDRESS CHANGE [_] ADDRESS CORRECTION [_] RECEIVING DUPLICATES
[_] PLEASE SEND NEWSLETTER BY E-MAIL (instead of snail mail) [_] PLEASE ADD MY NAME
e-mail address:________________________________
Contributions

Please accept my donation of $ _____________ to help defray
[_] newsletter expense and Association expenses.

I wish to contribute $________ to the Remembrance Fund
[_] in memory of
[_] in honor of ________________________________________________

Make check payable to: The Harlan Family in America
Mail to: The Harlan Family in America - P.O. Box 1654 - Independence, MO 64055
Name_____________________________________
Address___________________________________
City_______________________ State______________ Zip___________
A Membership & Contribution Form that can be printed